Airbus near blockbuster $23 billion jet sale to AirAsia
Benjamin Katz and Anand Krishnamoorthy

Bloomberg
London, United Kingdom |

Sun, July 15, 2018

| 05:55 pm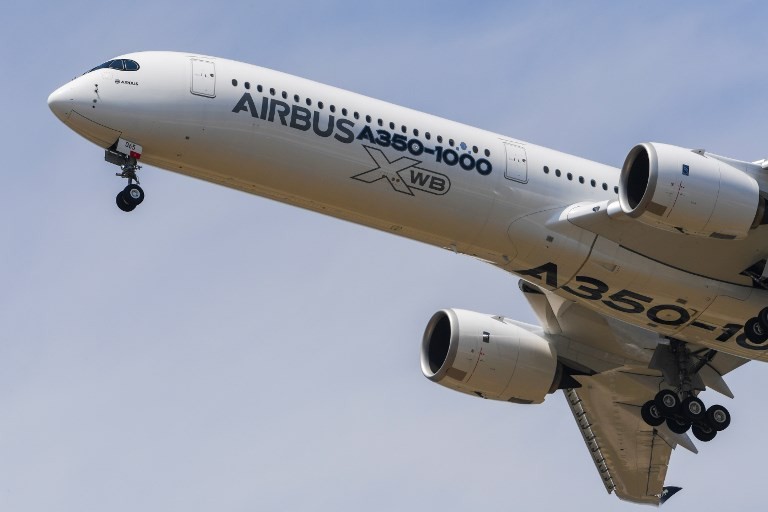 An Airbus A350-1000 XWB jet airliner performs its show flight during the International Paris Air Show at Le Bourget, north of Paris, on June 20, 2017. (Agence France -Presse/CHRISTOPHE ARCHAMBAULT )
Airbus is closing in on a blockbuster agreement to sell $23 billion worth of aircraft, based on list prices, to AirAsia, according to people familiar with the matter.
The Malaysian airline, already the second-biggest customer for Airbus's re-engined A320 narrowbody, is weighing an order for as many as 100 A321neo aircraft, according to people familiar with the discussions. AirAsia is simultaneously close to agreeing to order an additional 34 A330neo widebodies, which would bring its total backlog for that aircraft to 100.
The orders are still subject to final negotiations, said the people, who asked not to be named discussing private talks. While no deal has been reached, the sides are close enough that at least part of the sale could be announced next week during the Farnborough Air Show outside London, the industry's largest trade expo this year, the people said.
Airbus declined to comment. AirAsia declined comment.
The purchase of the A321neos would catapult AirAsia ahead of India's Interglobe Aviation as the biggest customer for Airbus's marquee narrowbody jet, extending the Malaysian carrier's existing orders to 504 planes.
Even more crucial for Airbus, a decision to take more of the larger A330neos would reaffirm AirAsia's commitment to that widebody program amid heavy competition with Boeing's fast-selling 787 Dreamliner. As negotiations heated up last week, AirAsia Chief Executive Officer Tony Fernandes fired an unconventional shot at Airbus with a tweet en route to a meeting at the manufacturer's Toulouse, France, headquarters:
"We have ordered the 330 but to finally confirm it we must make sure price is right. Performance is right. Engine is right," Fernandes said on Twitter. "If right the plane we dreamt of and fought for and then we can order more. Or else."
The A321neo, the largest of the A320 family, has a list price of $129.5 million, while the dual-aisle A330-900 has a sticker price of $296.4 million. Airlines typically benefit from significant discounts to list prices.
Join the discussions