Jokowi supporters try to prevent anti-Jokowi activist from entering Batam

Batam |

Sun, July 29, 2018

| 05:17 pm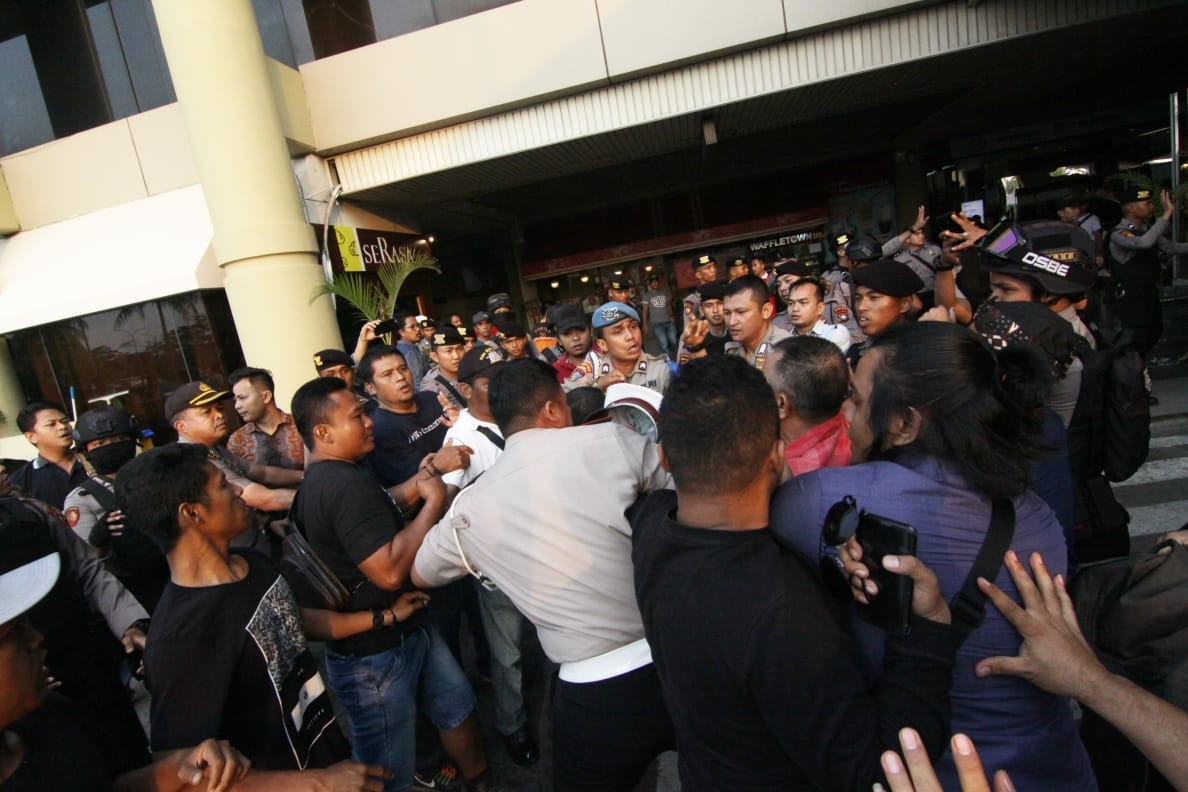 About 150 people claiming to be supporters of President Joko "Jokowi" Widodo tried to prevent Neno Warisman, an opposition activist with the #2019ChangePresident campaign, from entering Batam, Riau Islands, on Saturday. (JP/Fadli)
About 150 people claiming to be supporters of President Joko "Jokowi" Widodo tried to prevent Neno Warisman, an opposition activist with the #2019ChangePresident campaign, from entering Batam, Riau Islands, on Saturday.
Neno, who was a famous singer in the 1990s, had landed at Hang Nadim Airport to attend a #2019ChangePresident event on Sunday. However, a crowd intercepted her at the airport and demanded that the authorities prohibit her from entering the city.
Neno found herself stuck inside the airport for six hours, before the committee for the #2019ChangePresident event escorted her out. The crowd, which carried banners expressing their rejection of Neno, said Neno often uttered hate speech against Jokowi.
Riau Islands Indonesian Democratic Party of Struggle (PDI-P) executive Soeryo Respationo told The Jakarta Post on Saturday that the people were hurt by Neno's behavior.
"If you criticize his performance, that would not be a problem. But they malign him much, and our friends here could not accept that," he said.
He said groups wanting to change the president should air their grievances during the presidential election campaign. "Don't push it now," he said.
Soeryo demanded that the police prohibit Neno from entering Batam, because that was "what the crowd wanted".
Neno's friends, on the other hand, demanded that police escort Neno out of the airport safely. The #2019ChangePresident campaign also deployed its own crowd, estimated at about 500 people, to the airport.
After six hours at the airport, Neno finally got out, escorted by people wearing her campaign's T-shirts. When Jokowi supporters found out that she had got out, they shouted in anger and tried to hurl stones at the car transporting Neno.
Barelang Police chief Sr. Comr. Hengki told the Post that his office would ensure Neno's safety in Batam.
On Sunday, the anti-Jokowi event passed without any significant trouble in the yard of Batam's Grand Mosque. Neno, a prominent figure in the anti-Jokowi movement, said next year was the right time to change the president.
"Why? Because of our economic woes, as prices are rising and eggs are very expensive. How could this happen," said Neno.
Not far from the mosque, Jokowi's supporters held an event of their own on Sunday, which also remained calm. (evi)
Topics :
Join the discussions