Farmers, researchers step in to eliminate 'Black River's' smell
Ida I. Khouw

The Jakarta Post
Jakarta |

Mon, July 30, 2018

| 03:58 pm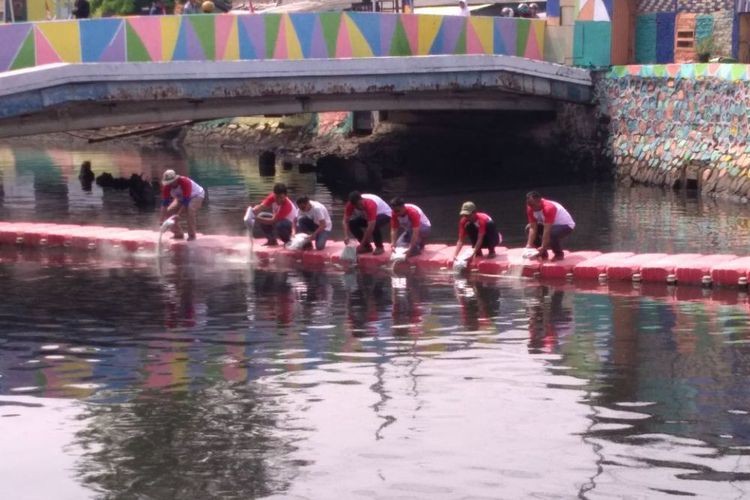 Members of the Jakarta branch of the Indonesian Farmers Association (HKTI) pour 500 kilograms of DeoGone deodorizing powder into the Sentiong River in Central Jakarta on July 29. (kompas.com/File)
The foul smell emanating from the Sentiong River, which has been dubbed Kali Item or the Black River because of its severe level of pollution, in Kemayoran, Central Jakarta, has prompted several groups to work together to reduce its smell.
On Sunday, members of the Jakarta branch of the Indonesian Farmers Association (HKTI) scattered 500 kilograms of deodorizing powder called DeoGone on the river's surface.
"[Jakarta HKTI members] chipped in to procure the powder. We could only purchase 500 kilograms, while 7.5 tons is needed to completely eliminate the river's smell," said Jakarta HKTI representative Suwardi Hagani, as quoted by kompas.com.
DeoGone, Suwardi added, was a deodorizing powder developed by microbiologist Dr. Tri Panji from the Indonesia Biotechnology and Bioindustry Research Center (PPBBI). The product was patented in 2014.
Suwardi said the Jakarta HKTI had tried something similar in 2015 to reduce the smell of the Grogol River in West Jakarta.
Another effort was made by the Gadjah Mada University Alumni Family (Kagama) in Jakarta. Several representatives of Jakarta Kagama sprayed 2,500 liters of a microbe liquid believed to be able to eliminate the river's smell.
The organization's head Shodiq Sihardianto explained that the organic and sulfuric matter in the river had been contaminated by a pathogen bacteria. The combination of these matters created fatty acid and sulfide gas that caused the water to turn dark and smell.
"Hence, we believe that the only solution is to inject a microbe liquid containing probiotic lactic acid that can biologically break down the compound and kill the pathogen bacteria." (vla)
Topics :
Join the discussions