Beef 'rendang', more help on way to Lombok from all over country
Suherdjoko, N. Adri, Djemi Amnifu, Ganug Nugroho Adi and Syofiardi Bachyul Jb

The Jakarta Post
Semarang/Balikpapan/Kupang/Surakarta/Padang |

Tue, August 7, 2018

| 05:45 pm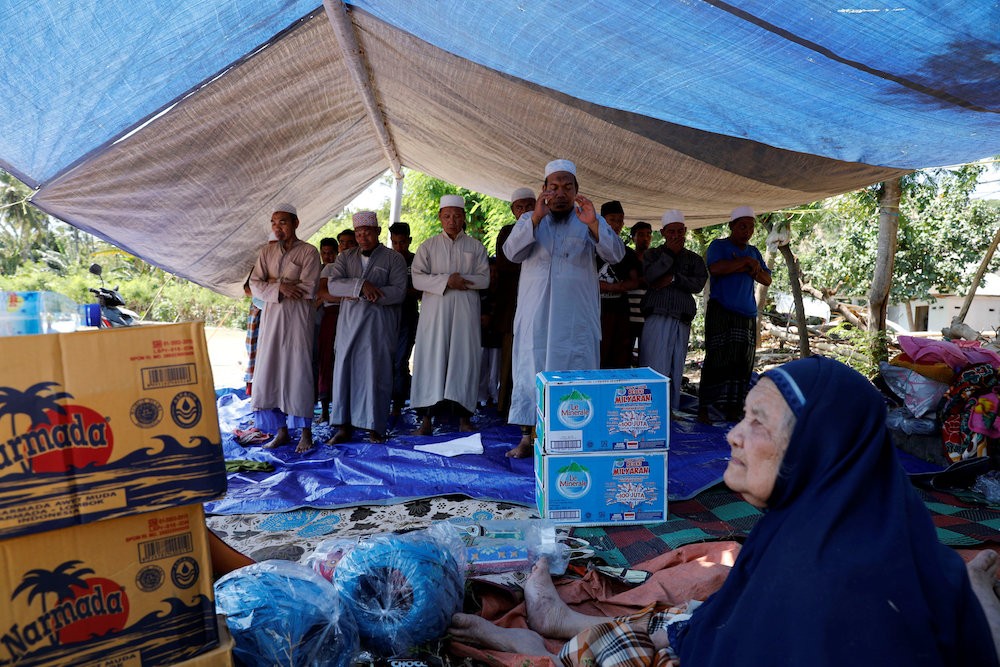 Villagers hold evening prayer inside a temporary shelter after an earthquake hit Lombok island in Pamenang, Indonesia August 6, 2018. (Reuters/Beawiharta)
Civil society groups and local authorities from across the archipelago have been lending a hand in relief efforts in Lombok, West Nusa Tenggara by sending out assistance from basic survival kits to ready-to-eat dishes such as beef rendang for those affected by the quake.
A powerful earthquake killed over 100 people and injured hundreds in the province.
The West Sumatra administration has pledged to send to Lombok at least 400 kilograms of beef rendang, a world-renowned local dish from the province.
"Civil servants from the provincial office and other agencies have contributed to [cooking] rendang and we have managed to collect 400 kilograms so far," West Sumatra administration spokesperson Jasman Rizal said on Tuesday, adding that the administration might send some more as residents were welcome to participate.
"[Rendang] is delicious and it can last for quite a long time," he said.
Meanwhile, universities and a hospital in Semarang, Central Java, have gradually dispatched dozens of medical professionals, including surgeons, anesthetists, general physicians, nurses and other medical support to Lombok since Tuesday.
"Four doctors, who are alumni of Sultan Agung University's Medical School, have arrived in Lombok, two more doctors will be arriving later today and three others will fly tomorrow," Central Java Rescue member Adex Tisna told The Jakarta Post on Tuesday.
Diponegoro University's Care for Lombok will also deploy five specialists, including surgeons and anesthetists, five psychologists and four public health experts, who will depart on Wednesday. Sixteen medical professionals from Dr. Kariadi Hospital will also depart for Lombok tomorrow.
The Surakarta Red Cross in Central Java is sending a medical team, ambulances, blood supplies and medicine to Lombok.
"The team will stay there for a week," Surakarta Red Cross secretary Sumartono Hadinoto said.
After a week, another team will be dispatched to extend the work.
Plan International Indonesia Foundation has sent 500 shelter kits comprising tents, blankets and rugs, from neighboring East Nusa Tenggara.
Meanwhile, West Nusa Tenggara natives currently living in Balikpapan, East Kalimantan, also collected money to help their fellows in Lombok.
"The amount of money may not be significant, but we hope this will help them," Bima-Dompu Youth Forum chairman Jufriadin said. (swd)
Join the discussions