Prosecutors demand 1.5 years for Buddhist woman on 'azan' blasphemy charge
Apriadi Gunawan

The Jakarta Post
Medan |

Tue, August 14, 2018

| 02:34 pm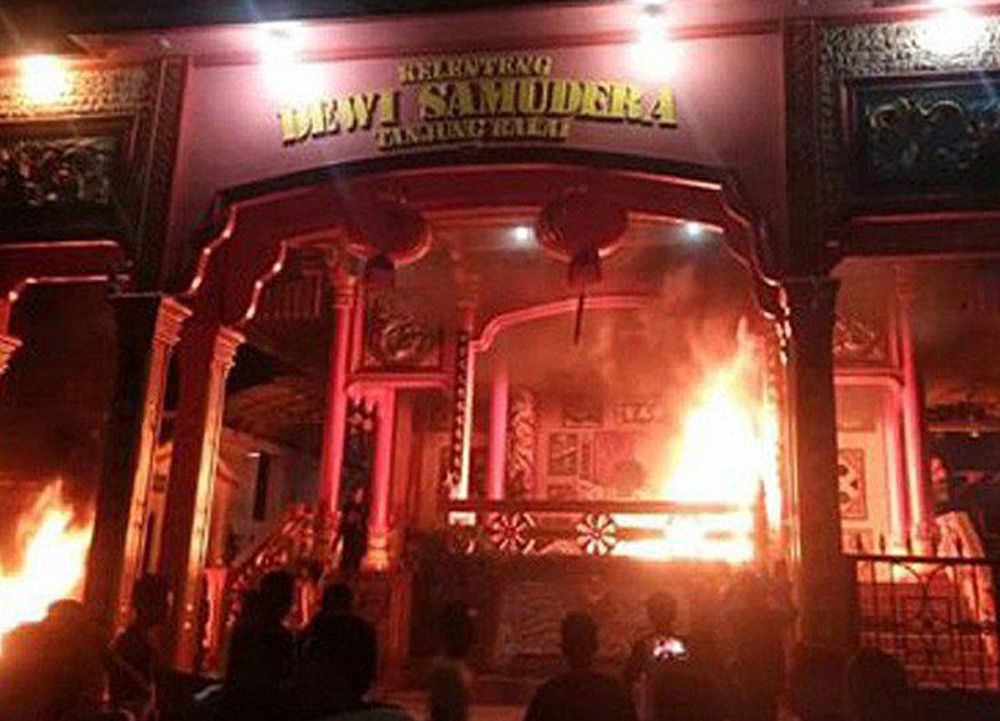 Up in arms: Residents gather in front of Dewi Samudera, a Chinese temple in Tanjung Balai, North Sumatra, which was plundered and set ablaze by an angry mob on July 29, 2016. ((Courtesy of kini.co.id/-)
A Chinese-Indonesian woman of the Buddhist faith in Tanjung Balai, North Sumatra, faces a possible 1.5-year prison sentence after she was charged with blasphemy for saying that the azan (the Islamic call to prayer) that was blasted from a speaker of a mosque near her house was "too loud" and "hurt" her ear.
Her remark, made in 2016, is believed to have triggered one of the worst incidences of sectarian violence in the regency, with Muslims who claimed to have been offended by her words burning several Buddhist temples.
The 44-year-old woman, Meiliana, cried when prosecutors demanded that she be found guilty of blasphemy under Article 156 of the Criminal Code and sentenced to 1.5 years in prison.
"We ask the judicial panel trying this case to hand down a prison sentence of 1.5 years to the defendant, Meliana," prosecutor Anggia Y Kusuma told the Medan District Court on Monday.
The prosecutors based their demand on a fatwa the North Sumatra chapter of the Indonesian Ulema Council (MUI) issued, which affirmed that Meliana's statement was blasphemous.
The prosecutors argued further that her statement had set off an anti-Chinese riot in Tanjung Balai that led to the destruction of several temples and allegedly forced a number of Chinese families to flee to neighboring countries.
The police arrested 19 people for their roles in the riot. Eight were charged with looting, nine with malicious destruction of property and two with inciting violence. All were given 1- to 4-month prison sentences.
Meliana is the latest to be charged under the nation's Blasphemy Law, which human rights activists have widely criticized as "draconian".
The most prominent public figure convicted of blasphemy is former Jakarta governor Basuki "Ahok" Tjahaja Purnama for a statement he made in reference to a Koranic verse. His conviction was supported by an MUI fatwa. (ahw)
Join the discussions