Riau Islands MUI asks Muslims to reject MR vaccine

Batam |

Wed, August 22, 2018

| 04:34 pm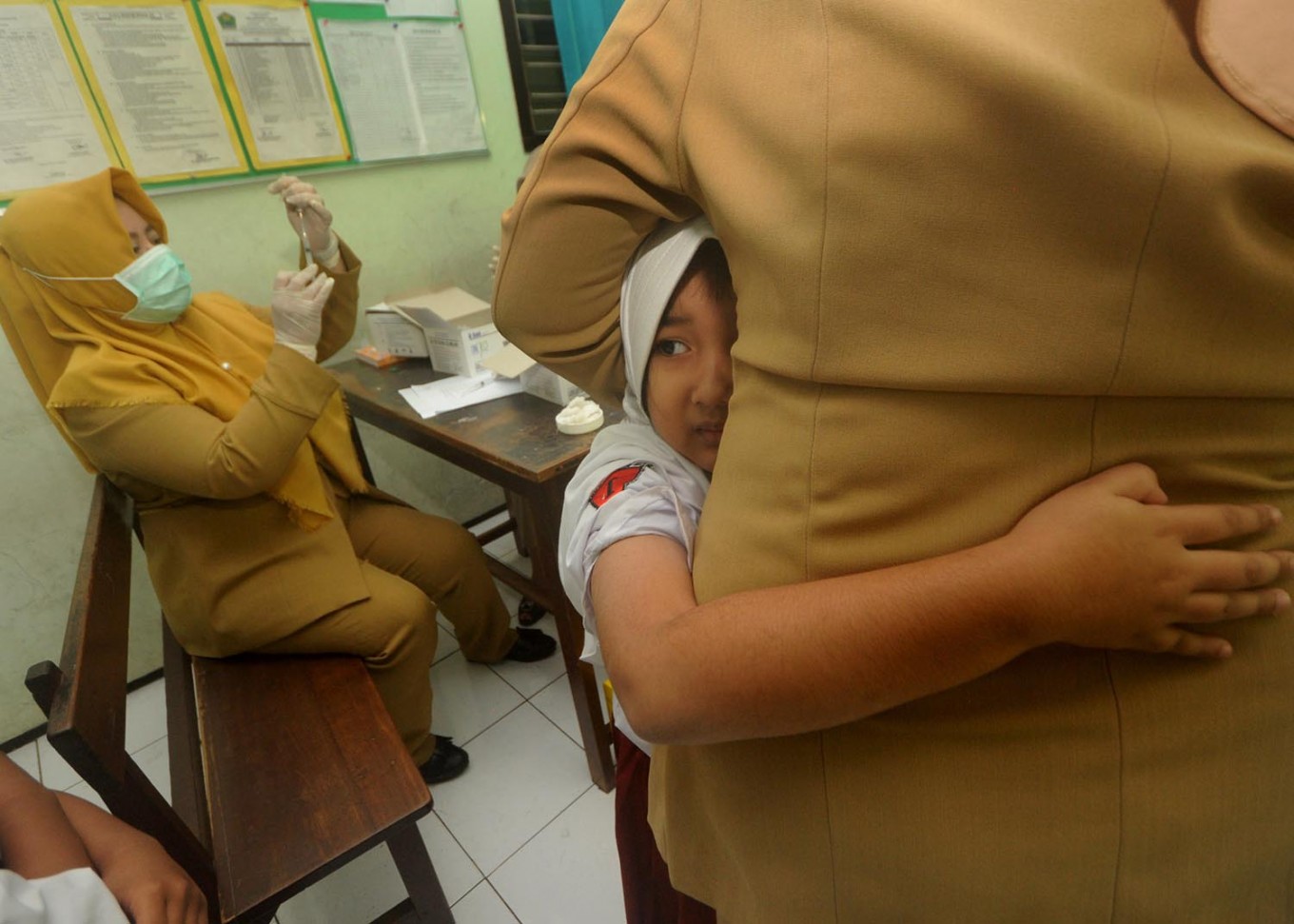 A student embraces her teacher while receiving a diphtheria vaccine during the final round of the Outbreak Response Immunization (ORI) program in Malang, East Java, on Tuesday, July 24. The program targeted local residents aged 1 to 19. JP/Nedi Putra AW (JP/Nedi Putra AW)
The Riau Islands' chapter of the Indonesian Ulema Council (MUI) urged Muslims to refrain from using the measles-rubella (MR) vaccine, despite the central MUI's fatwa that the vaccine is mubah (permitted for Muslims).
"Now that it is clear that [the vaccine contains] elements that are forbidden for Muslims, the MUI asks Muslims in Riau Islands province to reject the vaccine," Riau Islands MUI secretary Ustadz Santoso told The Jakarta Post on Wednesday.
The central MUI had announced on Monday that although the MR vaccine utilized materials derived from pigs in its production process, its use was permitted because a halal vaccine had yet to be made, constituting a "sharia emergency".
However, Santoso, said the Riau Islands council did not consider current conditions to be an emergency.
"If the MR vaccine is really so important, then we call on the government to quickly make one that is halal and safe for Muslims," he said. "We would accept the excuse of an emergency if rubella was really widespread in this area, but we can see that there is no issue."
He added that the Riau Islands MUI would issue a letter firmly forbidding Muslims from using the vaccine.
After completing the first stage of a measles and rubella vaccination campaign in six provinces across Java last year, the government is now targeting around 32 million children outside Java who will receive the vaccination for free at schools and public health facilities.
School administrators and parents in Batam, however, expressed their reluctance to let their children be vaccinated.
Dharmansyah, the principal of Hidayatullah Islamic Junior High School in Batam, said he would let parents decide whether their children would be vaccinated.
"We do not want to be seen as rejecting government policies, so we leave the decision up to the students' parents," he said.
Del Harahap, a parent of one of the school's students, asked the school to go a step further and refuse entry to the provincial health agency's medical team.
"I think the school should firmly reject the arrival of the vaccination team as it's clear that there is a haram component in the vaccine," she said.
Riau Islands health agency head Tjeptjep Yudiana said the agency would continue with the program despite the MUI's objections.
"Let that be the MUI's problem, we will still continue [the campaign]," he said. (kmt/ahw)
Join the discussions