'Bodies are everywhere': Central Sulawesi earthquake
News Desk

The Jakarta Post
Jakarta |

Sun, September 30, 2018

| 01:30 pm Dozens of people have been found dead along the coast of Palu, Central Sulawesi, after a tsunami triggered by a 7.4-magnitude earthquake slammed into the city on Friday. (Bnpb/Bnpb)
Amid the power and communication blackouts that have followed the 7.4-magnitude earthquake and ensuing tsunami in Central Sulawesi, several journalists based in the provincial capital of Palu have been able to submit brief reports about the disaster.
Ical, a journalist with Sulteng Terkini news portal, reported via a message that has circulated on journalist Whatsapp groups that he saw "bodies everywhere" after the earthquake on Friday at 6:02 p.m. local time or 5:02 p.m. Jakarta time.
"Along the Palu coast, houses were swept away by the tsunami, including my house in Tondo, lost completely to the tsunami. Bodies are everywhere," Ical said in a Whatsapp message. "[Praise Allah], my children are safe," he said on Friday.
Read also: [UPDATED] Central Sulawesi quake: What we know so far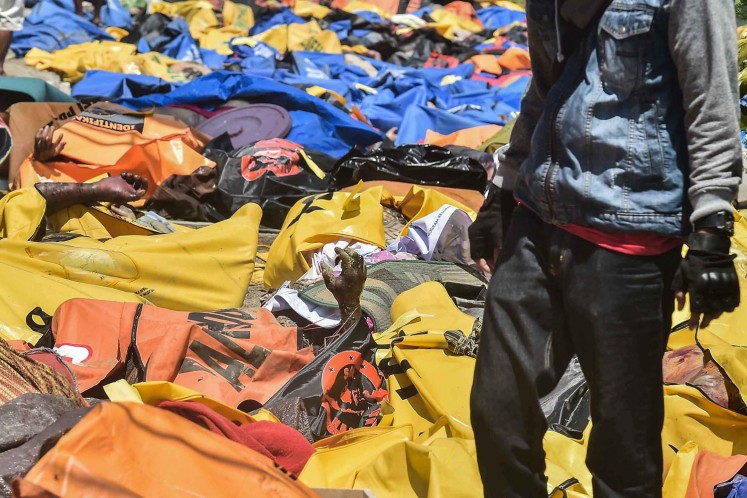 Dozens of people have been found dead along the coast of Palu, Central Sulawesi, after a tsunami triggered by a 7.4-magnitude earthquake slammed into the city on Friday. (Antara/Muhammad Adimaja)
On Sunday morning, the National Disaster Mitigation Agency (BNPB) announced that at least 405 people are dead, 29 missing and 540 injured as rescue teams scoured the ravaged city of Palu.
Another journalist with the Radar Sulteng newspaper, Rony, said in a message sent not long after the disaster struck that the communication network had been cut off since Friday night. "Fatalities, so far, are mostly around Talise Beach in Palu Bay, swept away by sea water. Coincidentally, there was an opening of the Palu Nomoni Festival on Talise Beach, so there were many people there," Rony said.
Soon after the earthquake, a tsunami warning for Central Sulawesi was issued at 5:07 p.m. The warning, however, was revoked around 30 minutes later. (hol/evi)
Join the discussions