Deforestation leading to Jambi flooding, warns green group
Jon Afrizal

The Jakarta Post
Jambi |

Wed, November 7, 2018

| 03:23 pm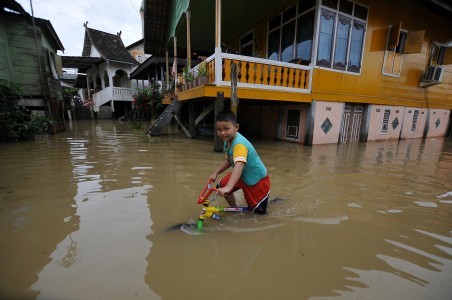 A boy rides his bicycle through flood waters and past inundated traditional houses in Pelayangan district, Jambi, on Tuesday, March 7, 2017. (Antara/Wahdi Septiawan)
Excessive damage to Jambi's forests as a result of destructive activities like illegal logging and mining, as well as land conversion, is causing routine flooding in the province, environmental group Warsi Indonesian Conservation Community (KKI Warsi) has warned.
The latest flooding caused by the deforestation occurred in Bungo regency, which saw the inundation of almost 770 houses inhabited by around 914 families last Saturday.
According to Bungo Disaster Mitigation Agency, 20 families had to leave their homes because of the flooding.
KKI Warsi spokesperson Sukmareni Rizal revealed that Jambi province had only around 930,000 hectares of forest left, about 18 percent of its total 5.3 million ha area.
"The deforestation has triggered ecological disasters. When the rainy season comes, the water falling from the sky cannot be absorbed, that results in the flooding," Sukmareni said on Wednesday.
Illegal gold mining, moreover, has made things worse. KKI Warsi's data shows that such mining has damaged a total of 27,822 ha of forest, comprising 13,762 ha in Sarolangun regency, 9,966 ha in Merangin and the remaining 4,094 hectares in Bungo.
Head of the Sultan Thaha meteorological station, Addi Setiadi, said separately that light to moderate rain would fall in the province over the next three days. "Residents must be wary of possible disasters including flooding," Addi said. (vny)
Topics :
Join the discussions