Jokowi won't grant Nuril amnesty
Karina M. Tehusijarana

The Jakarta Post
Jakarta |

Tue, November 20, 2018

| 11:30 am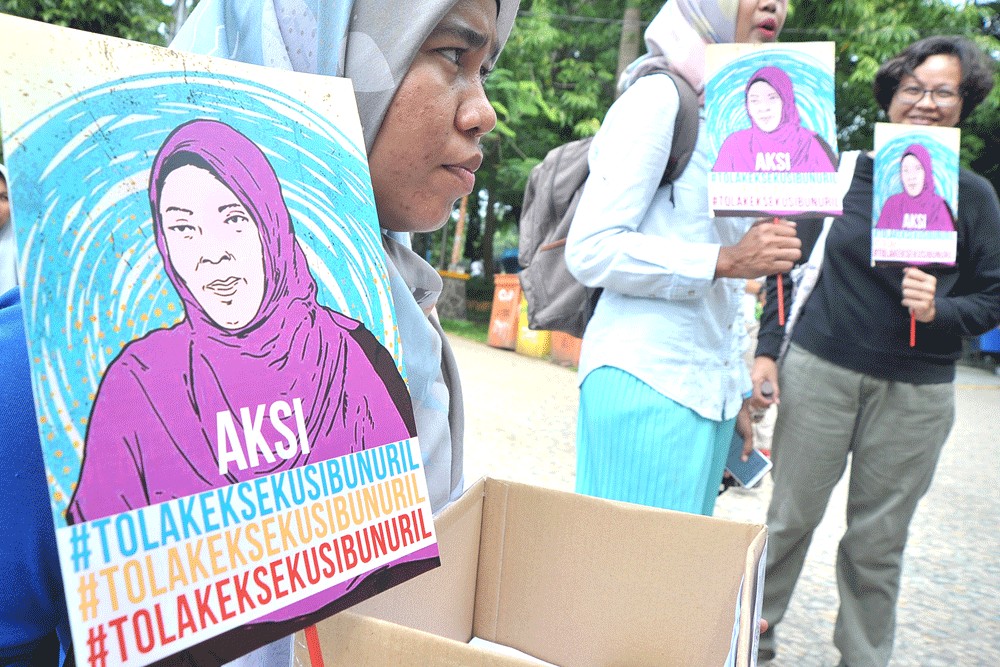 Protesters gather in Palembang, South Sumatra, on Sunday in support of Baiq Nuril Makmun, a school teacher from Mataram, West Nusa Tenggara, who is facing a six-month jail sentence for defaming her alleged harasser. (Antara/Feny Selly)
President Joko "Jokowi" Widodo said that he cannot intervene in the ruling concerning Baiq Nuril Maqmun, a West Nusa Tenggara teacher who was convicted of defaming her alleged sexual harasser.
Activists have urged Jokowi to grant Nuril amnesty.
"We have to respect the legal process and respect the Supreme Court's cassation ruling. As the head of government, I cannot intervene in that ruling," he told reporters on Monday. He encouraged Nuril to submit a case review to the Supreme Court in order to "seek justice".
"If the case review does not provide justice, then she can apply for clemency to the President," he said. "Once she has applied for clemency, that's where I come in."
The Supreme Court sentenced Nuril to six months imprisonment and ordered her to pay a fine of Rp 500 million (US$34,218) after finding her guilty of defaming the principal of the public high school where she worked.
The 37-year-old mother of three was accused of circulating a recording of a phone call in which the principal related the sordid details of an affair he had with another woman. She claimed she had only taped the phone call and that the recording was distributed by another person.
A group of activists called the Coalition to Save Ibu Nuril has called on Jokowi to grant Nuril amnesty, which would clear her of all charges. Representatives from the coalition met with the Office of the Presidential Staff on Monday to present a written request and a copy of a petition signed by more than 100,000 people in support of amnesty.
"The staff received the letter and the petition and promised to show it to the President," coalition member and Institute for Criminal Justice Reform (ICJR) executive director Anggara told The Jakarta Post.
Amnesty is one of three powers granted to the President to intercede in legal matters by the Constitution, the two others being clemency and abolition. Abolition would not be applicable to Nuril's case as it would have to be granted before her case went to trial.
"By giving amnesty, the person in question is considered not guilty. Clemency, on the other hand, is given to people who have been proven guilty and admitted their guilt," constitutional law expert Feri Amsari said. "The convicted person has to apply for clemency, but amnesty can be granted on the initiative of the President."
He believed that in Nuril's case, amnesty was the correct step to take, adding that it would not amount to intervention in the legal process.
"The legal process for Nuril's case is already over. The case review is an extraordinary legal measure, so I don't think that the President is intervening by giving amnesty," he said. "As the 'final executor', the President should be able to provide the justice that has been missing from the rigid legal process."
Nuril and her lawyers have been preparing a case review to challenge the verdict, maintaining that she had done nothing wrong.
But even a case review would not stop prosecutors from carrying out the Supreme Court's ruling to jail Nuril, which they are set to do on Wednesday, Feri said.
Anggara said that Nuril's legal position was a precarious one, as any efforts to postpone imprisonment would also prevent her from filing a case review petition.
"So, if the Supreme Court's ruling is not executed, she cannot file a case review," he said. "In our opinion, the ideal outcome is for the execution to be postponed, pending presidential amnesty."
He added that he disagreed with Jokowi's statement about clemency as Nuril had done nothing wrong.
"How can the President expect an innocent person to admit guilt for something she hasn't done?" he said.
Join the discussions