Duterte's 'erratic behavior' raises investors' concerns
Ben O de Vera

Philippine Daily Inquirer/ANN
Manila |

Mon, December 19, 2016

| 06:34 pm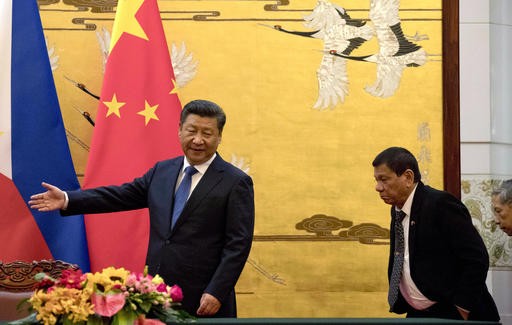 Philippine President Rodrigo Duterte (right) is shown the way by Chinese President Xi Jinping before a signing ceremony in Beijing, China, Oct. 20, 2016. (AP/Ng Han Guan, Pool)
The Philippines will sustain robust economic growth next year, but President Rodrigo Duterte's "erratic behavior" may deter fresh investments from coming in, according to London-based economic research consultancy firm Capital Economics.
"In the Philippines, we are concerned by the increasingly erratic behavior of the country's new President, Rodrigo Duterte," Capital Economic said in a report titled 'What to expect in 2017'.
The President has been making controversial as well as conflicting statements that confuse the public.
For one, Duterte earlier announced an economic and political separation from the United States following current President Barack Obama's criticism of the former's war against illegal drugs said to be spurring extrajudicial killings.
However, following the triumph of President-elect Donald Trump in the US elections held last November, Duterte had said he was expecting improved relations between Manila and Washington.
"The country's strong fundamentals mean growth should remain strong over the next year, but there is a growing risk that Duterte makes it harder for the Philippines to attract the big investments in infrastructure that it needs to underpin its long-run development," Capital Economics said.
The report was nonetheless optimistic that "despite the continued political uncertainty, [the Philippines] is also likely to do well, with government spending and rapid investment set to remain key drivers of growth."
Separately, Capital Economic said it expects monetary authorities to keep the policy rate steady during its last meeting for the year on Dec. 22.
"The central bank in the Philippines looks almost certain to keep interest rates on hold at its upcoming meeting. Although consumer price inflation has rebounded in recent months, at 2.5 per cent year-on-year in November, it remains toward the bottom of the BSP's target range of 2-4 per cent. And while inflation is likely to rise over the coming months as oil price inflation continues to pick up, it should remain low for a while yet," Capital Economics said. Headline inflation averaged 1.7 per cent during the first 11 months.
"Meanwhile, the economy is continuing to grow at a decent pace supported by strong investment, a booming business process outsourcing sector and high levels of business and consumer confidence. In other words, there is little need to cut interest rates to support economic growth. Overall, we think interest rates in the Philippines are likely to remain at their current low levels until at least end-2017," according to Capital Economics.
Topics :
You might also like :
Comments