Vietnam oil exec 'kidnapped' from Germany gets life for graft
|

Mon, January 22, 2018

| 03:05 pm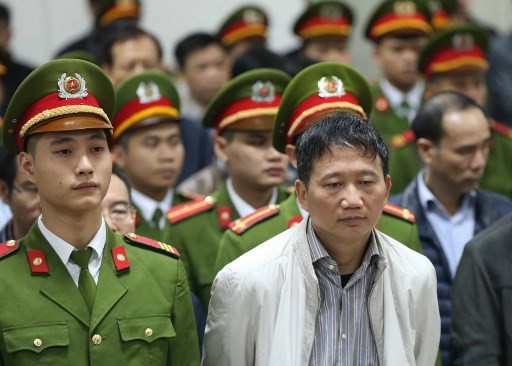 Vietnamese former state oil executive Trinh Xuan Thanh (front R) listens to the verdict in his trial at Hanoi's People's Court on January 22, 2018. Thanh who was allegedly kidnapped from Germany was sentenced to life in prison for graft on January 22, in the most high-profile corruption trial in the communist nation that has targeted business and political elite. (AFP/Vietnam News Agency )
A Vietnamese former state oil executive who was allegedly kidnapped from Germany was jailed for life on Monday for embezzlement, in the highest-profile corruption trial to target the Communist country's business and political elite.
The blockbuster trial also involving 21 other officials, including an ex-politburo member, has gripped a country where the affairs of the powerful are normally kept secret.
But Vietnam's conservative leadership is waging a massive anti-communist sweep that mirrors China's crackdown on graft.
Trinh Xuan Thanh, the former head of state-run PetroVietnam Construction (PVC), was sentenced to "14 years for mismanagement and life in prison for embezzlement", according to state-run VNExpress news site.
The jury said "no-one at PVC dared use money with the wrong purposes" without Thanh's direction, according to VNExpress.
The embezzlement charges carry a maximum sentence of death, but the tariff was reduced after prosecutors recommended life instead.
Thanh faces a second separate trial later this week for embezzlement that could see him put to death.
The oilman was seeking asylum in Germany when he was plucked from a Berlin park by Vietnamese security agents last year, in a brazen Cold-War era episode which German officials called a "scandalous violation" of its sovereignty.
Hanoi insists Thanh returned to Hanoi voluntarily to turn himself in, but the incident sparked a diplomatic row, with Berlin expelling two senior Vietnamese diplomats.
Former Politburo member Dinh La Thang, who once chaired the board of PetroVietnam, was sentenced to 13 years in prison on Monday.
The VNExpress report said the punishment was intended to send a warning to the public about "abuse of power and rampant violation of the law".
Twenty other officials were also sentenced on Monday, receiving punishments ranging from 22 years in prison to a suspended sentence of 30 months.
All were accused of "deliberate wrongdoing" causing losses worth $5.2 million for the state during an investment by PetroVietnam in the construction of a thermal power plant.
The trial, which was closed to the international press, was the highest-profile corruption case in years.
Critics say the corruption purge is fuelled by political infighting and is led by Communist Party chief Nguyen Phu Trong.
Thanh made a tearful apology to the court last week, seeking forgiveness from Trong and the party in a video that went viral.
He will return to court for a fresh trial on Wednesday on embezzlement charges after he was accused of pocketing $620,000 in state funds. The charges carry the death penalty.
According to Transparency International, Vietnam ranks 113 out of 176 on its corruption index, worse than its Southeast Asian neighbors Thailand, the Philippines and Myanmar.
Topics :
Join the discussions