UN investigator blames Facebook for spreading hate against Rohingyas
Jakarta |

Tue, March 13, 2018

| 12:49 pm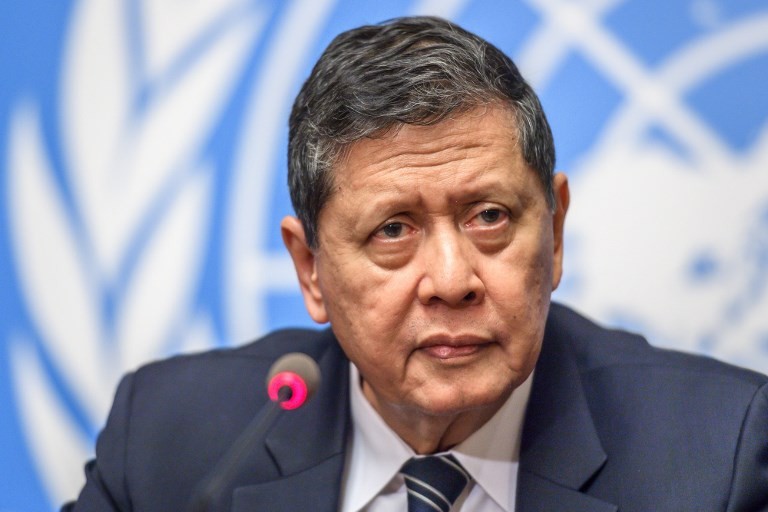 Chair of the Fact-Finding Mission on Myanmar Marzuki Darusman attends a press conference after addressing his report before the United Nations (UN) Human Rights Council on March 12, 2018 in Geneva. (Agence France -Presse/Fabrice Coffrini)
United Nations investigators probing a possible genocide in Myanmar on Tuesday blamed social media giant Facebook for spreading hate speech that led to violence against the Rohingyas.
Marzuki Darusman, chairman of the UN Independent International Fact-Finding Mission on Myanmar said that social media, particularly Facebook, had played a"determining role" in Myanmar.
"It has ... substantively contributed to the level of acrimony and dissention and conflict, if you will, within the public. Hate speech is certainly of course a part of that. As far as the Myanmar situation is concerned, social media is Facebook, and Facebook is social media," he said as quoted by Reuters news agency.
A UN human rights envoy said last week that Myanmar is continuing its "ethnic cleansing" of the Rohingya with a "campaign of terror and forced starvation" in Rakhine state, six months after a military crackdown sparked a mass exodus of the Muslim minority.
Last month, Facebook removed the page of a Myanmar monk once dubbed the "Buddhist Bin Laden" for his incendiary posts about Muslims, the company confirmed, as it faces pressure to clamp down on hate speech.
Wirathu, a prominent face of Myanmar's Buddhist ultra-nationalist movement, had amassed hundreds of thousands of followers on the network, using it as a platform to attack Muslims, singling out the stateless Rohingya minority.
Join the discussions