Malaysia's Najib: from reformer to scandal-haunted leader
Kuala Lumpur |

Wed, May 9, 2018

| 01:43 pm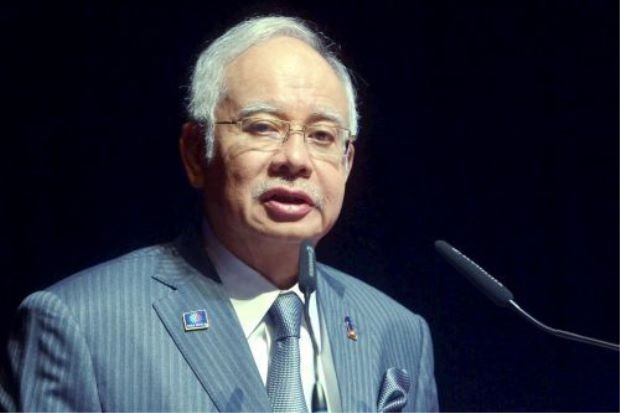 Malaysian Prime Minister Najib Razak (The Star/File)
Malaysian Prime Minister Najib Razak's administration has been rocked by claims he was involved in a campaign to plunder state investment fund 1MDB, slammed by the United States as "kleptocracy at its worst".
But most analysts think the 64-year-old will narrowly win a third term at elections Wednesday, helped by what critics say is manipulation of the electoral system, and buoyed by an improving domestic economy.
Najib came to power in 2009 to replace a premier who was dumped over the government's poor performance at a general election a year earlier.
At that time Najib, a stalwart of the ruling United Malays National Organisation (UMNO) and the son of a Malaysian founding father, presented himself as a reformer.
He made limited changes such as replacing security laws widely criticized as stifling dissent, offering a glimmer of hope that repressive rule by the UMNO-dominated coalition which has led Malaysia for six decades might finally be eased.
But soon after winning a second term in 2013, 1Malaysia Development Berhad ( 1MDB ), a fund launched by Najib to promote economic development, slid into a massive debt hole and allegations surfaced that money was missing.
The story exploded in 2015 when The Wall Street Journal published documents allegedly showing that the premier received US$681 million in payments to his personal bank accounts.
Najib and 1MDB have consistently denied any wrongdoing.
Since then, there has been a steady drip of allegations. The US Department of Justice launched civil lawsuits seeking to seize $1.7 billion in assets allegedly bought with money looted from 1MDB, from real estate to artworks.
In a speech last year, US Attorney General Jeff Sessions criticized those allegedly involved in the scandal, adding: "This is kleptocracy at its worst."
Lurch to the right
As the controversy escalated, Najib lurched sharply to the right.
Opponents were arrested on various charges and critics were purged from government, while domestic investigations cleared him of wrongdoing.
UMNO has led Malaysia at the head of the Barisan Nasional (BN) coalition since independence from Britain in 1957 and has a firm grip on power.
Even with the return of veteran ex-premier Mahathir Mohamad, 92, to head the opposition, analysts say it will be tough for them to oust Najib.
While 1MDB grabbed international headlines, in the rural heartlands of the Muslim Malays -- who make up some 60 percent of the multi-ethnic country's population -- it is not the most important issue.
Voters there are more concerned about rising living costs.
Najib has been given a boost by an improving economic picture and has steadfastly vowed to defend the Malays, who have long enjoyed a favored position in society under an official affirmative action program.
The race has been tightening as Mahathir has succeeded in winning more backing from Malays.
But a survey released by independent pollster Merdeka Center on the eve of the vote showed BN maintaining power, although losing the popular vote.
Malaysia has a first-past-the-post system that requires a contender to get a majority of MPs in parliament to win, but not the most votes.
"We anticipate that BN will prevail in the election," said the pollster.
Topics :
Join the discussions