Japanese cafes based on anime and manga
Jin Kiyokawa

The Japan News/Asia News Network
Japan |

Mon, January 9, 2017

| 03:25 pm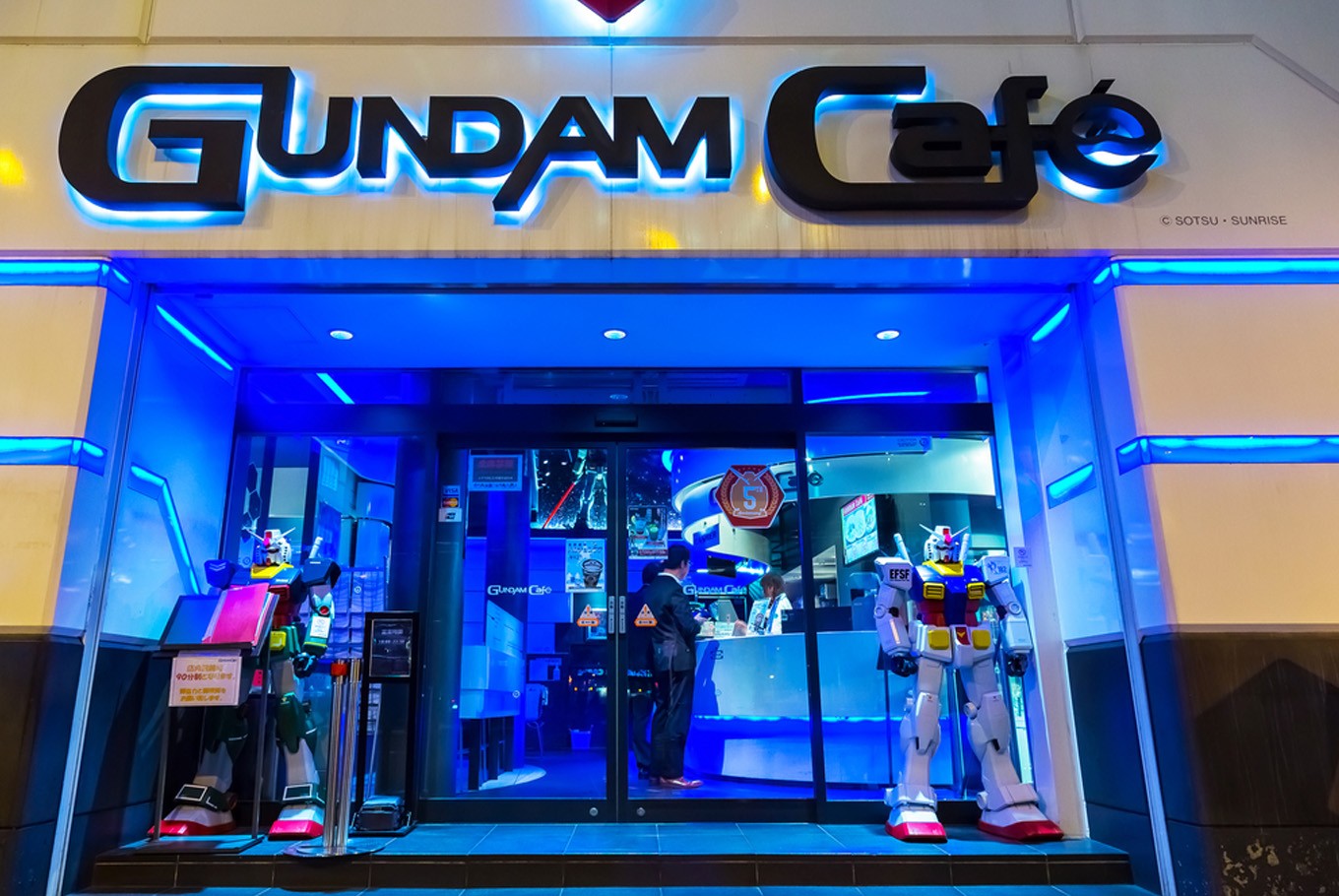 Opened in 2010, Gundam Cafe is a miniature Gundam theme park-like cafe situated in Akihabara Electric Town. (Shutterstock/cowardiion)
Miki Kawahara of Koganei, Tokyo, visited a new restaurant with her children and parents-in-law. Kawahara, 45, was filled with nostalgia, as the restaurant serves dishes based on "Sekai Meisaku Gekijo" (World Masterpiece Theater), a popular TV anime series that mainly presented adaptations of classic novels for children.
"I particularly liked 'Dog of Flanders,'" said Kawahara. "My children know the anime because I have a plate with the characters on it at home. My mother-in-law also said she has fond memories of the anime. I was right to bring them all here."
Named Sekai Meisaku Gekijo Fan Fun Kitchen, the restaurant opened on Nov. 23. It is located in the Ario Hashimoto shopping center in Sagamihara, Kanagawa Prefecture, as the facility attracts many families. Nippon Animation Co., which produced the anime series, has a studio in nearby Tama, Tokyo. The restaurant is the first of its kind based on the series aired from 1975 to 2009.
(Read also: Dog cafe in Kyoto exclusively for pugs and humans)
An increasing number of restaurants and cafes have opened with menus and shop designs depicting the world of popular anime and manga and their characters.
The business seems to have been bolstered by people's love for the characters, combined with gourmet food culture and the practice of posting photos on social media.
At the entrance of Sekai Meisaku Gekijo Fan Fun Kitchen, a wooden monument based on the anime series "Rascal" welcomes visitors. The wall is decorated with drawings by anime artists. There is also a private room designed after the home of Anne in "Anne of Green Gables."
Its menu includes various attractive items, such as French toast with an image of Rascal and a hamburger with Anne's favorite jam."I hope the restaurant will make former fans [of the series] remember the anime," said Yasuyo Asano, manager of the license business department of Nippon Animation. Asano also said the restaurant is intended to increase fans of the series, following the company's successful Rascal stamps sold on the online Line Store.
Character-themed dining facilities have a long history at places like Tokyo Disneyland and other theme parks. Recently, independent shops have opened one after another, particularly ones based on Snoopy of "Peanuts."
Independent shops on the rise
The Peanuts Cafe was opened in Nakameguro, Tokyo, in 2015, the year marking the 65th anniversary of the serialization of the U.S. comic strip. The shop has a sophisticated atmosphere and is so popular that customers have to make reservations.
In addition, Snoopy Cha-ya, a Japanese-style cafe, has opened an outlet for three consecutive years since 2014 — in Yufu, Oita Prefecture; Ise, Mie Prefecture; and Kyoto. As their menus are different, some fans visit all of them.
(Read also: Relax with Mt. Fuji: Nostalgic pictures can lend elegance to bathing at home)
Some character-themed cafes are opened for limited periods of time to promote new films and game software, such as "Meitantei Conan" (Detective Conan) and "Pokemon." Others operate on a permanent basis, such as the moomin Bakery & Cafe and Kitaro Chaya, which have both enjoyed popularity for years.
"Moomin" frequently depicts the Moomin family dining. "Our cafe strives to feature Finnish food, as that country is where 'Moomin' came from. We also put a lot of emphasis on expressing the world of the work," said a spokesman for the moomin cafe operating at the Tokyo Dome City LaQua.
Its popular seven-layer pancakes are based on Moominmamma's specialty dish in "Moomin."
Gundam Cafe in Akihabara, Tokyo, attracts many repeat customers because the cafe, which is based on the ongoing anime "Kido Senshi Gundam" (Mobile Suit Gundam), sometimes renews its menu and refurbishes its interior when a new anime series starts.
The cafe usually attracts more men than women. But recently, 80 percent of its customers have been women, as the new series currently being broadcast is popular with women. "Many customers take photos of visually appealing dishes at our cafe to post them on social media," a staff member said.
While such character cafes are usually located in large cities, Miffy Cafe Kamaishi is in Kamaishi, Iwate Prefecture. It was opened in a municipal facility in December 2015 as the nation's only permanent shop based on the eponymous rabbit character from the Netherlands. It is a project supported by the Netherlands Embassy in Tokyo, launched after the area was severely affected by the Great East Japan Earthquake in 2011.
Cafe owner Nobuyuki Owada said: "Customers come as far as from Hokkaido and Kyushu on weekends. Our cafe is becoming a tourist spot in the city. We're subject to severe checks by the copyright holder, but I'm confident our dishes have appealing homemade touches and taste good."
Topics :
This article appeared on The Japan News newspaper website, which is a member of Asia News Network and a media partner of The Jakarta Post
You might also like :
Comments