South Solok nature tourism revival underway
Syafrizaldi

The Jakarta Post
Padang |

Tue, March 14, 2017

| 09:33 am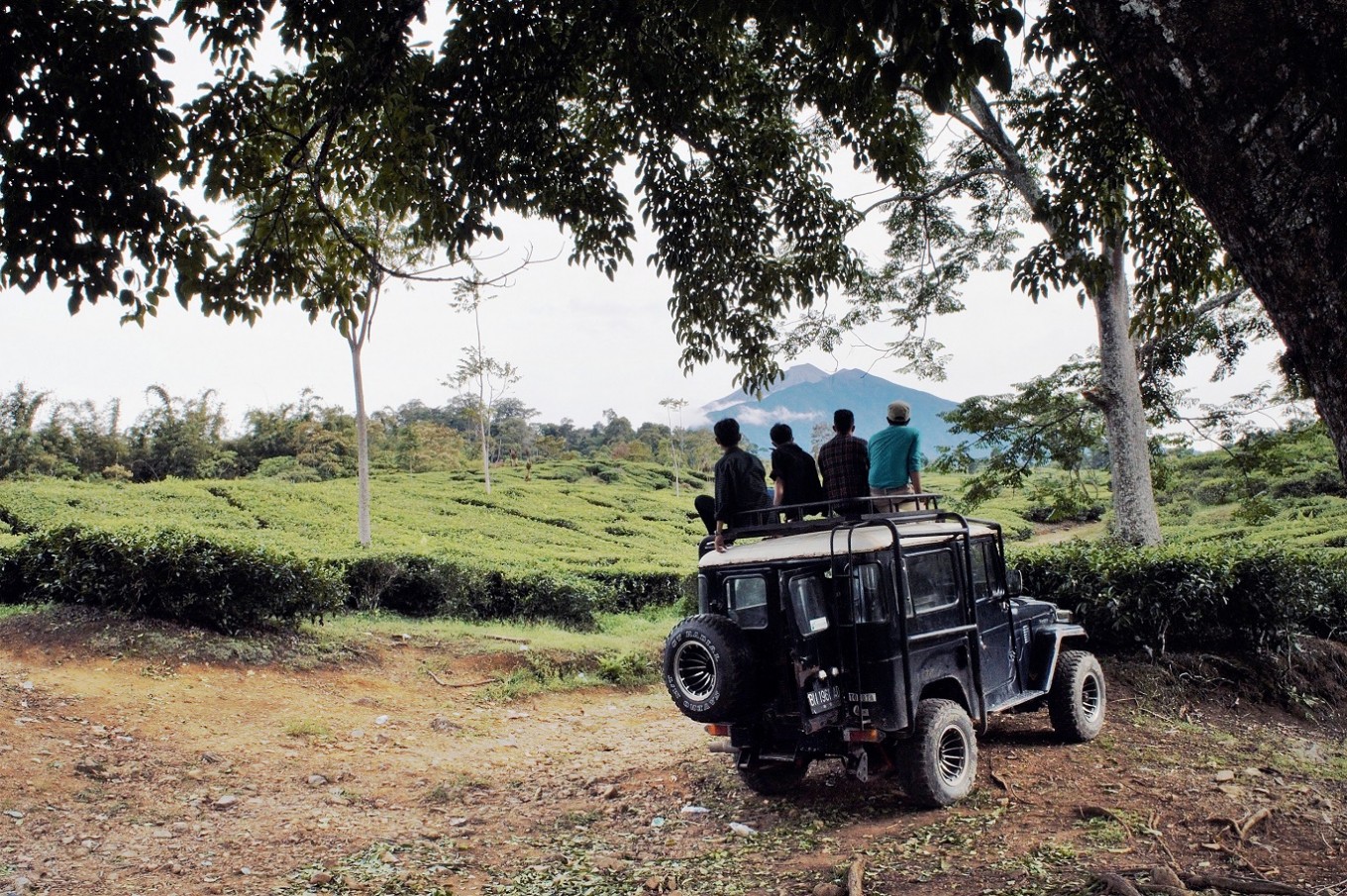 Peeking mountain: Four tourists enjoy the view of Mount Kerinci as seen from the nearest tea plantation. (JP/Syafrizaldi)
A new pathway was opened two months ago for visitors to have easier access to Aia Manyuruak (literally meaning "hidden waters") in South Lubuk Gadang, South Solok, West Sumatra.
Aia Manyuruak is a gorgeous river with a very clear stream flowing through rocks. It is located on the upper reaches with a hillside uniquely covered by sharp karst ridges. Forest vegetation thrives along with local residents' coffee and rubber plantations. The Solok regency has made the place an anglers' destination.
The place is known for fish like gariang (tor tambroides), also called semah, or more popularly known as masheer. Belonging to the Cyprinidae family, the freshwater fish have become the hobbyists' main target because of their big sizes and the difficulty to catch them.
"Previously anglers had to traverse parak, a coffee and rubber agro-forest area. Now the access is better with the new pathway," said Dewi, a member of South Lubuk Gadang's tourism-conscious group inspecting the location.
Dewi also highlighted the need for a long-term management plan and infrastructure development.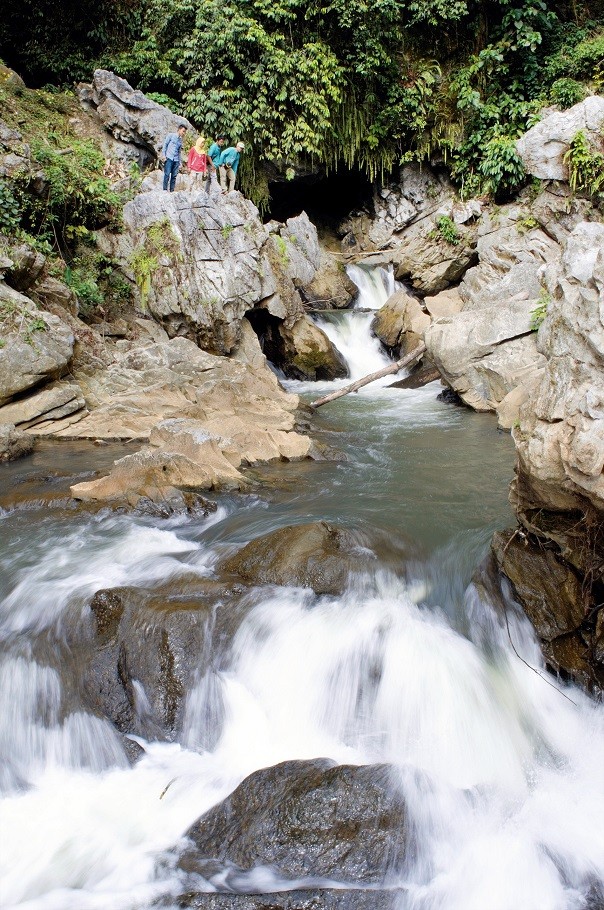 To jump or not to jump: Four visitors enjoy the scenery of Aia Manyuruak. The place is a gorgeous river with a very clear stream flowing through rocks that has been made into an anglers' destination.(JP/Syafrizaldi)
(Read also: Five must-visit places in Komodo National Park)
Despite its potential, the South Solok regency administration doesn't put Aia Manyuruak on the list of its major destinations. Priority goes to the Tangsi Ampek Waterfall, the Seribu Rumah Gadang (traditional house) zone, the Camintoran campground and the Hot Water Boom. According to Dewi, in 2017 Rumah Gadang and the Hot Water Boom have each been allocated Rp 10 billion (US$747,245), with Tangsi Ampek and Camintoran are each getting Rp 5 billion. Meanwhile, Aia Manyuruak only gets Rp 1.5 billion.
In addition to Aia Manyuruak, South Lubuk Gadang village is also developing a village forest management model along with growing multi-purpose plants for conservation and community welfare promotion to promote its tourist spots.
At the foot of Mount Kerince right before South Lubuk Gadang village are vast tea estates managed by PT Mitra Kerinci. A group of female estate workers are plucking tea leaves. Tourists visiting the estates, while enjoying beautiful mountain scenery, if the time is opportune, can also help the women with tea picking and gathering. Within a one-and-a-half-hour ride by bicycle from the tea plantations, the Tangsi Ampek Waterfall can be seen, with its white stream falling from a height of more than 30 meters. Rizki Afrianto, one of three high school students riding to the site, said Tangsi Ampek became famous after several South Africans showed their kayaking feats from its top.
In South Solok, besides Tangsi Ampek, located about 150 km from the West Sumatra capital of Padang, there are other waterfalls that have the potential to be developed into tourist attractions.
"We've visited Timbalun Waterfall on the Pagu River, which is attractive as it forms seven separate falling streams. The others are the Talang Sepintir, Ulu Suliti, Malanca, Batang Daun, Lambe and Palangai Gadang waterfalls," he added.
ICS executive director Salpa Yanri has emphasized the necessity for various other parties to support South Solok tourism, in addition to community movements as demonstrated by the group of Dewi in Aia Manyuruak as well as domestic tourists' campaign through the social media.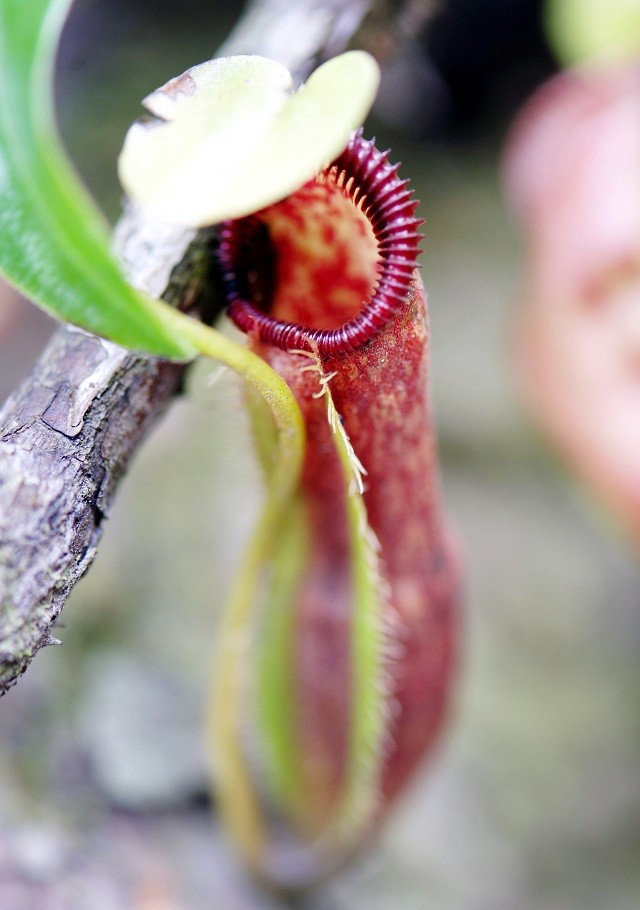 Hiding beauty: Nephentes, also known as a tropical pitcher plant or monkey cup, can be found during a hike to Mount Kerinci in West Sumatra.(JP/Syafrizaldi)
(Read also: Edelweiss park: Safeguarding Tengger nature and tradition)
"The government should seriously handle this sector. Cultural tourism is also reviving along with nature tourism. This is the most possible to blend with nature tourism. With the government's thorough planning, tourism development can contribute to a higher regional income and at the same time serve as a source of local people's livelihood," he indicated.
According to Yanri, tourism management and development should involve public participation like the Aia Manyuruak revival effort.
"Direct community involvement should be supported with funding. Tourism-conscious groups and training courses will surely back up sustainable management. All this is integrated with community empowerment," he added.
Topics :
Join the discussions