Fantastic animals of Indonesia and where to find them
Devina Heriyanto

The Jakarta Post
Jakarta |

Fri, June 30, 2017

| 08:09 am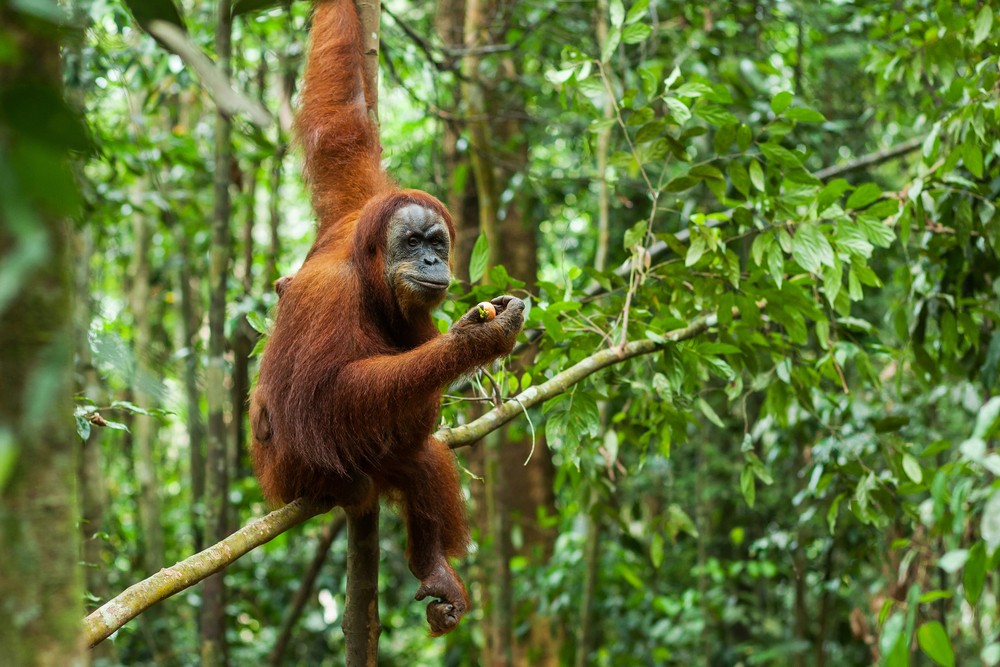 Orangutans are native to rainforests in Sumatra. (Shutterstock/File)
Indonesia is among the world's richest nations in terms of biodiversity. The Jakarta Post has compiled a list of unique animals that can be found in areas across the country, from lush rainforests to diver-friendly seas.
JAVA
Javan rhinoceros
Locally known as the one-horned rhinoceros, the rare species can be found at Ujung Kulon National Park in Banten. The Javan rhinoceros is a highly endangered species because of deforestation and poaching for its horn, which is often used in traditional Chinese medicine.
Read also: Four Indonesian diving destinations where you can spot manta rays
BALI AND NUSA TENGGARA
Mola mola
Also known as the ocean sunfish, the Mola mola is known for its bulky, flattened shape. As a result of its habit of sunbathing, the heavy, bony fish is often found near the water's surface and is a common sight in Bali.
Manta rays
With its wide shape, manta rays are a favorite sight among divers. Indonesia is a sanctuary for the gentle species, which swims year-round in waters near Bali, Komodo Island and Raja Ampat.
Komodo dragon
The Komodo dragon is an endemic species to Komodo Island, East Nusa Tenggara. It is suggested to travel in groups and hire a local guide to ensure safety while exploring the national park.
Read also: Tips for visiting Komodo National Park
KALIMANTAN
Orangutan
Orangutan photos are often shared on the internet, but to see one in real life is an experience in and of itself. As a result of the species' popularity, there are numerous areas that protect the critically endangered great ape, most notably Tanjung Puting National Park.
Proboscis monkey
Although overshadowed by orangutan's popularity abroad, the proboscis monkey is locally popular as the mascot for theme park Dunia Fantasi. Its iconic large nose is only found in male proboscis.
Stingless jellyfish
Aside from Palau Island, the stingless jellyfish can only be found on Kakaban Island in the Derawan area of East Kalimantan. Those who wish to swim with the jellyfish must take a 3 to 4 hour trip by sea to reach Kakaban from Berau or Tarakan.
Read also: Seven reasons Bali is the perfect destination for diving
SUMATRA
Sumatran rhinoceros
Smaller than its Javanese counterpart, the Sumatran rhinoceros is distinct for its hair-covered body and its two horns on its head. They are found at Bukit Barisan Selatan National Park, Gunung Leuser National Park and Way Kambas National Park.
Orangutan
The Sumatran orangutan is a different species than the Bornean one, and even rarer because of a loss of habitat and poaching. Follow Leonardo DiCaprio's footsteps and visit orangutans at Mount Leuser National Park, which straddles the border of Aceh and North Sumatra provinces.
Read also: Swimming with the whale sharks of Gorontalo
SULAWESI
Babirusa
The long, curved tusks that give the babirusa somewhat of a menacing appearance are also what threaten its survival. Hunted for its tusks, babirusa is listed as an endangered species. The wild pig can be found on Togean Island.
Whale sharks
The majestic creatures roam freely in the waters of Gorontalo, North Sulawesi. Visitors can look at the whale sharks from boats or even swim with them. A popular lodging in the area is the Pulo Cinta (Love Island) Eco Resort.
Maleo
The bird species is endemic to Sulawesi, and famous for its mating and breeding habits. A monogamous species that lives in pairs, it buries its eggs in soil or sand and lets the heat act as a natural incubator. A Maleo communal nesting ground can be found at Bogani Nani Wartabone National Park. Elsewhere, Binerean Bay, managed by the Wildlife Conservation Society (WCS), provides conservation sites for the endangered Maleo and for sea turtles. (kes)
Topics :
Join the discussions