Penglipuran: Cleanliness through conservation
Ganug Nugroho Adi

The Jakarta Post
Bangli, Bali |

Thu, July 27, 2017

| 10:15 am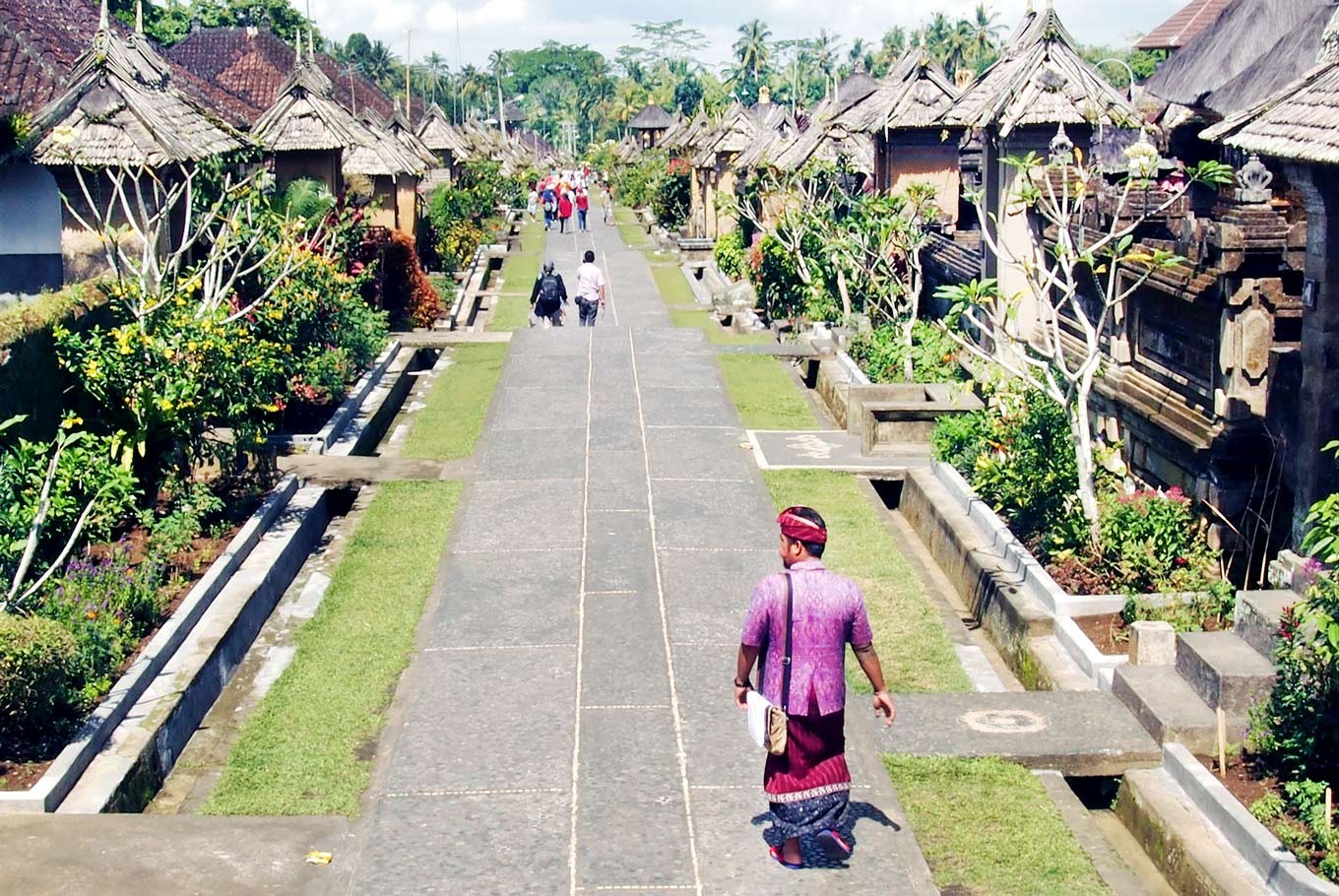 In order: Rows of neat and tidy houses in Penglipuran traditional village, Bangli, Bali, which has become a tourist attraction teem with local and foreign visitors. (JP/Ganug Nugroho Adi)
Clean and tidy houses can be found in neat rows in Penglipuran, a traditional village located at an altitude of 700 meters in Kubu sub-district in Bangli, Bali.
Penglipuran was declared one of the world's cleanest villages in 2016 along with Giethoorn floating village in the Netherlands and Mawlynnong village in India.

Previously in 1995, the village community of Penglipuran also received the Indonesian government's Kalpataru Award for environmental sustainability for raising and maintaining 75 hectares of bamboo forest as well as preserving its traditional spatial layout and buildings based on ancestral designs.

The village has also been a tourist attraction since 1993. In the last five years, Penglipuran has been one of the most frequently visited tourist destinations in Bali alongside the regions of Ubud, Kuta and Nusa Dua.

Penglipuran is among Bali's oldest villages, having existed since the 18th century, during the period of the Bangli Kingdom.

The name of the village is derived from the words pengeling or eling, which means "to remember" and pura, which means "ancestral land."
Read also: Jomblang Cave, a vertical cave with heaven-sent view

The name Penglipuran, therefore, implies that residents keep the land of their ancestors in mind.

From the beginning, Penglipuran has been unique among villages in Bali.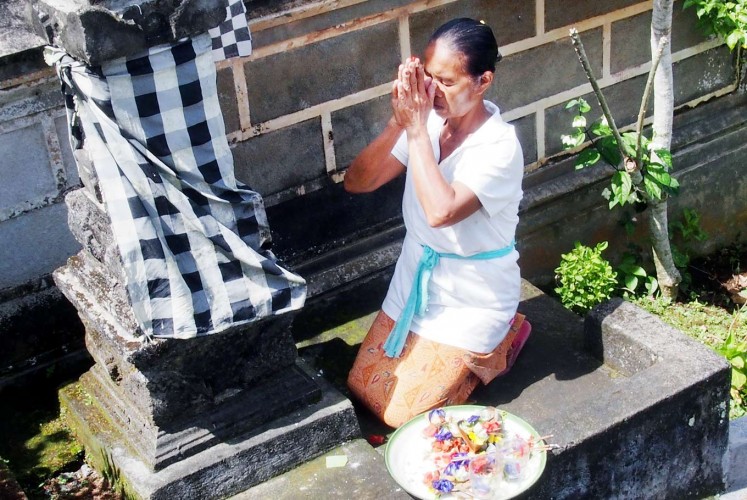 Respecting the gods: A resident places offerings and prays in front of a monument by her house. (JP/Ganug Nugroho Adi)
Along with Trunyan village, Penglipuran has been designtated a Bali Aga village, or original Balinese village, for preserving its ancestral traditions.

Visiting Penglipuran is like taking a trip in a time machine back to Bali's more traditional times.

"Amid the intense forces of modernization, Penglipuran continues to retain its ancestral traditions. I think this has attracted many tourists to our village," chairman of the Penglipuran Village Tourism Awareness Group, I Nengah Moneng, said.

Moneng revealed that before becoming a tourist destination in 1993, the locals had conducted conservation works through the village's participation in the settlement and environment reordering project formulated by the Public Works Office in the late 1980s.

The efforts, Moneng said, were meant to preserve the village's ancestral traditions in the interests of future generations.

In 1990, villagers along with students on rural service assignments, also developed parks by utilizing portions of the village road to the front and side of house yards.
Read also: Four cities in Indonesia where you can travel by foot

"Originally, there was no intention to attract tourists, only the mere purpose of conservation so that our children could be aware of their ancestral traditions and culture," Moneng said.

Unexpectedly, the conservation efforts attracted the attention of the Bangli regency administration, leading to its declaration as a tourist village.

Today the 112-hectare village is home to 985 people from 234 families.

They inhabit 76 equally divided plots, each facing the main road.

The rows of houses are separated by a stone paved main road with trimly cut grass on either side.

The village is notable for its consistent architecture, from roofing to room design. Most homes are built from brick, however some are made from woven bamboo.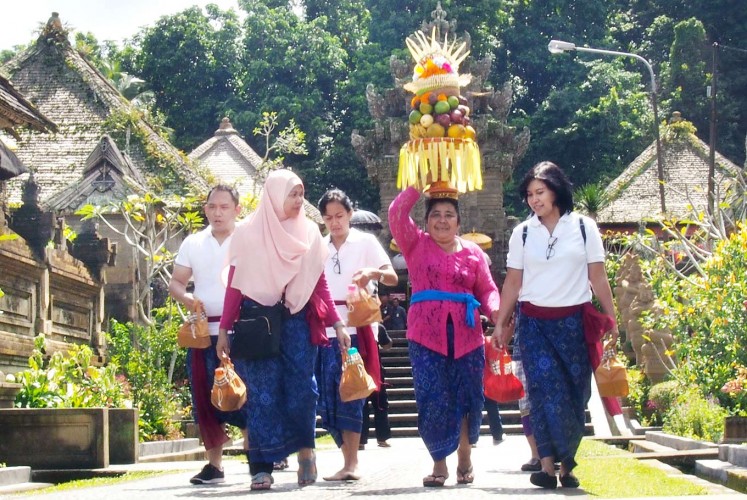 Carefree life: Village residents carry offerings for a traditional ritual to be held at the local village hall. (JP/Ganug Nugroho Adi)
The village entry gate is marked by a large temple, which rises above the houses around it. The gas emission free vehicle zone starts at the main entry gate of the village.

Penglipuran residents maintain a high respect for women, with men prohibited from having more than one wife. Any violation of this law is liable to ostracism.

This village also has its own punishment for theft. Those found guilty are obligated to give five chickens as offerings to four ancestral temples. The sanction is meant to embarrass the perpetrators.

Being neat, clean, beautiful and unique has turned Penglipuran into a major tourist destination, with its number of visitors growing from 150 daily in 2014 to 250 in 2015 and to 400 in 2016. Admission is Rp15,000 for local tourists and Rp30,000 for foreigners.

"Around 60 percent of the fees go to the regency administration and 40 percent to the village as the management body," said Penglipuran village treasurer I Wayan Supat.

Half of the amount for the village is spent on personnel salaries and the other half on ritual ceremonies, including Galungan to honor the Creator and ancestral spirits, which is held twice a year.

Village residents derive economic benifit from tourism as they earn incomes by selling souvenirs, opening food stalls, serving as guides and offering homestays.

Aside from Galungan, Penglipuan is also crowded during the Penglipuran Village Festival in December and Penglipuran Blooming in July.
Topics :
Join the discussions