National Gallery exhibition showcases work of prominent Russian artist
Jakarta |

Fri, August 11, 2017

| 01:03 pm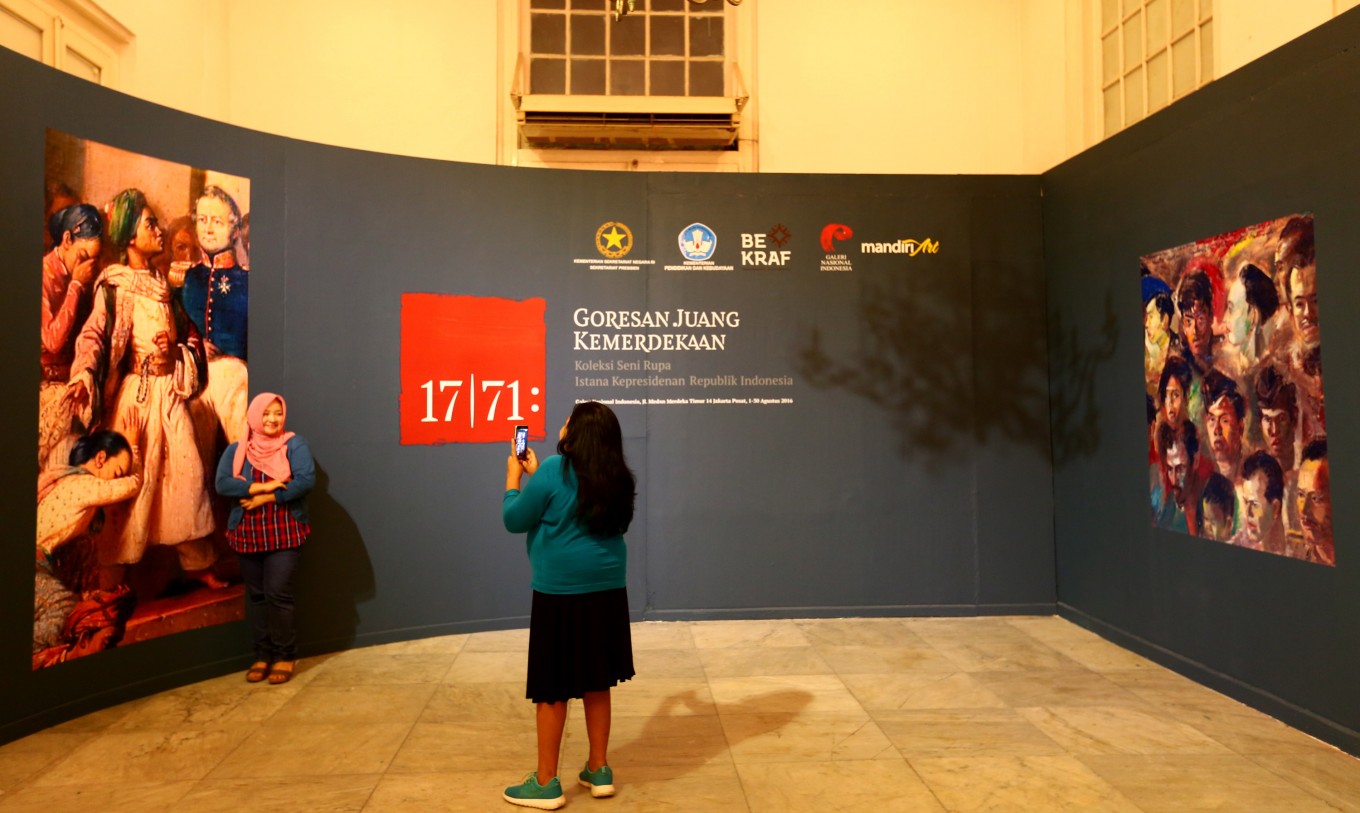 A visitor poses for a picture at the State Palace painting exhibition held at the National Gallery in Jakarta, on Aug. 2. (The Jakarta Post/wienda parwitasari)
Those visiting the National Gallery in Central Jakarta to catch the "Senandung Ibu Pertiwi" (Songs of Motherland) exhibition that features 48 paintings from all six presidential palaces, may want to make time marveling at one of the three paintings made by Russian Egorovick Makowsky that depicts traditional Russian wedding called Pribite Nevesti,
The painting was given to Indonesia's first president Sukarno as a gift during his visit to Russia by the leader of the Soviet Union, Nikita Khrushchev.
Read also: Presidential art collections on display throughout August
"During his lifetime, Makowsky only made three huge paintings. Two of them, Russian traditional wedding and Kahyangan ([Haven], were given to Sukarno while the other one was given to the British monarch," said the exhibition's curator Asikin Hasan.
Sukarno was famous as an art collector who had a close relationship with local and international artists.
The painting that is estimated to worth Rp 18 billion (US$1.35 million) was showcased at the Kremlin prior to being brought to the Bogor Palace in West Java and put on display at the president's office room. It is said that if all the lights in the room are off, the lamp drawing in the painting will emanate a 3-D light illusion.
At the exhibition that runs from Aug. 2 to 30, the painting is being shown on a large LED screen considering the age of the real painting is more than 125 years old.
Read also: Jokowi to lend own 'keris' collection to Surakarta museum
"The age of this Makovsky painting is almost the same with Raden Saleh; the size is also quite big, 295 cm x 40 cm. It will be difficult to move it since no vehicle can carry this painting. The door of the National Gallery is also too small for the painting," Asikin added.
The exhibition hosts 48 paintings by 41 painters from the 19th and 20th centuries, including Basoeki Abdulla, Raden Saleh, Wakidi, Lee Man Fong, Rudolf Bonet, Itji Tarmizi, A.D Pirous and Alimin Tamin.
The artworks are divided into several themes, such as nature (12 paintings), daily life (11 paintings), tradition and identity (15 paintings) and mythology and religion (10 paintings).
"Each of the painting is being insured for Rp 2 billion, so this means the total insurance money for all 48 paintings is Rp 96 billion," said Tourism Minister Arief Yahya. (kes)
Topics :

Join the discussions