Tourism Ministry set to feature Betawi traditional house in MATTA Fair
Jakarta |

Thu, August 24, 2017

| 04:09 pm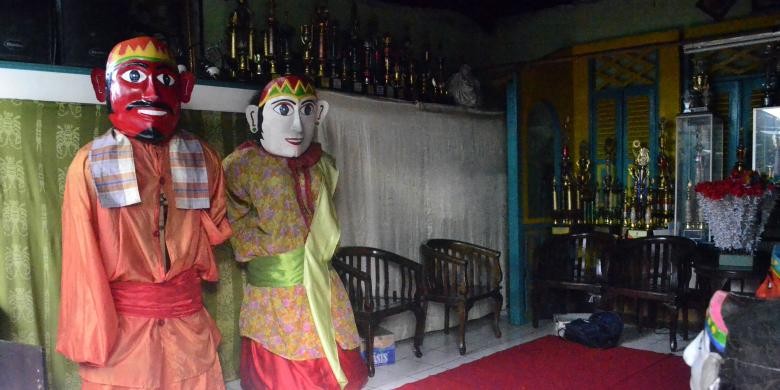 Those who are interested in knowing more about Betawi Culture can visit Sanggar Si Pitung, a Betawinese workshop located at Jl. Yusuf in Rawa Belong. (Kompas.com/Nicky Aulia Widadio)
Wonderful Indonesia tourism brand is set to partake in this year's MATTA Fair that will be held for three days from September 8 to 10 at Putra World Trade Centre (PWTC) in Kuala Lumpur, Malaysia.
The Wonderful Indonesia booth will offer many different kinds of tourism in Indonesia such as marine, culture, golf and shopping.
This year's booth event will feature a Rumah Betawi (Betawi traditional) design. "The tourism ministry has rented an area of 36 booths, with the total area of 324 meter square. The main theme is DKI Jakarta and it will adopt the Rumah Betawi design, featuring traditional Betawi-style ornaments and images of tourist attractions in DKI Jakarta," explained the ministry's deputy minister for overseas promotion, I Gde Pitana.
DKI Jakarta is chosen as the main design theme as the capital city is the main entrance gate for overseas tourists. Jakarta is also called as Little Indonesia due to its status as a melting pot of numerous different cultures.
"Jakarta also has the Thousand Islands which is one of the ministry's 10 Priority Destinations," added Pitana.
Read also: Jakarta to host ASEAN 50 Parade
Indonesia will bring 50 tourism practitioners, 30 of them being travel agents or tour operators along with their respective local agent partners. The other 20 are hoteliers and tourist sites developers from 15 destinations such as North Sumatra, West Sumatra, Riau Islands, Jambi, South Sumatra, Lampung, DKI Jakarta, West Java, Central Java, Yogyakarta, East Java, Bali, West Nusa Tenggara, East Nusa Tenggara, West Kalimantan and East Kalimantan.
"There will also be 11 regional tourism departments who are participating in this event, some of which are from DKI Jakarta, North Sumatra, East Nusa Tenggara, Jambi and West Kalimantan," said Rizki Handayani, assistant deputy for Southeast Asian tourism promotion at the tourism ministry.
The booth will also entertain visitors with a coffee and refreshment corner, workshop, games, quizzes, spa, gift redemption and demos.
This year, the ministry is targeting to receive 1,772,000 Malaysian tourists in Indonesia, an increase from the previous year's 1,225,458 tourists.
"Malaysia is a potential market for Indonesian tourism, other than being geographically close, we are also culturally close, we are still within the Melayu cluster," said tourism minister Arief Yahya. (asw)
Topics :

Join the discussions