The spirit behind Bali's natural sea salt
Luh De Suriyani

The Jakarta Post
Denpasar |

Thu, September 7, 2017

| 10:06 am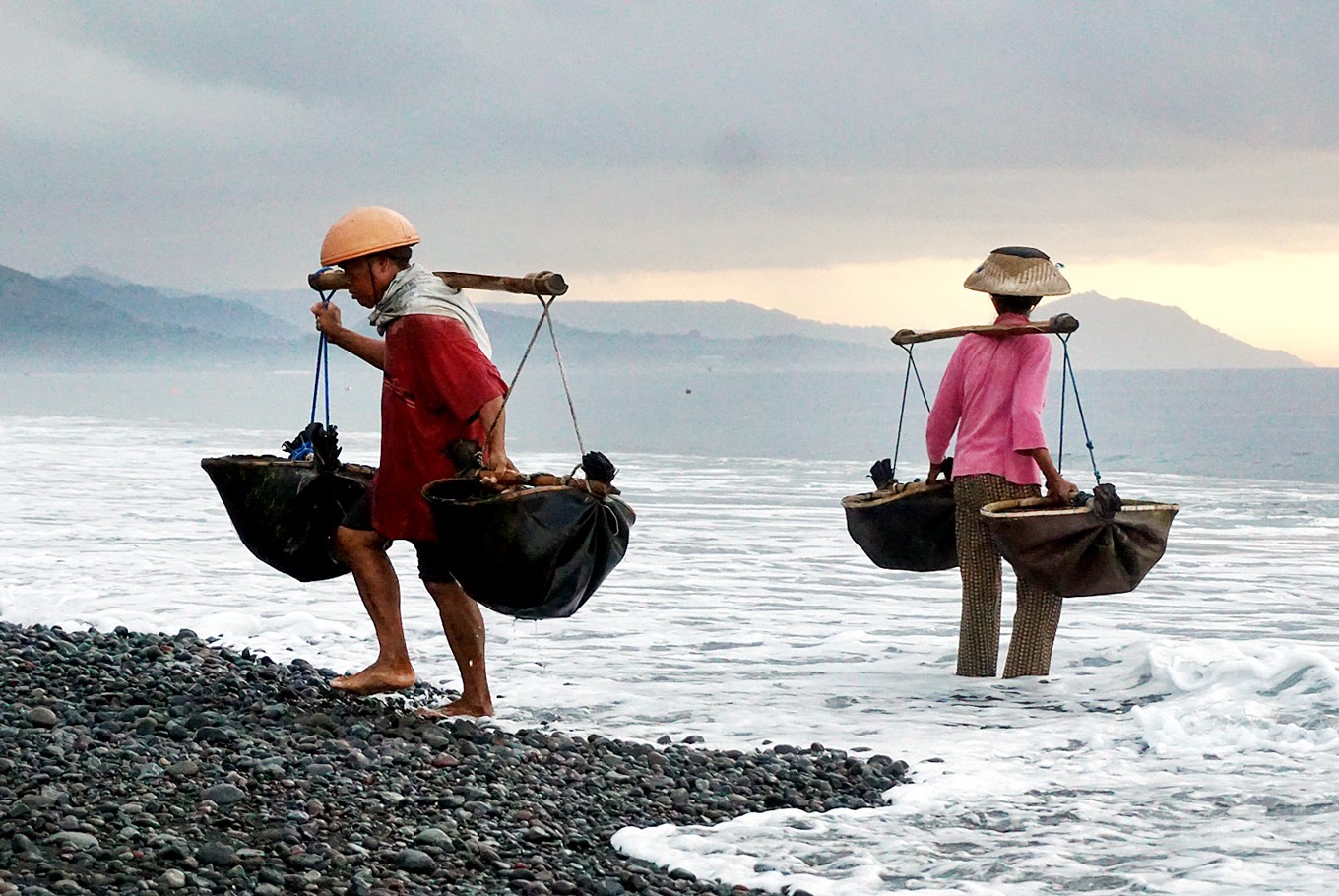 Early risers: Salt farmers start their days early on Kusamba Beach in Klungkung, Bali. (JP/Luh De Suriyani)
Despite a declining number of home industries producing traditional sea salt in Bali, several farmers have stepped up their game by producing high quality salt for their loyal customers.
Nyoman Madiyasa is among the remaining Balinese salt farmers. In his 70s, the farmer still demonstrates strength in cultivating his salt farm on Les Beach in Tejakula, Buleleng, located in the northeastern part of the island, around three hours by motorcycle from Denpasar.

Mardiyasa produces his salt by using the solar evaporation method, which is the trade's oldest and most traditional technique. However, producing salt is not as easy as merely placing seawater under the heat of the sun. Salt farmers must also filter out any metal substances and make sure that the end product still contains its natural minerals.

Mardiyasa and other salt farmers usually start early in the morning to ensure that they have the filtered seawater ready to dry in the afternoon. Farmers loosen the soil of the salt fields before sprinkling the surface with seawater. By mid-afternoon, the soil will have absorbed the seawater and the soil is loosened again before being placed inside a tinjungan (cone-shaped tool made of bamboo).
The tinjungan serves as a filtering tool. A machine pushes seawater into thetinjungan and slowly, the filtered seawater drips into a separate container. This filtered seawater will sit under the sun to evaporate, and the salt will be ready to harvest after two to three days. The farmers sell the salt to distributors at Rp 8,000 (60 US cents) to 10,000 per kilogram.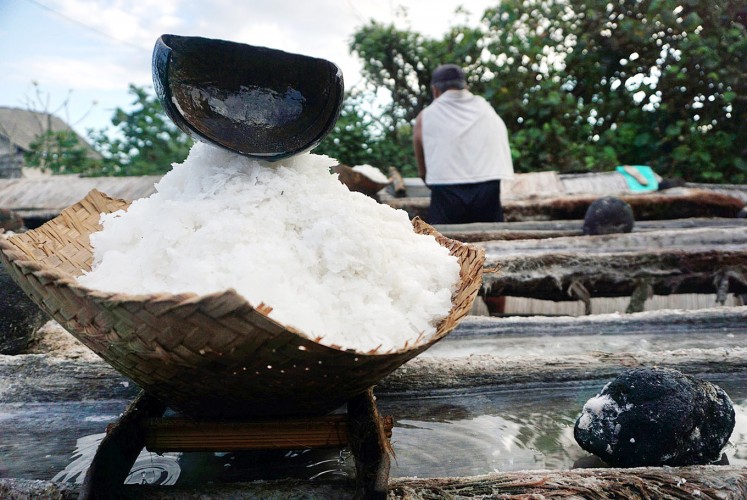 Patience required: Salt farmers from Kusamba, Klungkung regency provide interesting packages for their salt. (JP/Luh De Suriyani)
"I always pray that this salt will be able to take care of the families and residents here," said Mardiyasa, who leads the Mina Lestari Salt Farmer group in Les village.

Of the group's 23 members, only two farmers have their own fields to cultivate. Mardiyasa said that around a decade ago, salt farms in his village used to span 3 kilometers along the coast. Today, however, only 1 km of salt farms remains.

"I hope we can survive. Please don't convert the salt farms into hotels," he said.

Traditional solar salt farms are an attraction for visitors who have lunch at Warung Tasik in Les Village. Designed by celebrated Indonesian architect Popo Danes, the restaurant resembles a traditional wooden house. Its menu of traditional dishes is made with local ingredients — such as pumpkins and fish caught by nearby fishermen — that are seasoned with Les salt, which is less salty and not as bitter as salt processed with modern methods. Warung Tasik also has a warehouse shaped like a traditional Javanese joglo to store salt.

Balinese salt is used for more than just seasoning. It has become a marketing tool and has even sparked design ideas. Around 20 minutes to the east of Les village, a hotel makes use of the energy sourced from the salt.

An intricately decorated tinjungan placed on the side of the road grabs the attention of passersby from Tinjung Hotel, which also took inspiration from the tinjungan design to decorate its rooms. The hotel's beachfront is adorned with a row of palungan (stems of coconut trees), which are used to contain filtered seawater during the evaporation process.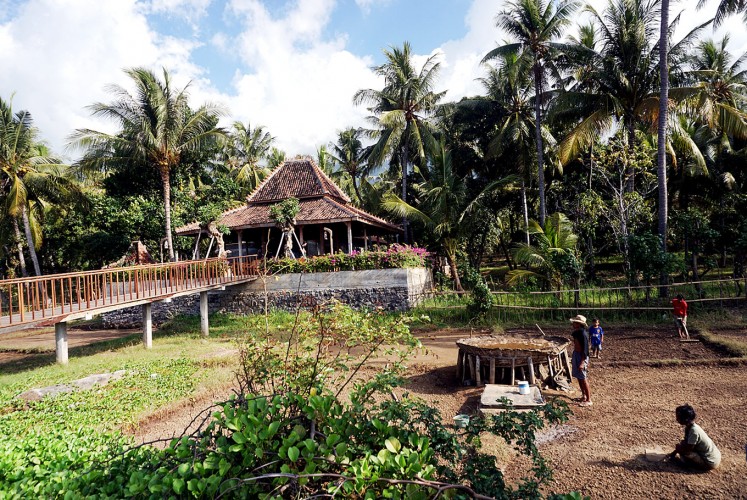 Food and farm: Farmers work next to Warung Tasik on Les Beach, Tejakula, Buleleng. (JP/Luh De Suriyani)
"Palungan is expensive. It has to be made from the stem of 100-year-old coconut trees, which don't rot easily," said Melinda, a member of the family that owns Tinjung Hotel.

A majority of salt farmers in Les village have replaced the palungan with plastic to speed up the evaporation process. These plastic devices are also foldable for when it rains.

Melinda said the hotel gives monthly allowances to salt farmers and helps market their commodities as souvenirs to hotel guests. People who stay in the hotel can also learn how to make traditional salt.

In another coastal area in Karangasem regency, Bali, another group of traditional salt farmers have successfully secured a geographic indication certificate for producing Garam Amed to prove that the salt variant originates from the area, and therefore, possesses qualities and a reputation that is unique.

Around 25 families of the remaining Garam Amed farmers still use tinjunganand palungan to produce traditional salt. The area is also home to Uyah Hotel, which does not only display traditional salt products in its restaurant, but also allows salt farmers to cultivate its land.

I Nengah Suanda, coordinator of the Society for the Protection of Geographical Indication of Garam Amed, said he regularly sends Garam Amed to organic food distributors and restaurants in Jakarta. He said that according to laboratory tests, Garam Amed is of a higher quality than mandated by the national standard for salt consumption.

Another group of Balinese salt farmers also still survives in Kusamba, Klungkung regency. They have a slightly different method of filtering seawater than their fellow farmers in Buleleng and Karangasem. Instead of using soil, the Kusamba farmers use sand.

With their hard work and traditional method, these salt farmers do not only provide a healthy source of salt for the community, but also contribute to the island's tourism.

Topics :
Join the discussions