An intimate Paris affair at Place Maurice Chevalier
Donal Conlon

Lecturer and teacher trainer but also as fisherman, barman, salesman, etc
Paris |

Wed, November 1, 2017

| 11:50 am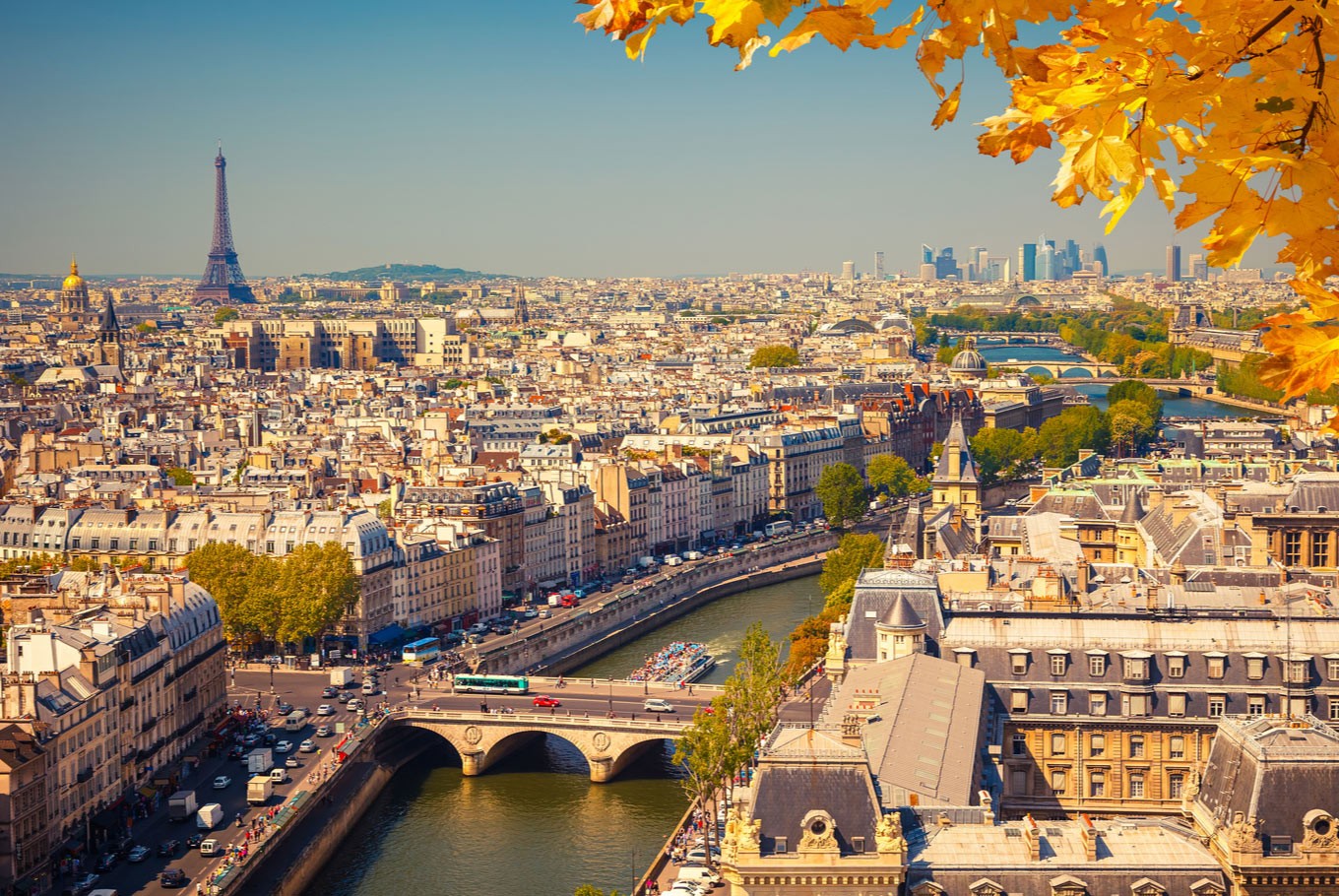 An aerial view of Paris. (Shutterstock/File)
There are almost 500 squares in Paris, some large, pompous, famous, many small, unnoticed, unknown. Each, however, has its personality.
Place Maurice Chevalier, in the 20th district of the city, has its large church grandly named The Church of Our Lady of the Cross of Menilmontant, its Wallace water fountain an iconic feature of Paris, its famous name.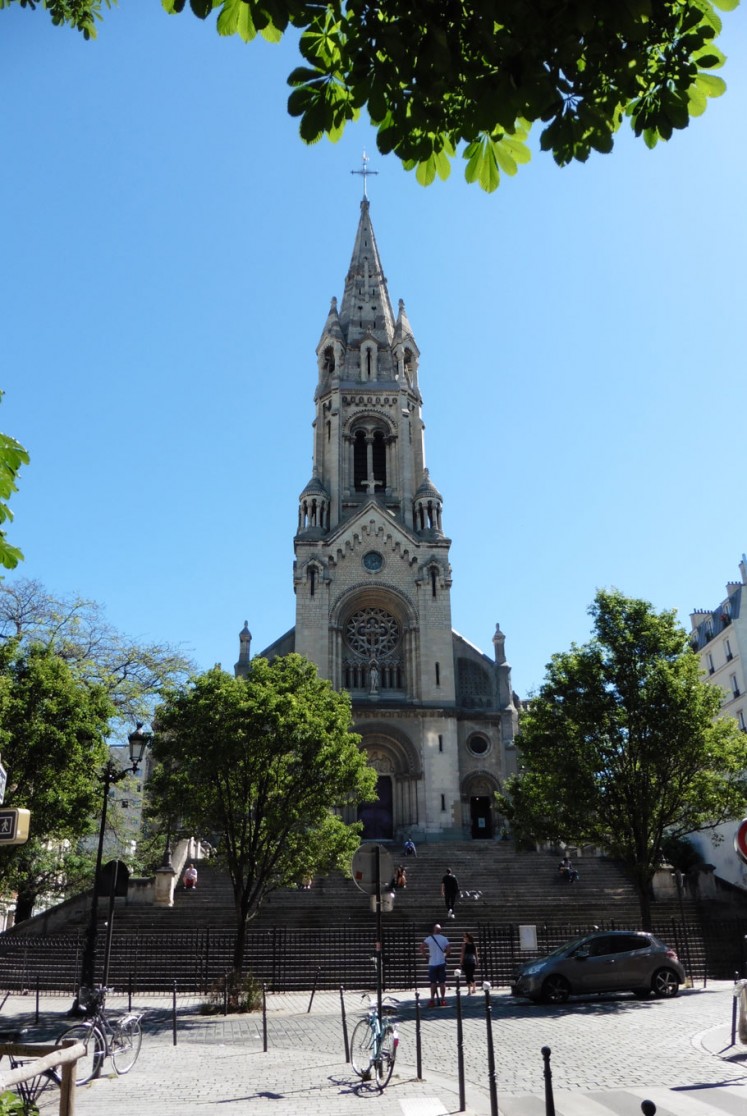 The Church of Our Lady of the Cross of Menilmontant looks down on the small square. (JP/Donal Conlon)
From its lofty perch 57 steps up, the church looks down on the small square. Its situation and height means it can be seen from afar.
For some, its mixture of Roman and Gothic architecture is daring, for some ostentatious even pretentious. It has many exceptional features not least the early use of metal in its construction. The church, finished in the early 1870s, is the third largest in Paris. It was used for political meetings by the radical 'Communards' who controlled this part of Paris during their rebellion against the national government at the beginning of the 1870s. At a meeting, they condemned the Archbishop of Paris and many priests, their prisoners, to be executed. They themselves were executed not long afterwards.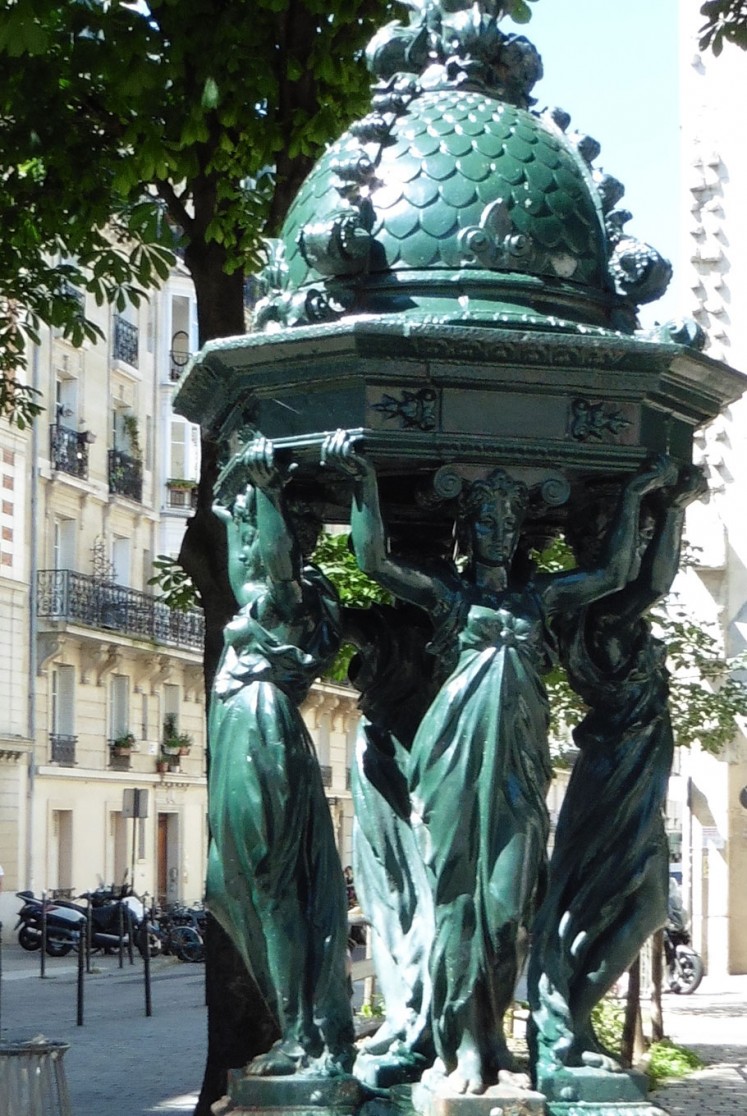 In the center of the square is a drinking-water fountain, one of more than a hundred to be erected in Paris after 1870. (JP/Donal Conlon)
In the center of the square is a drinking-water fountain, one of more than a hundred to be erected in Paris after 1870. They were created to alleviate the water shortage in Paris after the damage done to the viaducts by the Prussian bombardments during the siege of 1870. They were financed by Richard Wallace a rich English Francophile living in Paris, who felt it abhorrent that wine was cheaper than water for poor people at the time. They carry his name.
Their practical side, their aesthetic appeal and their numerous locations elevated them to iconic status. Four metal caryatids representing kindness, simplicity, charity and sobriety support a dome decorated with dolphins. They surround a bowl into which Parisians could dip the metal mugs. They still provide drinking water in summer though now less used. They have, as with the Eiffel Tower, become a symbol of the city: a photo or cinema shot of one brings Paris immediately to mind.
Coincidentally, the two most internationally recognizable French entertainers of the 20th century grew up, their lives overlapping in time, in this neighborhood. Maurice Chevalier, singer, actor, charmer, represents for many the caricature of a romantic Frenchman. He was born and raised in a small street near the square that carries his name. Edith Piaf was raised a short distance away.
Apart from their fame they had other points in common: they appeared on stage together, they lived under a post-war cloud darkened by accusations of over-friendliness with the German occupying forces and both are buried in nearby Pére Lachaise cemetery.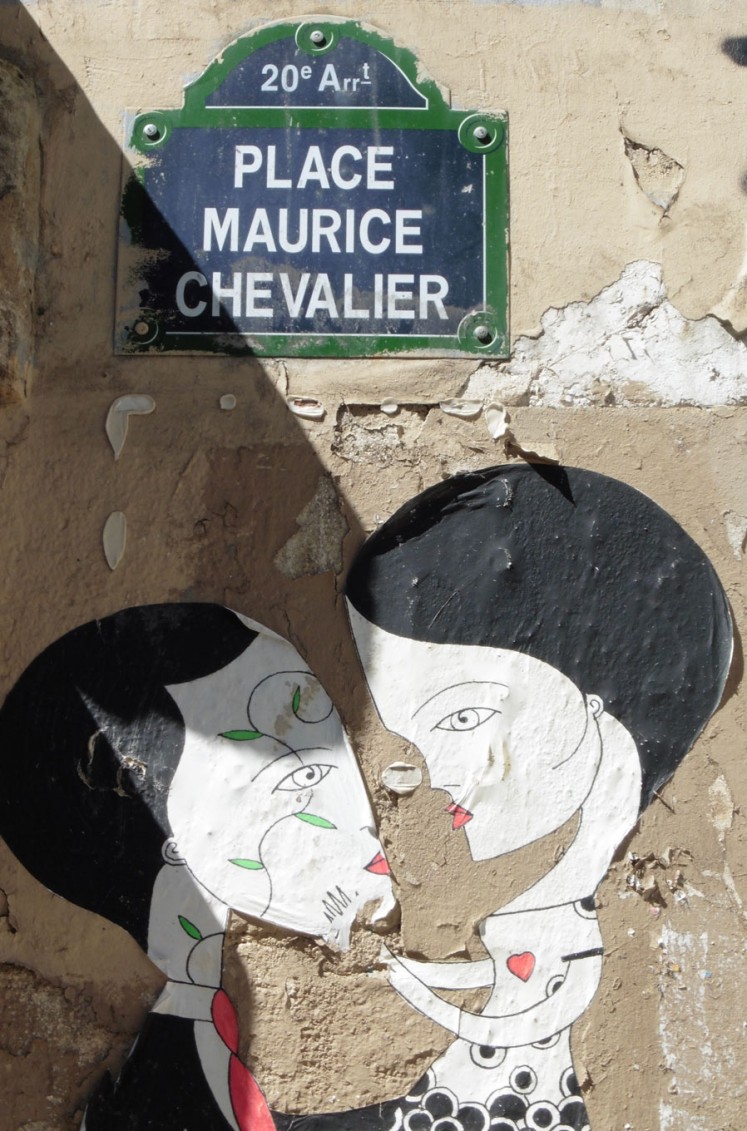 A mural found at Place Maurice Chevalier, a square in the 20th district of the city. (JP/Donal Conlon)
There have recently appeared small vegetable and fruit patches in many of the squares and on streets and avenues where there are some open spaces in Paris. There are three of them in this square. Residents are invited to plant something and watch it grow.
Anne Hidalgo, the "cool" mayor of Paris, is ecologically minded and has encouraged Parisians to plant vegetables and fruits wherever they can: many have responded. She has done her part by having municipal workers dig up the concrete, prepare patches and ring them with a simple wooden fence. An off-beat urban pleasure is evolving: nod to your daffodil, tomato or potato stalk on your way to the office.
Though the shape of the square may not have changed much since the Communards looked down on it 150 years ago, its style has. On one corner is a typical Parisian bakery and facing each other across the square are contrasting cafés with outside tables; the smaller of the two has people drinking pungent, strong black coffee from tiny cups, but the other has its clients, all men, sipping mint tea and smoking hookahs. The three businesses are run by North Africans; this is a multicultural area of Paris.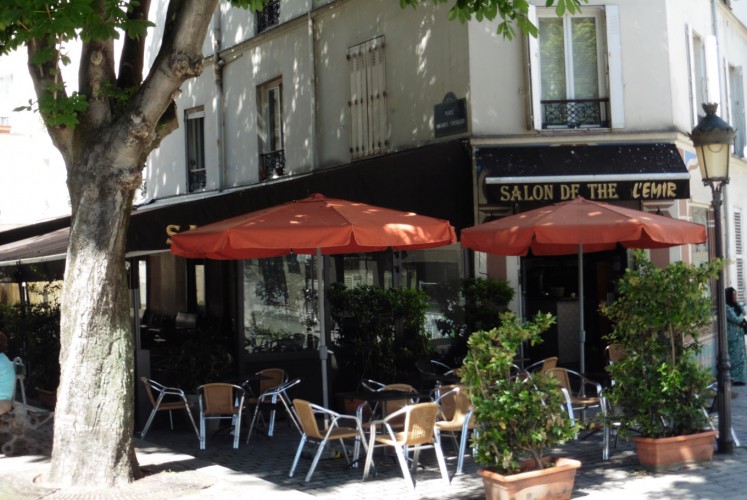 A typical street-side cafe in Paris. (JP/Donal Conlon)
To visit, take Line 2 of the metro to Menilmontant, look to your right as you exit and you will see the spire of the church. If not in a hurry, take a few minutes to have a drink at Café Menilmontant on your left. It dates from the end of the 19th century, but is now a pleasing art-deco café-bistro. You will be served by a traditionally apron-wearing waiter or waitress. Edith Piaf often drank her coffee here as she lived nearby in a tiny apartment for several years. Her song Milord supposedly describes a local personality.
Do take a moment to appreciate the unusual but pleasing Menilmontant semi-circular square because in Paris, not all squares are square.
***
Donal Conlon is Irish by birth but has not lived there since 1973. He has traveled widely and worked at different jobs in different countries -- mainly in education as a lecturer and teacher trainer but also as fisherman, barman, salesman, etc. He is open for any question or discussion via email [email protected]
---------------
Interested in writing for thejakartapost.com? We are looking for articles and opinions from experts in a variety of fields, as well as others with strong writing skills. Submit your original piece to [email protected] on the following topics: lifestyle (beauty, fashion, food), entertainment, science & technology, health, parenting, social media and sports. Click here for more information.
Disclaimer: The opinions expressed in this article are those of the author and do not reflect the official stance of The Jakarta Post.
Topics :
Join the discussions