Wonderful Indonesia Festival in Bangkok to highlight popular Indonesian folklores
Jakarta |

Tue, November 7, 2017

| 03:07 pm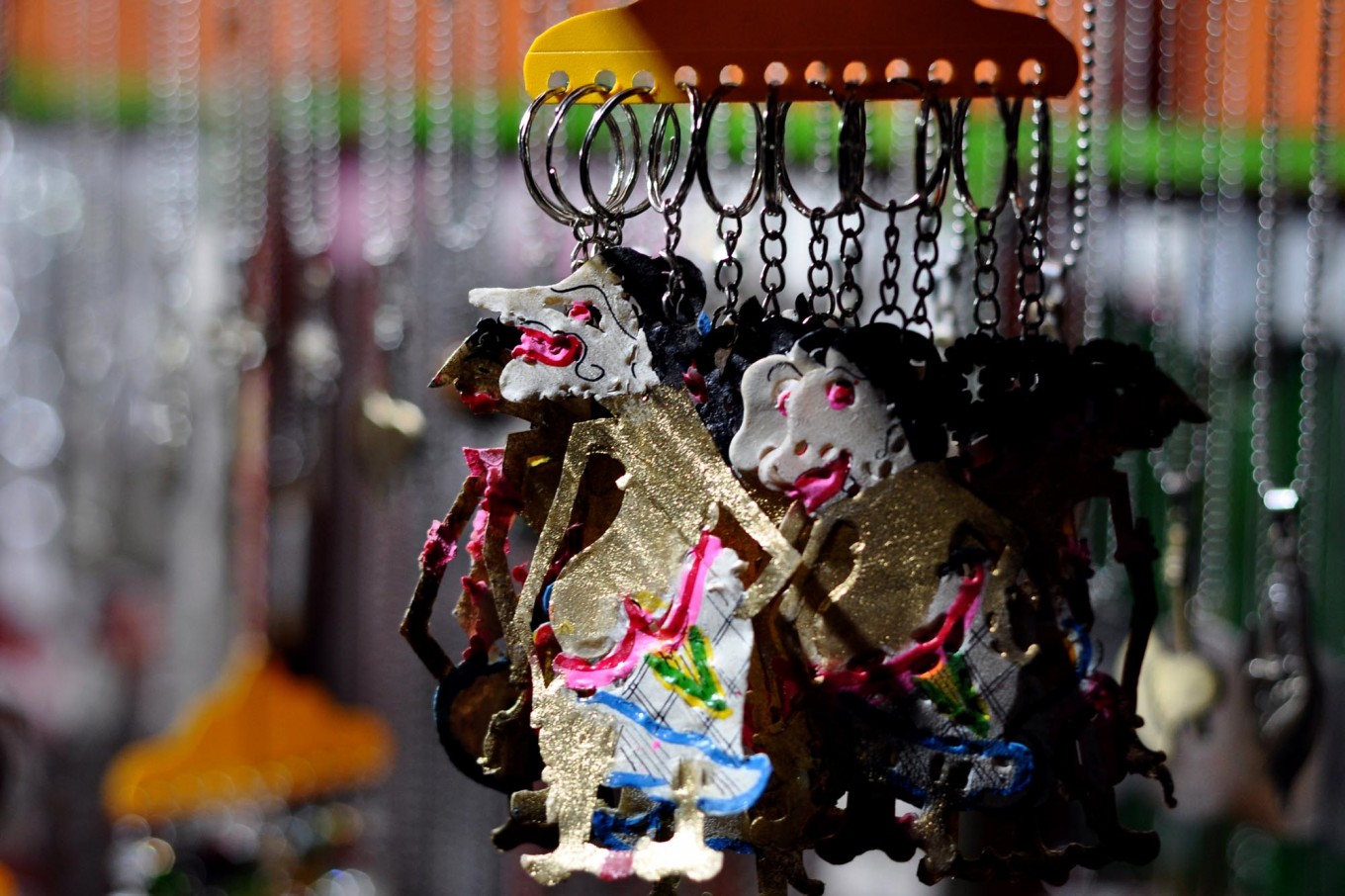 Keyrings depicting Punakawan (deity disguised as the clown servers of a hero) with Petruk as the highlight. Petruk is the Mt. Merapi guardian in local folklore. (JP/Magnus Hendratmo)
The Tourism Ministry is partnering with the Indonesian Embassy in Bangkok and tourism agencies of Banten, Jakarta and West Sulawesi to hold Wonderful Indonesia Festival in Bangkok, Thailand.
Themed "The Never Ending Story of Magical Land and Legends", the festival will be held for three days from Nov. 17 to 19 at Central World Square.
"We are inviting visitors to know more about the nature and culture of Indonesia. We have two targets in mind: the people of Thailand and tourists who happen to be at Central World Square," explained ministry's deputy minister for overseas promotion I Gde Pitana.
Central World Square is one of the most crowded places in the heart of Bangkok city. It is located between Central Childlom BTS sky train station and Siam BTS sky train station.
"There will be a folklore presentation from each destination such as the story about Lake Toba legend to promote Lake Toba and Medan, Lutung Kasarung legend to promote Jakarta and Bandung, and the legend of Roro Jonggrang to promote Yogyakarta, Solo and Semarang," Pitana added.
Read also: Three underrated Indonesian folktales that teach us a little more about life
The festival will feature activities such as art and cultural performances, intimate music concert, workshop, culinary and fashion bazaars.
A travel fair promoting tour packages to Indonesia is also going to be held there, featuring Thailand Travel Agencies Association (TTAA), Thai AirAsia and Thai Lion airlines, among other.
"We are holding this trade fair as a way to increase the number of tourists from Thailand that have so far reached 118,000 people this year," said the ministry's Southeast Asia tourism promotion assistant deputy, Rizki Handayani.
Indonesian coffee, batik, wayang (shadow puppets) and angklung traditional music instrument are going to be put on display at the festival.
Read also: Village's blade-making skills go global
Visitors can also learn about ceramic painting, a unique craftwork from Malang, and try on several traditional dishes such as kerak telor, soto Bandung, martabak and other traditional snacks.
For entertainment, Thailand singer-slash-model Savika Chiyadech is going to perform at the festival. Moreover the event will also host games, movie screening, augmented reality and virtual reality corner.
As for those who love shopping, the festival will host a handicraft market featuring Shirayas Tenun Garut, Cita Tenun Indonesia, Inderes Batik, Roemah Batik Cirebon, Limpapeh Kebaya, Lungsin Tas Tangan and other vendors.
Tourism Minister Arief Yahya said that Indonesia and Thailand have similar culture, ideology and spiritual. One example is the traditional costume of Gending Sriwijaya dancers from South Sumatra that is pretty similar to Thailand's traditional costume.
"We also have Borobudur, the biggest and oldest temple in the world that can become a main tourist attraction for them. Indonesia also has plenty of exotic beaches for those who love the ocean," told Arief.
These two countries are also geographically close to each other. The travel duration from Thailand to Jakarta is only three hours and five minutes while from Thailand to Bali only takes four hours and 10 minutes. (kes)
Topics :

Join the discussions