Is one day strolling in Seoul enough?
Nurul Fitri Ramadhani

The Jakarta Post
Seoul |

Fri, November 24, 2017

| 10:24 am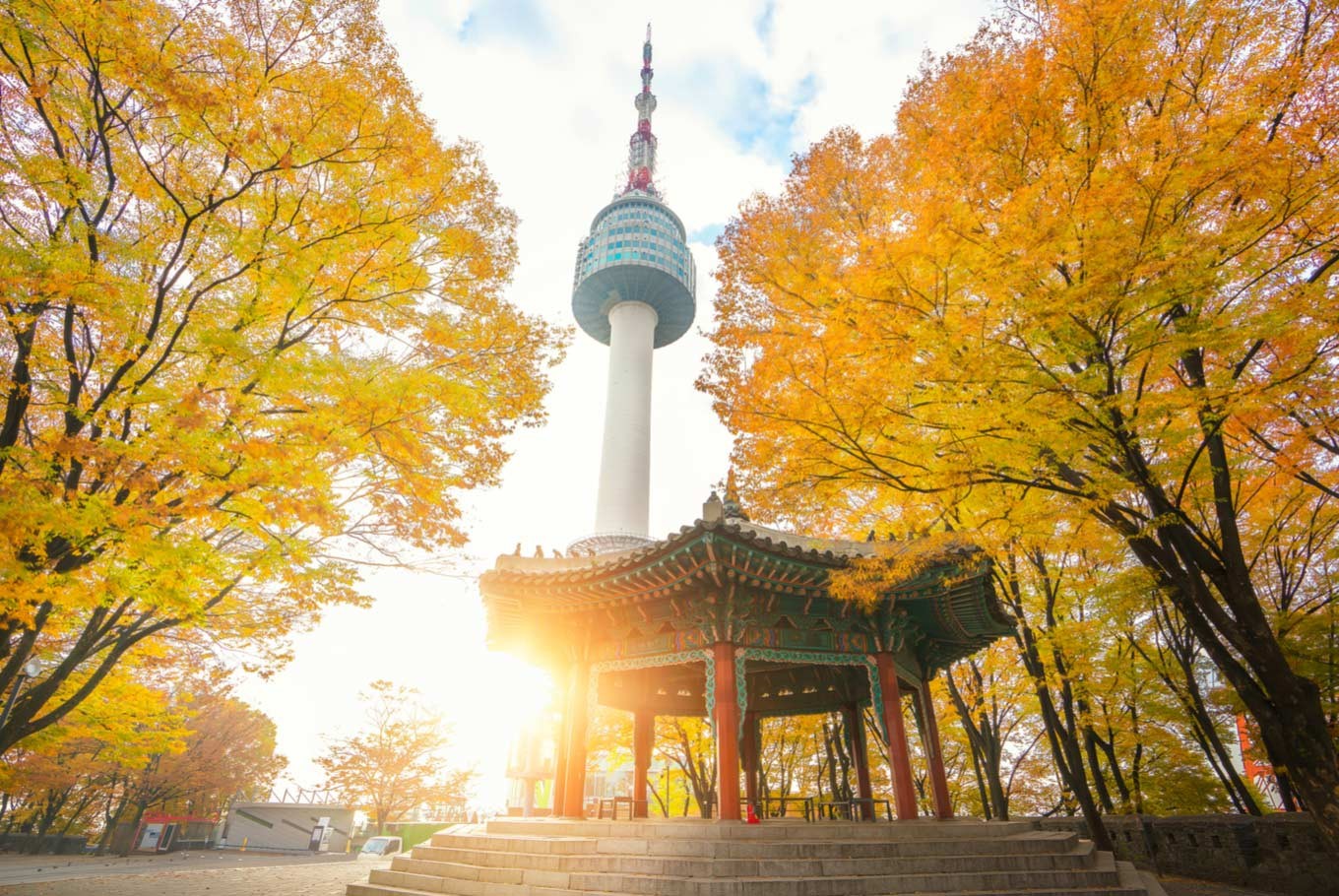 N Seoul Tower in autumn with morning sunrise, Seoul, South Korea. (Shutterstock/File)
A group of Indonesian journalists, including some from The Jakarta Post, was invited to tour several cities across South Korea, including the capital Seoul, by Korea Press Foundation (KPF). Here is the report.
The South Korean capital Seoul is a comfortable place filled with high energy and intensity.
It is a very busy city that never sleeps. Traffic is heavy and crowded, particularly at rush hours. Despite this, Seoul is also a great place for a day of strolling around.
Here are some places that you must visit if you go to Seoul.
Namsan Tower
Seoul, a modern metropolis, has a number of ancient landmarks and tourism spots. Around 30 minutes from the city center, stands the landmark N Seoul Tower, the so-called Namsan Tower, an observation tower located in Mount Namsan.
Huffing up the stone stairs to the peak of Mt. Namsan, the tower offers some of the best views and they get even better at night.
At 236 meters, the tower is the second-highest point in Seoul. Established in 1971, the tower was designed as a broadcast tower to send out TV and radio signals throughout the Seoul metropolitan area.
For couples, bring a padlock for the so-called lock of love to be snapped onto a fence or purpose-built structure then throw away the keys. The love locks are believed to bring everlasting love and strong commitment.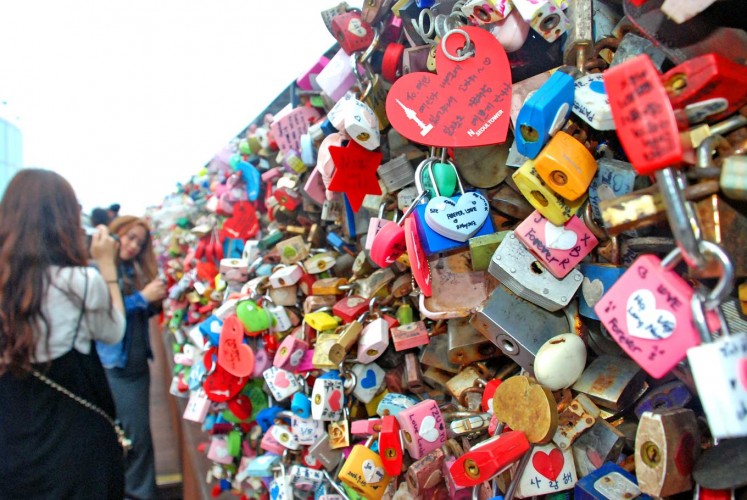 Love locks: People put padlocks onto a fence at the N Seoul Tower, or Namsan Tower, an observation tower in Namsan Mountain, Central Seoul. (JP/Nurul Fitri Ramadhani)
Make it more romantic by buying your loved one sour ice cream made with yoghurt and served in a cone. Sour ice cream is one of the classic Korean snacks.
Walking the Seoullo
Around 24 minutes from Mt. Namsan is the Seoullo 7017 overpass, which is a great place to have a walk. Seoullo 7017 refers to a pedestrian overpass located in the middle of Seoul.
Decades ago, Seoullo was a highway, before the local administration turned it into a paved pedestrian walkway. The so-called Skypark begins at Mali Dong Plaza, passing through Seoul Station and ends near Namdaemun at Hoehyeon Station.
The 1-kilometer pedestrian path is connected to surrounding buildings, including a mall and restaurants, through a bridge. The visitors here can utilize one of eight information centers and eateries to get tourist information, rest, and to have a light meal or snacks.
Walking along the path can be very entertaining because it has many spots for art performances. There are volunteers performing music or attractions on a daily basis. Plants and trees placed along the walkway, many planted by volunteers, make the walk even more delightful.
The Seoullo also has gift shops where tourists can buy souvenirs, such as tote bags, glassware and other Korean crafts. To get lost is impossible given the eight information centers.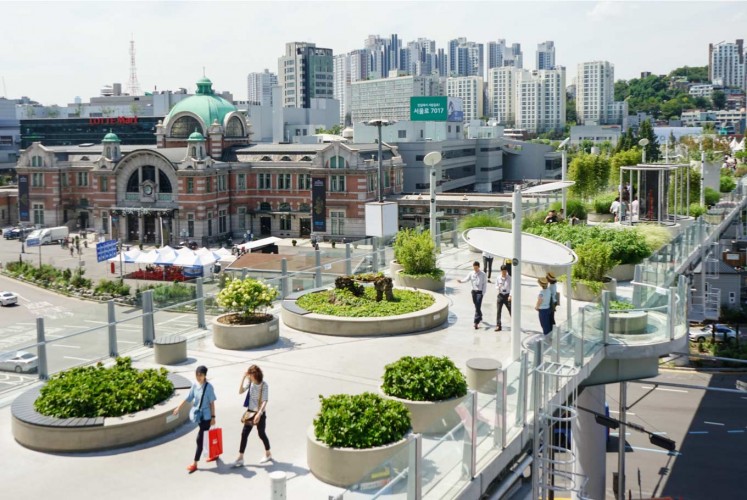 Seoullo 7017 refers to a pedestrian overpass located in the middle of Seoul. (Shutterstock.com/CHO MINJUN)
Shopping time
Do not return to your country with nothing in your hands, because Seoul is a shopping haven, especially for fashion and beauty products.
We are all familiar with the Lotte brand. Indonesia already has a number of Lotte department stores. However, Seoul's Lotte World Mall and Tower has it all and is a place that tourists flock to.
Located at 300 Olympic-ro, Sincheon-dong, Songpa-gu, the shopping mall, which opened in 2014, is South Korea's iconic shopping venue and is one of the largest shopping malls in Asia.
Entering the mall visitors will see hundreds of outlets featuring a variety of goods and hundreds of brands, from Korean labels to world-famous luxury brands. Therefore, a shopping list must be prepared.
Besides shopping, visitors can enjoy various facilities ranging from an aquarium and movie theaters to a dental clinic.
But that is not all. The Lotte World Mall is apparently the base of something even more stunning.
Above the mall, there soars the 555-m Lotte World Tower, a monument to modern Korea. The tower is one of the world's top-10 tallest buildings.
"The construction process for the tower took six years. The tower now has a total of eight mega columns that take care of 40 percent of the total gravity load. People can view the city of Seoul from the sky," Lotte Seoul Sky's senior manager of the observatory operation team, Jeon Seon-hwa said.
For 27,000 won (US$24.80) per person, visitors can enjoy the view of Seoul from the nation's tallest building. Admission to the Lotte Sky Tower is through an entrance gate inside the shopping mall.
Walking to the lift, visitors pass through a corridor with LED pictures displaying traditional Korean patterns in a traditional-modern atmosphere.
The lift has its own impressiveness. It can carry the visitor to the 117th floor in less than a minute with a four-wall screen displaying the story of the transformation of Seoul and the Han River over time.
Arriving on the 117th floor, take an elevator to the Sky Deck. A favorite spot is a transparent glass floor where visitors can observe busy Seoul 478 m below.
Visitors can also go to the Sky Terrace on the 120th floor to enjoy the fresh air and views of Seoul.
Myeongdong Street
Still have enough time for more beauty shopping? Stop by at the Myeongdong-gil, Jung-gu, where you will find the largest and hottest shopping spot in the country.
Myeongdong is the most popular shopping district in South Korea and a go-to place for skincare and beauty product hunters with its dizzying variety of luxury beauty brands, including Nature Republic, Innisfree, Etude House, Tony Moly and Laneige. Better bring a large bag or, indeed a suitcase.
Topics :
Join the discussions