Six destinations to check out in Sumenep
News Desk

The Jakarta Post
Jakarta |

Sun, December 10, 2017

| 10:05 am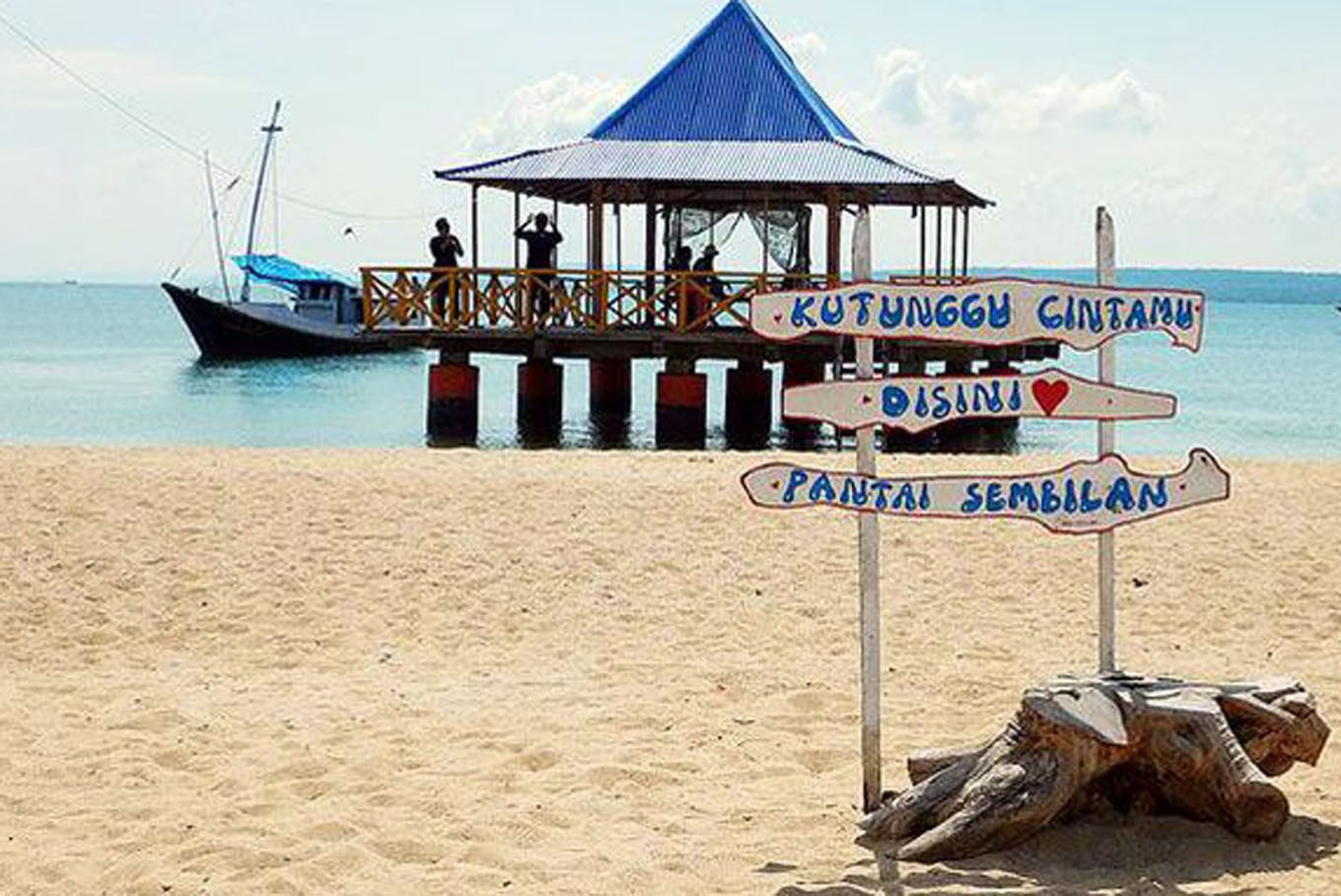 Gili Genting in Sumenep is home to a beach shaped like the number nine. (Kompas.com/Agnes Swetta Pandia)
Sumenep regency is among East Java's hidden gems. Nestled on Madura Island, the area offers various tourist attractions, including sandy beaches, beautiful marine life, unique village traditions and the last kraton (palace) in East Java.
Those wanting to learn more about Sumenep can check out the following list of destinations as compiled by kompas.com.
Gili Iyang
Those looking for fresh air may schedule a visit to Gili Iyang island, as the place is reportedly blessed with some of the cleanest air in the area. No wonder the residents of the island are said to live long lives.
Gili Iyang island can be reached by speedboat from Sumenep port.
Gili Labak
With its unique and rare coral, Gili Labak is a must-visit destination for divers. The crystal clear water allows visitors to catch a glimpse of marine life right from the boat.
Those wanting to visit Gili Labak may hop on a boat from Sumenep port.
Read also: Sumenep celebrates 748th anniversary with Tong Tong Music Parade
Gili Genting, Pantai Sembilan (Nine Beach)
Located 30 minutes from Tanjung port in Sumenep, Gili Genting is home to a beach shaped like a nine.
In addition to the island's one-of-a-kind beach, Gili Genting also offers beautiful diving spots for those wanting to see ocean life up close.
Lombang Beach
Those looking for an Instagram-worthy spot may schedule a visit to Lombang Beach.
The 12-kilometer stretch of beach is surrounded by pine trees, making it an "Instagrammable" spot.
A tradition of sleeping on sand
Not far from Lombang Beach, travelers can find areas, namely Pesisir hamlet, Legung Timur village and Batang-Batang district, that host unique traditions.
Here, local residents prefer to sleep on sand rather than mattresses. The tradition has been passed on from generation to generation as the residents believe sleeping on sand helps them stay healthy.
Sumenep Kraton
Strategically located in the heart of the city, Kraton Sumenep is among the must-visit destinations in the regency. As the last standing palace in East Java, the place is still fully intact, including its rooms and inscriptions. (jes/kes)
Join the discussions