Six places in Indonesia to marvel at the stinking corpse lily
News Desk

The Jakarta Post
Jakarta |

Sun, January 14, 2018

| 08:09 am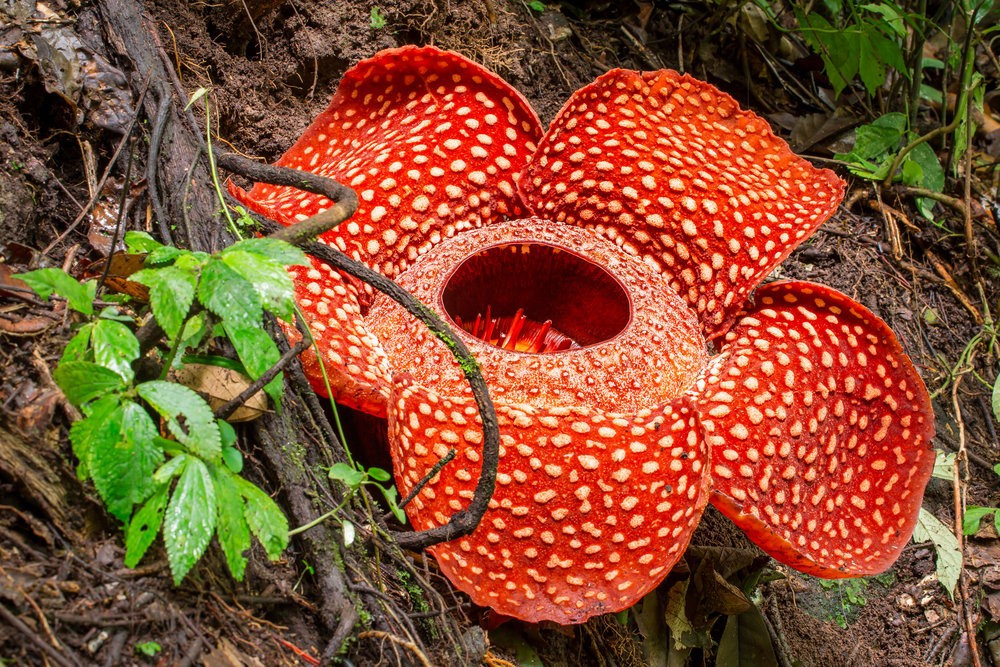 Several conservation areas in Indonesia have successfully grow this flower, though it usually takes a very long time. (Shutterstock/File)
As one of the archipelago's iconic rare flowers, the stinking corpse lily is indeed a sight to behold.
Those who have seen it may consider themselves lucky, as the flower is very hard to grow as it needs a special place and environment with consistent nutrition.
Several conservation areas in Indonesia have successfully grown this flower, though it usually takes a very long time. Interestingly, there are certain locations where the flower grows fast.
Below are some of the spots you can visit to marvel at this rare flower as compiled by kompas.com, though of course you can only do so if it happens to be in blooming season.
Read also: Google Doodle celebrates Rafflesia arnoldii's 25th anniversary
Bogor Botanical Garden
Located on Jl. Ir. H. Juanda, Bogor Botanical Garden is home to three species of Rafflesia flowers: Rafflesia patma, which is an endemic of West Java; stinking corpse lily from Sumatra; and Rafflesia rochussenii, which are largely found in Java and Sumatra.
The last Rafflesia that bloomed in the botanical garden was on June 2, 2010.
The botanical garden is open from 7:30 a.m. to 5 p.m. with entry priced at Rp 14,000 (US$1) for locals and Rp 25,000 for foreigners.
Cibodas Botanical Garden
The garden in Jl. Kebun Raya Cibodas, Cianjur regency, West Java, has a collection of Indonesia's rare flowers, including the Rafflesia rochussenii species.
The last flower bloomed there in July 1, 2011.
Entry is priced at Rp 9,500 for both adults and children.
Read also: Rafflesia, corpse flowers included in conservation document
Bengkulu
Bengkulu forest is one of the original habitats of Rafflesia, where it can be can be found in more than one location. The city is known as Bumi Rafflesia (Rafflesia Earth).
Those interested in seeing the flowers are advised to travel to the Taba Penanjung protected forest in Liku 9, Kepahiang regency.
The stinking corpse lily and the Rafflesia gadutensis species can also be found in the Boven Lais protected forest in North Bengkulu regency, around 60 kilometers from the city of Bengkulu.
Mount Leuser National Park
Situated within North Sumatra and Aceh provinces, the park hosts many flora and fauna, including the stinking corpse lily.
Kerinci Seblat National Park
Stretching over four provinces, namely West Sumatra, South Sumatra, Jambi and Bengkulu, visitors can expect to find the stinking corpse lily.
Bukit Barisan Selatan National Park
The stinking corpse lily is said to have bloomed a few times in this park located from the southern part of Bengkulu to the southern part of Lampung. (kes)
Topics :
Join the discussions