Qom: The city of saints, scholars
Ary Hermawan

The Jakarta Post
Qom |

Fri, February 9, 2018

| 10:15 am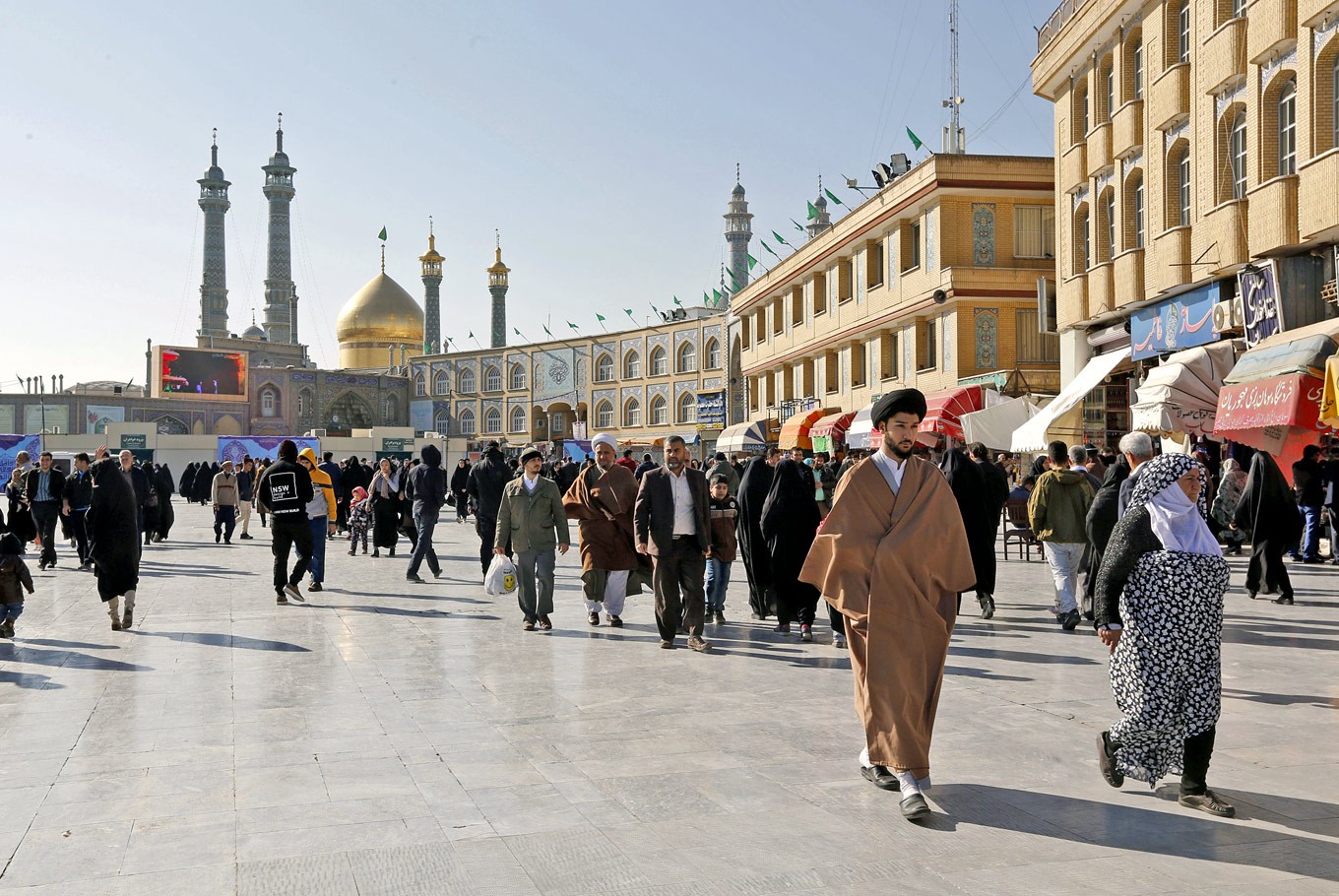 Out and about: Tourists and clerics walk near the Fatimah Mesumeh shrine in the holy city of Qom. (AFP/Atta Kenare)
It was evening when I visited the Fatimah Mesumeh shrine in Qom on Thursday.
In January, the weather was cold and windy in Iran, and we were waiting for the female members of our group to enter the shrine complex, considered to be one of the holiest by Shia Muslims. It took a longer time for them to pass the security checks, as they were required to put on chadors.
Compared to Tehran, where only a few women were seen wearing chador on the streets, Qom, as the country's second holiest city after Mashhad, surely offers a more mystical view of Iran.
The shrine, which consists of a mosque and a tomb, was packed with pilgrims as well as tourists from different parts of the world.
The shrine was built to honor Fatimah Ma'sumah (the infallible Fatimah), the sister of the eighth imam, Ali al-Ridha, and daughter of seventh imam Musa al-Kadhim.
Around the year 201 on the Islamic calendar, Fatimah was travelling to meet her brother in Khorasan, when her caravan was ambushed, killing dozens of her relatives. She survived, but was reportedly poisoned and died in Qom.
Imamzadeh, or relatives of imams, are considered saints by Shia Muslims. Fatimah was highly revered, and her tomb has become a magnet for pilgrims.
Revering saints and praying in their tombs is not exclusively a Shia tradition. Indonesian Muslims, particularly those affiliated with Nahdlatul Ulama (NU), share the tradition, though they consider themselves Sunni. An Indonesian tourist would not find the religious sights at the shrine entirely foreign.
An English-speaking guide told us that many people came to the shrine to seek solutions for problems or cures for their ailments. Those who have had their prayers answered donate money to help preserve the shrine, he said.
While some people consider its architectural design and ornaments mediocre when compared to other holy shrines in Iran, the Fatimah Mesumeh shrine still holds major religious significance among Shia Muslims.
It has become the backbone of Qom's tourism and has for centuries turned the city into a center of religious learning. It is said that the 1979 Islamic revolution began at the shrine, with Ayatullah Khomeini reportedly giving his lectures and calling for the creation of an Islamic republic there.
Not far from the shrine, in the midst of souvenir shops (where you can find various types of gemstones), is a public library that has some of the oldest and rarest Islamic manuscripts, including an early text of the Qur'an.
The library was named after Ayatullah Al-Uzma Marashi Najafi, who was buried at its entrance at his own request.
The library has a collection of around 25,000 important religious manuscripts in different languages, such as Persian, Arabic, Turkish and Urdu. Some of them were collected by Marashi himself, while others were donated by different organizations and individual donors.
Visitors are not allowed to browse or take pictures in the collection room, but it has a reading hall where they can read certain books. The library also has a laboratory to fumigate and repair damaged books.
Qom is home to the most prestigious Islamic schools in the country, including the school of Hauzah Ilmiah, which we had the chance to visit. More than 100 Indonesian students are studying in Qom.
While they are not required to study Shiism in the city, most Indonesian Sunni Muslims choose to study in Gorgan, a Sunni region of Iran.
However, Dr. Hosini, a local Hauzah Ilmiyah scholar, told me the religious schools in Iran encouraged their students, regardless of their denomination, to study all schools of thought in Islam and promote Islamic unity.
Hailing from a predominantly Sunni Muslim country, most Indonesians go to cities like Cairo or Riyadh to study their faith. But surely Indonesians could learn more about the Shia tradition in Qom — not to convert to Shia Islam, but to understand more about the Islamic sect in order to forge better relations between the two major branches of Islam.
Join the discussions