Shining light on tech-friendly teachers
Keshie Hernitaningtyas

The Jakarta Post
Singapore |

Mon, March 19, 2018

| 07:56 pm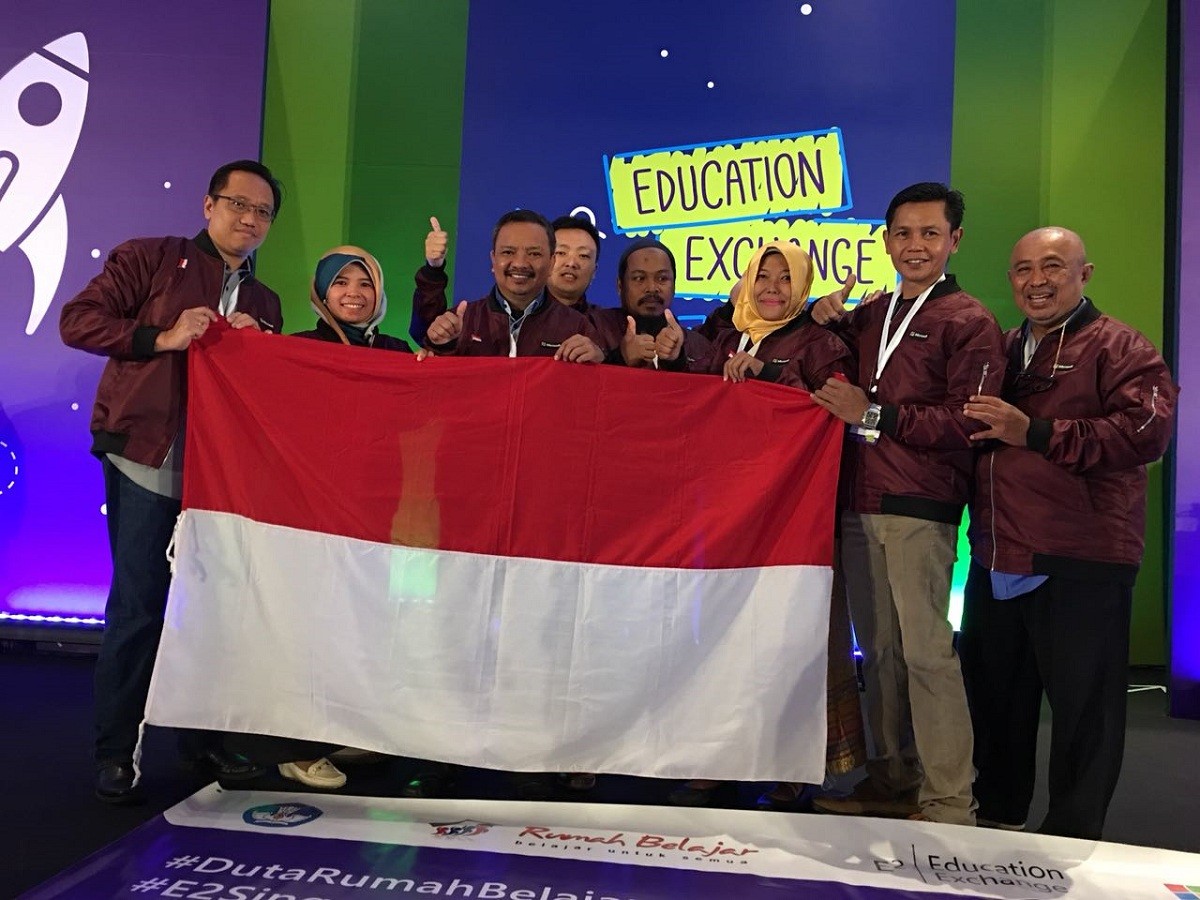 Indonesian teachers and two Microsoft officials pose for a photo at the 2018 Microsoft Education Exchange in Singapore on Thursday, March 15. (Microsoft/File)
Throughout your education, you probably had one or two (or more, if you're lucky) teachers whom you remember fondly and whose approach to teaching stays with you. These educators are usually more than willing to go out of their way to make sure you understand the lessons being taught in the classroom, the ones who tirelessly encourage and motivate you to do and be better, and those who inspire you to do the things you never thought you could.
Recently, close to 400 of these teachers and school leaders from 91 countries gathered at the annual Microsoft Education Exchange ( E2 ) in Singapore, including six who hail from different regions in Indonesia, namely Ari Sumarsono from vocational school SMK YAPPI Wonosari, Gunungkidul, Yogyakarta; Mansur from state junior high school SMPN 2 Pangsid, Sindenreng Rappang regency, South Sulawesi; Upi Fitriani from boarding school Insan Cendekia Madani School in South Tangerang; Tri Haryanto from Islamic boarding school Madrasah Aliyah (MA) Ibnu Abbas Assalafi Sragen, Central Java; Raden Roro Martiningsih from private junior high school SMP Muhammadiyah 1 Surabaya, East Java and Suherman from state high school SMAN 5 Sarolangun, Jambi.
Held on March 13-15, the annual event invited the educators to exchange ideas to develop innovative experiences in classrooms and explore emerging trends in education. It also recognized and celebrated teachers who joined its Microsoft Educator Community and excelled above others in terms of "combining content, pedagogy and technology in exemplary ways to prepare students for success in the digital age" -- also known as Microsoft Innovative Educator Experts (MIEE).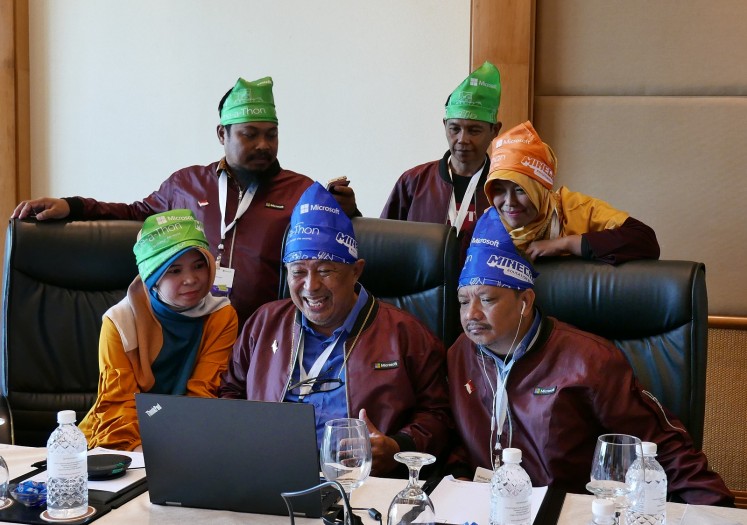 The Indonesian teachers: Tri Haryanto from MA Ibnu Abbas Assalafi Sragen, Central Java (standing left); Suherman from SMAN 5 Sarolangun, Jambi (standing center); Raden Roro Martiningsih from SMP Muhammadiyah 1 Surabaya, East Java (standing right); Upi Fitriani from Insan Cendekia Madani School in South Tangerang (sitting left); Ari Sumarsono from SMK YAPPI Wonosari, Gunungkidul, Yogyakarta (sitting center); and Mansur from SMPN 2 Pangsid, Sindenreng Rappang regency, South Sulawesi (sitting right) share what they learned from the 2018 Microsoft Education Exchange to students from 82 schools across Indonesia on Thursday, March 15 in Singapore. (JP/Keshie Hernitaningtyas)
"Hundreds of years ago, up until 10 years ago, teachers taught in very much the same way with the same materials and those materials were often limited. Meanwhile, we know that the world is changing. Jobs that are in demand not only create opportunities for a country to grow their education and economic connections, but the skills that are required by employers such as Microsoft requires educators to embrace new ways of teaching and models of assessment to drive and motivate students to build their skills," said Microsoft Worldwide Education vice president Anthony Salcito on the sidelines of E2 on Thursday.
"Sometimes, teachers feel like this technology dynamic is going to reduce and minimize their impact, even displace their role and need as a teacher. But globally, the rise of technology and the digital revolution has created a much more profound need for teachers, and more specifically innovative teaching methodology. The role of educators has become far more valued and important because of the diversity of methodology they can use to teach has changed dramatically in recent years."
Teachers teaching teachers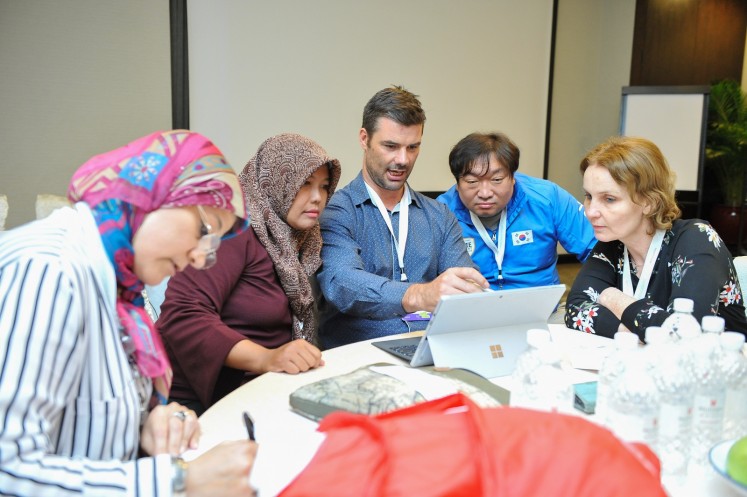 Indonesian teacher Raden Roro Martiningsih (second from left) joins a discussion with teachers from other countries. (Microsoft/File)
Established in 2003, Microsoft's education initiative officially entered Indonesia in 2004, with activities such as providing training for teachers that allow them to adopt technology in the classroom and encourage them to use technology in daily life, and later select the most innovative and active educators to join its events such as E2. It also holds provincial and national events with education agencies as well as events where local MIEE share their experiences in using technology.
"If I'm the one who does the sharing, I will look like a salesman. When the teachers do it, there's no gap as they can easily connect with the other teachers and make them excited about technology," Obert Hoseanto, the public sector education programs manager of Microsoft Indonesia, told The Jakarta Post in Singapore on Tuesday, adding that Microsoft technology remains the main focus but general issues like safe and ethical ways of using the internet and social media were also shared.
"We start with basic things; from the basic knowledge of ICT [information and communications technology] to adopting it in the classroom. For hundreds of years, the methodology of teaching is still the same: a one-way blackboard. Meanwhile, the world is changing, children are changing as they have been exposed to digital technology since a very young age, hence teachers should develop their competence to be able to stay relevant," added Microsoft Indonesia public sector education lead Benny Kusuma.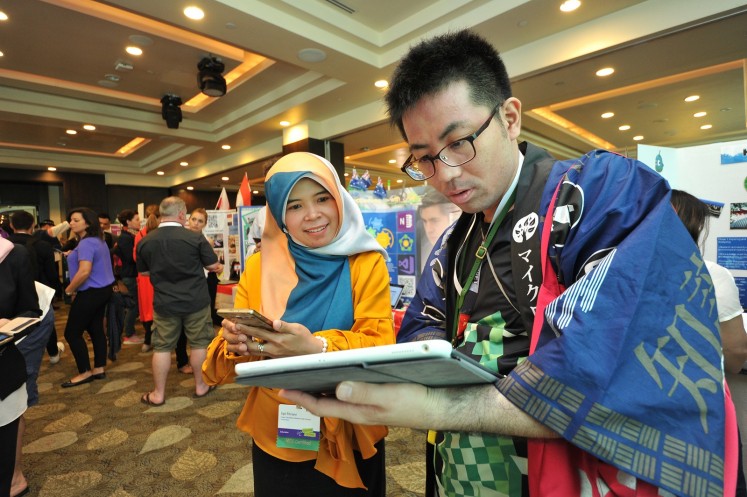 Indonesian teacher Upi Fitriani (left) participates in a discussion with another teacher at the Learning Marketplace. (Microsoft/File)
Among the education tools introduced to the teachers are PowerPoint as a digital blackboard that boasts translation, machine learning and video editing features, as well as the capability to present 3D objects; Excel as a grade book and OneNote as an interactive learning tool where it serves as a typed or handwriting notebook where you can also attach photos, video, audio or anything else and connect it with Office 365. Some of these collaboration tools can be accessed offline and only need to be synchronized from time to time.
Hundreds of thousands of schools are said to have been reached by the tech company, from the east to the west. "We target all schools that want to change [their ways of teaching]. Innovation can be found anywhere; it doesn't necessarily have to be those who live in big cities with easy access to the internet. Those who live in remote areas and lack connectivity are usually more creative," said Obert, who was a teacher himself before joining the company.
"There's one teacher who creatively used OneNote to teach English, as it comes with a learning tool that spells word per word," said Benny.
One teacher who lives in Magelang even had the initiative to conduct online learning at Borobudur Temple via Skype using a mobile phone, which was joined by schools from other regions. "The security guards chased after him because they were alarmed by his actions," Obert said, laughing.
"I have a lot of respect for these teachers. Indonesian teachers have tremendous potential," he said, adding that many of them were still struggling with basic digital literacy.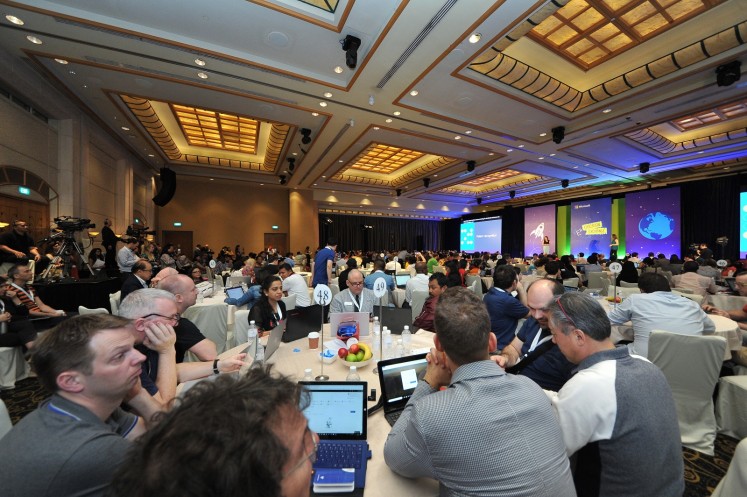 The ballroom where the 2018 Microsoft Education Exchange was held. (Microsoft/File)
Indonesian heroes
Indonesia indeed faces many challenges in regards to providing good education, as it is home to 250,000 schools, from kindergarten to high school, state and private, and has more than 3 million teachers and 50 million students.
"Because [Indonesia] has so many students and so much complexity such as infrastructure, getting schools ready and getting teachers on board, it helps to have evidence of more short-term projects that actually get some energy and momentum around progress that can happen now," said Salcito.
"Have some examples; have some heroes in Indonesia that are making this possible. The teachers are not the issue; I was with a group of Math teachers in Yogyakarta a couple of years ago and I was so impressed by how bold they were in thinking about this new world; about mathematics and computer science. [The teachers] understand their journey; they're ready for this change."
The six teachers who participated in this year's E2 are perhaps the best example of the "heroes in Indonesia".
Currently an information technology (IT) teacher, Ari Sumarsono has been working at the vocational school SMK YAPPI Wonosari, Gunungkidul, Yogyakarta for the past 27 years. Despite a very long commute, which requires him to wake up at 4 a.m. every day and use two old motorcycles - one to reach the bus terminal from his house and another one to reach the school after getting off the bus - Ari is determined to increase his capability as an educator.
"Ninety percent of my students come from low-income families. [That's why] we are using online learning tools to minimize the need for [purchasing physical] tools," he told the Post in Singapore on Tuesday. It was his third time joining the event; this year he served as a trainer and fellow of the tech company's education program.
Named the most innovative teacher in Singapore in 2010, Ari strives to embrace the full potential of technology to be able to provide a better education for his students. "I once passed a test for an opportunity to study in a German school. I was the oldest participant at the time among other Indonesians; 37 years old. I was also very new to computer science [prior to IT, he taught Physics], while the others had an engineering background. But I want to learn more for the sake of my students," he said.
Meanwhile, Mansur, a math teacher at SMPN 2 Pangsid, Sindenreng Rappang regency, South Sulawesi since 1999, shared how he had let his students access the internet by tethering from his mobile device when such connectivity was not yet available at his school.
"At that time, I used my own resource to provide internet access to my 25 students for almost two years. Fortunately, Wi-Fi connectivity is now available at our school," he said, adding that the students were happy with the option of using technology in the classroom, which allows them to study and take quizzes outdoors. Those who are unable to attend school can complete and send in their task from wherever they are.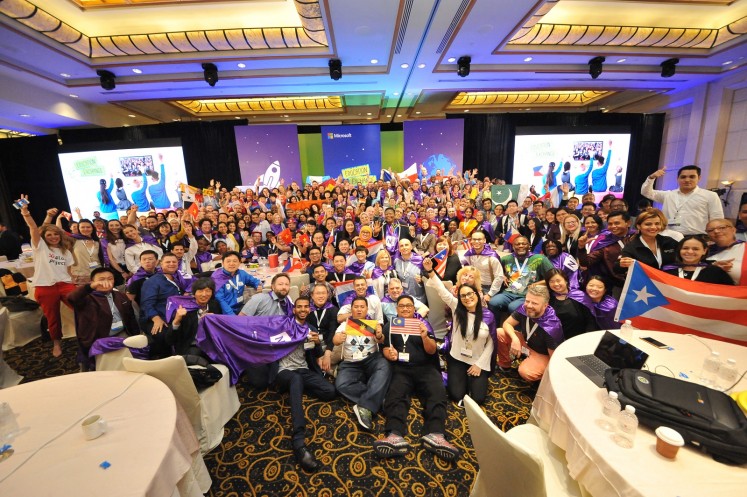 Close to 400 educators and school leaders from 91 countries were in Singapore to exchange innovative ways of teaching and preparing students for the digital age. (Microsoft/File)
"Mobile devices were initially not allowed in our school. But I try to change this mindset as there are actually many benefits if the devices are used properly. People should not only consider their negative effects."

Since becoming an MIEE after joining the company's education program in 2015, Mansur has also trained teachers across 10 regencies in South Sulawesi from all levels of school and subjects, teaching educators about Office 365, Paperless and Borderless Classroom.
Biology high school teacher at Insan Cendekia Madani School in South Tangerang, Upi Fitriani, has been active in the Microsoft program since 2015. She started her journey as an educator merely two years prior.

"I continue to develop myself because I feel the need to do so. I see these technologies as not only tools to replace [the old ways] and complement our work, but also push us to increase our capacity. Currently, our school has implemented full online quizzes; no more papers," Upi said.
Meanwhile Raden Roro Martiningsih, a math teacher from SMP Muhammadiyah 1 Surabaya in East Java, and Suherman, an economics teacher from SMAN 5 Sarolangun in Jambi, actively uses Microsoft's tools for education via the Education and Culture Ministry-backed Rumah Belajar (Learning House).
"Many of our students' parents are fishermen who consider education an important investment and are hence willing to put their children in our school despite it being expensive for them; around Rp 275,000 [US$19.25] per month for tuition. But when the weather is unfriendly, many of them are unable to fish, meaning they don't have money and their kids can't go to our full-day school," said Roro who has been teaching since 2009.
But some students found a way to continue their education despite the challenges by selling brooch made of clam shells as souvenirs to their friends, teachers as well as beach visitors. "Using tools like Microsoft Paint to design the brooch, Excel for bookkeeping and Word to write down their experience, these students are able to create the souvenirs and make enough money for school."
Despite the many challenges in Indonesia's education sector, language teacher Tri Haryanto from MA Ibnu Abbas Assalafi Sragen, Central Java, is very optimistic.
"We are perhaps very late in the game in terms of implementation [of technology at schools], but creativity-wise, we can still compete [with more developed countries]. Although we're currently unable to use the technology, we can start implementing its way of thinking and method; to teach students how to think critically when solving problems through collaboration and communication," said Tri.
Topics :
Join the discussions