Starbucks, ASA Foundation team up to teach youths life skills
Ni Nyoman Wira

The Jakarta Post
Jakarta |

Mon, April 16, 2018

| 11:06 am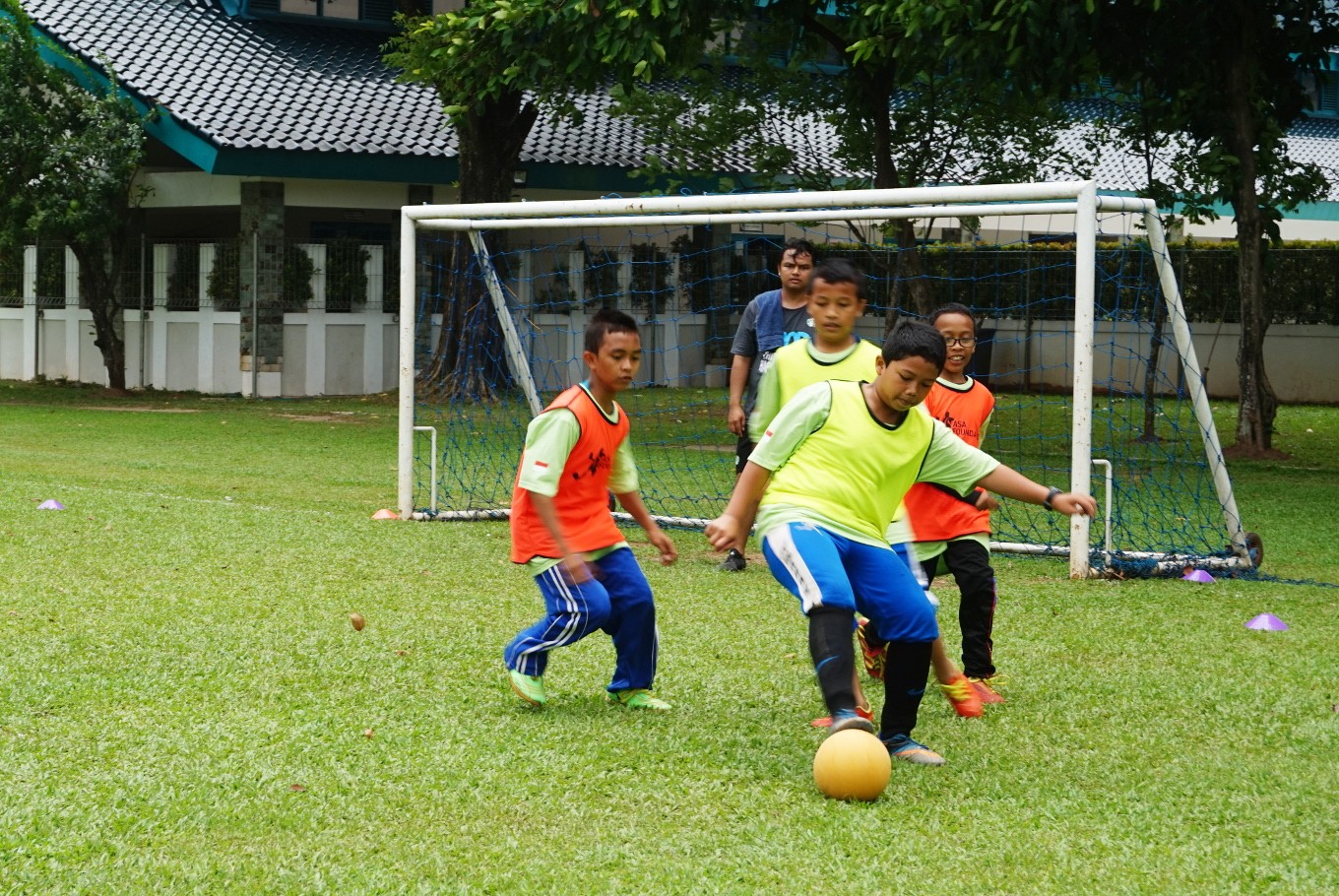 Students play soccer for the StarCoach project at Global Jaya School in South Tangerang, Banten, on, April 15. (JP/Ni Nyoman Wira)
Seattle-based coffee franchise Starbucks has collaborated with Asian Sports Academy (ASA) Foundation, which aims to empower people through sports and education, to launch StarCoach.
Set to be part of the brand's annual Global Month of Service event held every April, StarCoach is a training of trainers (ToT) project for Starbucks employees, who joined voluntarily, and local teachers to coach youths, aged from 12 to 14 years old, about life skills through soccer and basketball.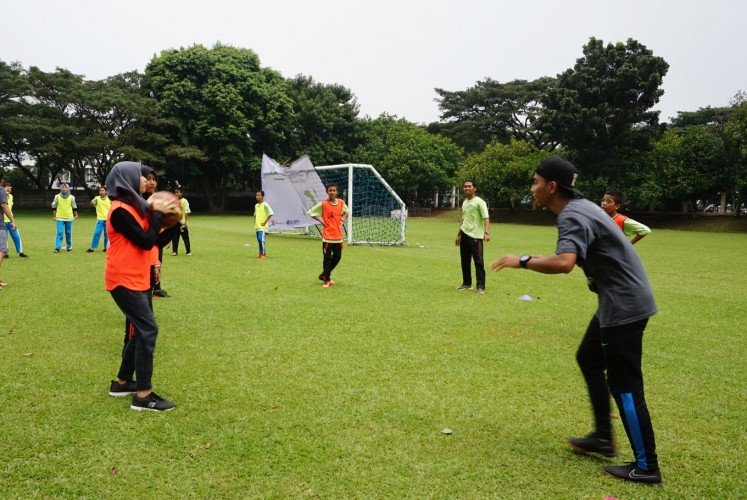 A student learns to pass a ball with a Starbucks employee for the StarCoach project at Global Jaya School in South Tangerang, Banten, on, April 15. (JP/Ni Nyoman Wira)
In the initial event, held at Global Jaya School in South Tangerang, Banten, on April 15, StarCoach began with 30 Starbucks employees and 10 sports teachers receiving training from ASA Foundation's coaching team.
"The employees were chosen based on their talent and commitment to be involved in this project for seven months," said Andrea Siahaan, senior general manager of public relations and communications at Starbucks Indonesia, during the event.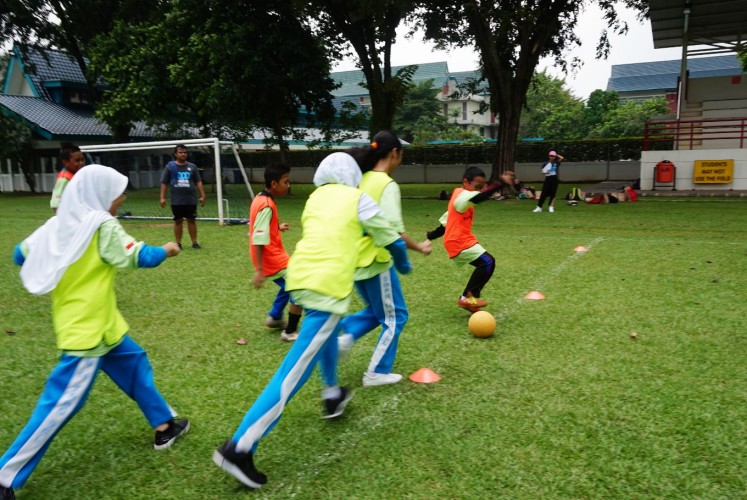 Students gain many benefits from sports, including communication skills, teamwork, understanding and respect. (JP/Ni Nyoman Wira)
Meanwhile, the sports teachers came from various schools, including state and Islamic boarding schools.
After the training, on the same day, the employees and teachers then coached 100 students from schools in Tangerang in return. Participants were divided into eight groups where each of them had different methods. One group, for instance, was allowed to pass the ball once, while another group had to pass the ball twice. Several moments later there would be student exchanges between each group.
Many benefits could be gained from the activity, among them were adaptation skills, communication skills, teamwork, respect and understanding.
Read also: Starbucks campaign endorses Sumatran coffee farmers
Aimed to help 10,000 underprivileged students, the project is set to be held for seven months in 10 targeted cities, including Greater Jakarta, Bandung in West Java, Makassar in South Sulawesi and Balikpapan in East Kalimantan. Local Starbucks employees and teachers will teach the students later on under the supervision of the ASA Foundation.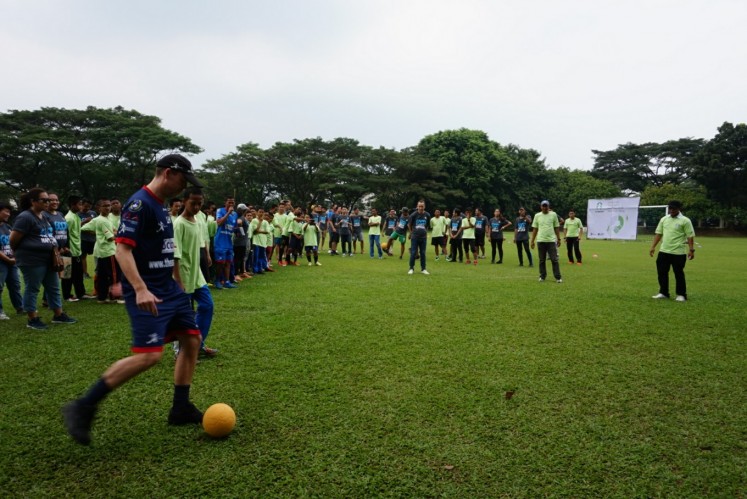 Lee Hawkins (left), technical manager of ASA Foundation, kicks a ball to commence StarCoach, a project between Starbucks and ASA Foundation, on April 15, at Global Jaya School in South Tangerang, Banten. (JP/Ni Nyoman Wira)
"The coaches and students are fantastic. They're wholly engaged and motivated," said Lee Hawkins, technical manager of ASA Foundation, adding that they would be monitoring and evaluating this program in weekly basis.
On the same occasion, Anthony Cottan, director of Starbucks Indonesia, explained why the project used sports as the main theme. "There are a lot of skills that can be learned from sports, [such as] teamworks, understanding and respect. It's a fun way to learn those skills," Cottan said. "After this, hopefully there will be more cities. We have 25 cities where Starbucks are in and we want to reach all of those communities." (wng)
Topics :
Join the discussions