Sekolah Bogor Raya hosts inaugural 'gamelan' festival
Theresia Sufa

The Jakarta Post
Bogor, West Java |

Tue, April 24, 2018

| 11:05 am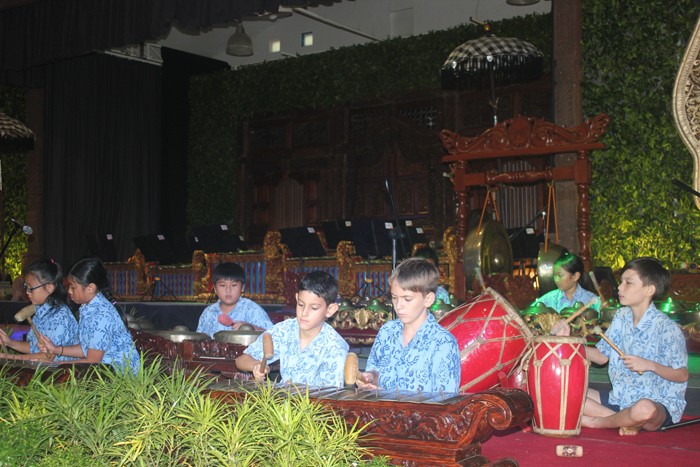 Elementary students from the Intercultural School of Bogor (ISB) play "gamelan degung" during the "gamelan" festival on Saturday, April 21, 2018. (JP/Theresia Sufa)
Five schools and three gamelan (traditional orchestra) studios in Greater Jakarta participated in the Bogor Raya Gamelan Festival initiated by Sekolah Bogor Raya (SBR) on Saturday.
Held at the school's Douglas Stoltz Auditorium, the festival aimed to celebrate the richness of Indonesian traditional music.
Participating in the event were the Intercultural School of Bogor (ISB), Madania junior high school (SMP), Santa Laurensia, Nizamia Andalusia and the Global Sevilla Pulomas School.
SBR principal Fransiska Susilawati said the festival was the first-ever hosted by the school as it seeks to instill the love of gamelan in students.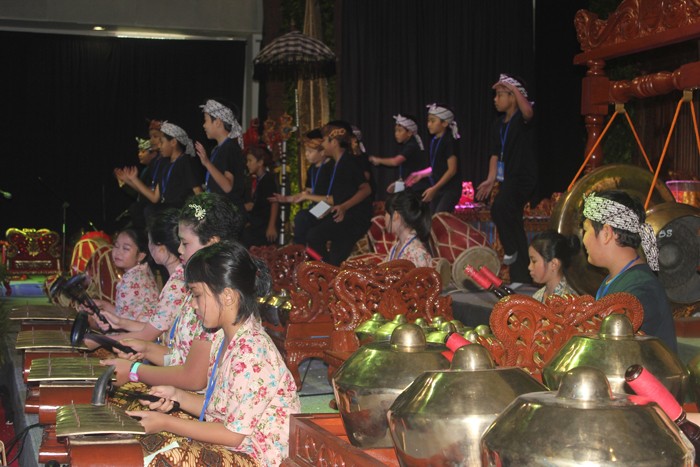 Sekolah Bogor Raya (SBR) elementary students perform using "gamelan degung". (JP/Theresia Sufa)
"Through this festival, we hope the children will recognize their cultural roots and love Indonesian traditional arts so that it could be maintained and preserved," Fransiska said.
Out of 800 SBR students, some 10 percent are foreign nationals from the United States, United Kingdom, India and the Philippines.
Read also: Preserving Javanese culture through gamelan
Bogor Raya Gamelan Festival committee head Niken Wulandari said SBR was committed to providing high-quality education for its students by offering an international program that integrates global concepts with Indonesian culture and national identity.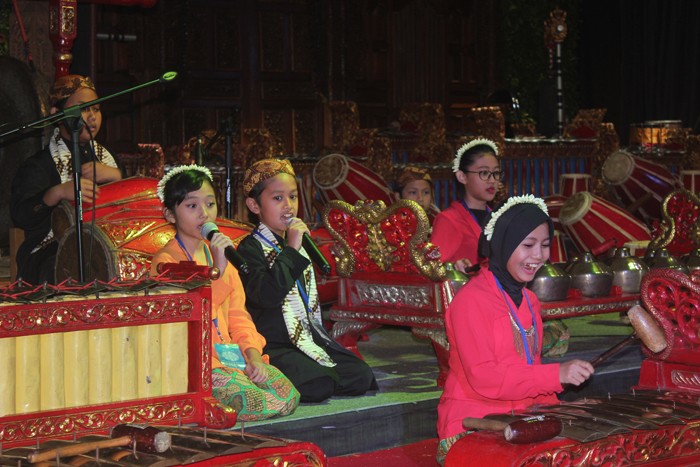 Students of Nizamia Andalusia elementary school sing "Swara Suling" and "Dolanan Jaranan" accompanied with "gamelan pelog". (JP/Theresia Sufa)
Through the music department, the program includes traditional music as mandatory lessons, especially for elementary students who will learn how to play the piano, angklung (traditional musical instrument made of bamboo tubes) and kulintang (instrument comprising horizontally laid gongs).
They also learn pentatonic tunes using the suling (flute) and kecapi (Sundanese musical instrument). Meanwhile, students in their final year of elementary school have the opportunity to use their music skills in a Sundanese gamelan orchestra, with a focus on gamelan degung (modified, Sundanese gamelan instrument) and gamelan salendro (gamelan music from West Java).
The SBR gamelan team previously entered various national and international events, such as an Earth Day event in Bogor, a Jakarta Tourism and Culture Agency event, as well as the Enchanting Evening of Indonesia performance at the Royal Theater Prague, Czech Republic.
In June, the team plans to embark on a cultural trip to Europe.
The parent of an ISB student, Rizka Aprilia Thorup, said she was pleased with the gamelan festival as it allowed students from various countries living in Bogor to learn and get to know Indonesian traditional arts and culture.
"I can see how the students of ISB are very enthusiastic about learning Indonesian traditional arts, such as gamelan," Rizka said. (kes)
Topics :
Join the discussions