Young Indonesian programmer joins Apple CEO in Worldwide Developer Conference
News Desk

The Jakarta Post
Jakarta |

Wed, June 6, 2018

| 11:09 am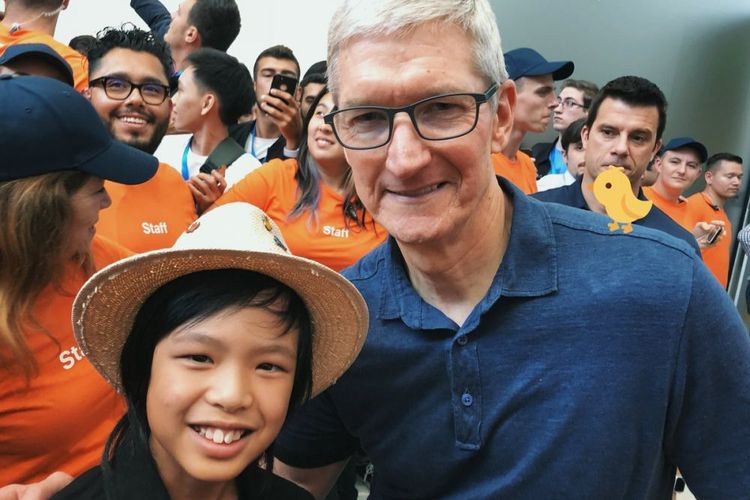 Indonesian boy Yuma Soerianto is photographed with Apple CEO Tim Cook at the Worldwide Developer Conference (WWDC 2018) held by Apple at San Jose, California, on Sunday. (Twitter/YumaSoerianto)
Outstanding coding skills, along with patience and determination, have brought 11-year-old Indonesian Yuma Soerianto to Apple's Worldwide Developer Conference as the youngest app developer for two consecutive years.
Kompas.com reported that Yuma attended the event as an Apple WWDC18 scholarship winner, following his participation at the previous WWDC17 holding the same title.
Yuma's appearance in San Jose drew Cook's attention. The boy impressed the CEO, as he had been developing an app during the flight to the US from Australia, where he currently resides.
At last year's WWDC17, Cook had specifically addressed Yuma in his opening speech. A photo of the boy was projected on the stage, as Cook told the audience that Yuma had started coding when he was 6, and by last year, he had already created five apps for the AppStore.
"I met Yuma yesterday, and I can't wait to see what he is going to accomplish next," said Cook.
By the time of writing, Yuma has already created seven apps in the AppStore.
The Straits Times wrote that Yuma was always fascinated by technology, and that he had asked himself what he could do besides watching television. He then started to learn how to make e-cards and web-based games by following online courses and creating a web-based jackpot game for his grandmother.
He went on to take a free iOS developing course offered by Stanford University on Apple iTunes U, and completed the course in four months.
"I liked building websites, just basic coding using javascript and css," Yuma said to Fairfax Media, "but everyone has phones, so I wanted to learn how to build apps. And I could build more fun stuff on an iPhone, like games."
His first iOS app was created in 2016, called the Kid Calculator. It is a talking calculator for children and available in the App Store. The next apps he created were Weather Duck, a talking duck informing children about the weather, and Pocket Poke, a user-friendly Pokemon viewer.
Born in Singapore to an Indonesian couple, Yuma and his family moved to Australia when he was 3 years old. He now attends Middle Park Primary School in Melbourne and juggles his time between school, play dates, playing basketball and jetting around the world to speak at such events as the World Youth Forum in Egypt and coding lessons at Apple's Orchard Road flagship store.
Aside from sharing his coding skills at different events and places, Yuma teaches through his YouTube channel, Anyone Can Code. In an interview with Australia's ABC National Radio, Yuma said he believed everyone was capable of coding, if they had the passion and patience.
Read also: Female Afghan coders design games to fight opium and inequality
The holder of a black belt in Taekwondo, Yuma was quoted by The Straits Times as saying he wanted to continue to make apps that could change the world and people's lives and revolutionize the world. He went on to say that he just wanted to keep coding. (mut)
Topics :
Join the discussions