Malang's 'Teen Talk' targets higher marriageable age to combat violence
Nedi Putra AW

The Jakarta Post
Malang, East Java |

Sat, December 1, 2018

| 06:03 pm The Malang City Women's Coalition (KPKM) and Dian Mutiara Malang Crisis Center (WCC) held a Teen Talk anti-violence forum on Nov. 25 to commemorate the International Day for the Elimination of Violence against Women in Malang, East Java. The event aimed to raise the marriageable age to combat domestic violence. (Shutterstock/iMoved Studio)
The Malang City Women's Coalition (KPKM) and the Dian Mutiara Malang Crisis Center (WCC) jointly held the "Teen Talk" event on Nov. 25 at the Sarinah building in Malang, East Java.
The Teen Talk anti-violence forum, themed "Ending Sexual Violence by Raising Marriageable Age", was held to commemorate the International Day for the Elimination of Violence against Women.
Twenty teenagers from the Griya Baca street children center attended the event. Griya Baca has been providing social support and trainings to increase self-esteem for street children over the last 10 years.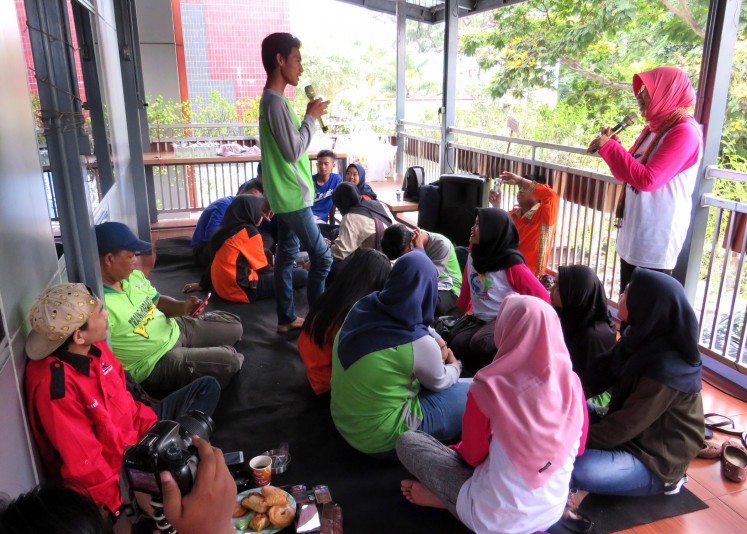 Members of Griya Baca leads a training session for street children in this undated photograph. The street children center has been providing social support and training street children to help raise their self-esteem for the last decade. (JP/Nedi Putra AW)
Read also: Stunting and child marriage
KPKM chairwoman Sri Wahyuningsih said that most child marriages were marked by unwanted pregnancies, which often occurred as a result of domestic violence. She stressed that it was the parents' responsibility to teach their adolescent children what was and was not acceptable in a marriage.
Sri also said that marrying at the ideal age under the law helped newlyweds be more independent as regards their finances as well as physical and psychological health.
"And certainly, [they would be] capable and responsible of taking legal action," Sri added.
Marriage Law No. 1/1974 stipulates the ideal marriageable age as 16 for women and 19 for men. In 2015 alone, 340,000 girls under the age of 18 entered marriage, according to Statistics Indonesia (BPS) and UNICEF's child marriage data analysis. (iru/mut)
Topics :
Join the discussions