Protecting our waters from fisheries crimes
Vienna |

Tue, June 14, 2016

| 08:41 am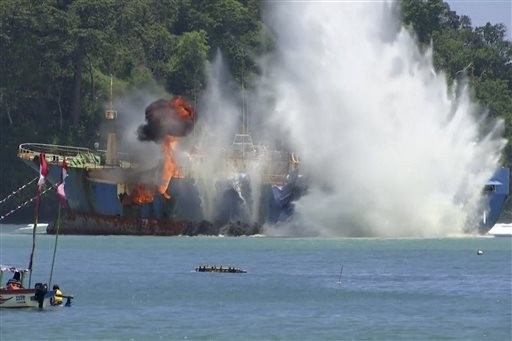 In this image made from video, illegal fishing vessel Viking which was seized by Indonesia's Navy is sunk in the waters off Pangandaran, West Java, Indonesia, March 14. (AP/APTN/-)
You will agree with me how essential the ocean and its wildlife resources are for our economy, livelihoods and way of life. Yet, human action has affected them, especially fish as well as other marine wildlife and their ecosystems.

In the last few decades, illegal, unreported and unregulated (IUU) fishing has depleted the world's fish stocks by 90.1 percent. In Indonesia alone, it causes around US$20 billion in state losses per year.

Even more worrisome is the fact that it has also affected the economy of our small-scale fishermen. For example, the number of fishermen decreased in the span of just one decade from 1.6 million people in 2003 to only 800,000 in 2013.

Indeed, IUU fishing has become a major problem, not only for the management of sustainable fisheries but also for the ecosystem and, in turn, society.

Grasping the urgency of this situation, the government imposed a one-year moratorium upon all licensed fishing vessels built outside of Indonesia (or ex-foreign vessels) between November 2014 and October 2015. The moratorium was used to conduct investigations on IUU fishing activities on 1,100 ex-foreign vessels that were licensed to operate in Indonesia.

Considering their size and equipment, those ex-foreign vessels had extensive capacity to exploit Indonesia's marine and fisheries resources, making them a major cause of depletion of resources, while also taking into account the duplication of licenses by each vessel, to be used for up to 10 vessels.

From the audit process, several violations and criminal offences were found. These included, among other things, the employment of foreign crew members, fishing outside of permitted fishing grounds, use of destructive fishing methods and equipment, turning off transmitters during operations at sea, illegal transshipment of all the catches offshore while in return smuggling people and goods to the country and exporting catches without customs checks and proper documentation.

Indonesia acknowledges from this investigation that there are also many violations of law arising from IUU fishing activities. It has come to our, and even the world's, attention that IUU fishing activities have definitely led to fisheries crimes and other fisheries-related crimes. These terms of criminology are used to describe crimes committed along the whole value chain in the fisheries industry.

Transnational organized crime in the fishing industry is now in fact growing into a complex and dangerous activity and is associated with other crimes. Based on evidence found around the globe, many vessels committing IUU fishing employ forced labor or trafficked persons or smuggled weapons.

The government has encountered some fishing vessels involved in transnational organized criminal groups in the fishing industry that also engaged in illegal activities such as money laundering, bribery, drug trafficking, human trafficking, tax fraud and smuggling of illegal goods including alcohol, cigarettes and drugs without paying duty and completing customs clearance, as well as smuggling of endangered species such as Papuan birds of paradise, parrots, turtles and other protected species.

In the case of Indonesia, for example, these crimes were publicly disclosed when the government imposed the one-year moratorium policy and the investigative audit. Pursuant to the investigative audit result, over a thousand people working in the fisheries industry were identified as victims of human trafficking in Benjina and Ambon in Maluku.

Furthermore, numerous violations of laws were also found, which included forged vessel documents, immigration papers and employment permits, raising the flags of many states, smuggling and illegally trading goods, wildlife and endangered species to illicit drugs.

To tackle these issues, the government has taken a number of measures.

First, we established a taskforce to combat illegal fishing as a one-roof enforcement system that consists of five government agencies. The taskforce that I coordinate has a mandate to combat illegal fishing, especially fisheries and fisheries-related crimes through integrated enforcement action and promoting policy reform by developing a strategic roadmap to improve Indonesia's fisheries governance.

Second, the issuance of human rights protection policy in captured fisheries businesses, which obligates the corporation to have an internal human rights policy, to conduct human rights due diligence and to obtain human rights certification as prerequisites to having a business license.

Third, amending national fisheries laws with a purpose to produce a legal regime that is consistent with the principles for responsible and sustainable fisheries management and the UN Convention against Transnational Organized Crime, including by imposing stringent and effective sanctions against individuals and corporations involved in fisheries crimes and fisheries-related crimes.

Combating fisheries crimes is not easy. Most of these crimes involve big business players, high-ranking profiles, political backup and a huge amount of money. These crimes are committed in more than one country, which makes them transnational crimes in nature. Furthermore, what do they aim for if not financial benefit? In this case, nothing speaks louder than high profits and stacks of money.

Against this background, transnational organized fisheries crimes are a criminal phenomenon. In order to combat it, international cooperation, including with relevant international organizations, is crucial.

Indonesia is of the view that emerging forms of crime, in particular fisheries crimes and fisheries-related crimes, need to receive proper attention, among other things, by putting them in the same basket as other manifestations of transnational organized crimes.

Through this approach, we are able to emphasize the seriousness of this crime, thus promoting commitment and concrete measures to be taken by states to enhance close international cooperation in order to combat these crimes effectively.
***
The writer is Indonesia's maritime affairs and fisheries minister. This article is an abridged version of her speech at the 25th session of the Commission on Crime Prevention and Criminal Justice in Vienna on May 23.
---------------
We are looking for information, opinions, and in-depth analysis from experts or scholars in a variety of fields. We choose articles based on facts or opinions about general news, as well as quality analysis and commentary about Indonesia or international events. Send your piece to [email protected]
Disclaimer: The opinions expressed in this article are those of the author and do not reflect the official stance of The Jakarta Post.
You might also like :
Comments