Climate justice for smallholder farmers
Denpasar |

Mon, January 16, 2017

| 08:33 am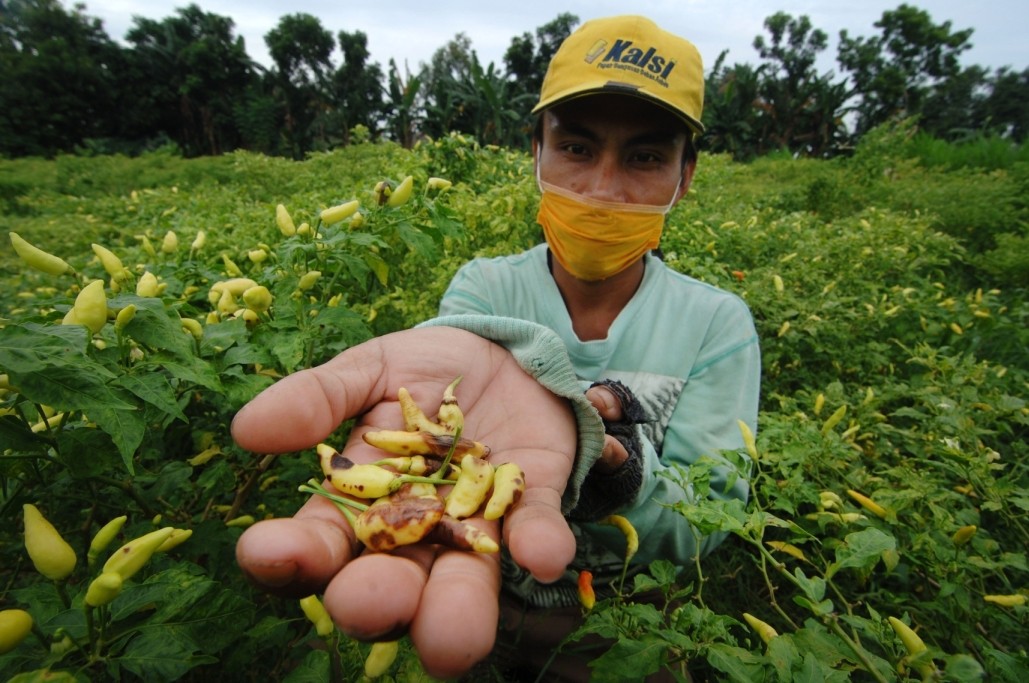 A farmer shows bad chilies in Montok village, Pamekasan, East Java, on Jan. 6. The price of bird's eye chili has been rising due to changing weather that affects crops. (Antara/Saiful Bahri)
The combination of climate change mitigation and adaptation is essential for Indonesia's 37 million smallholder farmers. However, does it consider farmers' rights and development to achieve a farmer-centered approach?
Indonesia is the world's fifth largest emitter of greenhouse gases and a large proportion of these emissions come from the conversion of forests and carbon-rich peatlands into productive agricultural land.
Much of this conversion is driven by the nation's crop estates (e.g. oil palms, cocoa and coffee). Although smallholder farmers own only small plots of land (on average less than 1 hectare in Java and more than 5 outside Java), they farm at least 40 percent of Indonesia's total land area planted with oil palms. Meanwhile, under the Nucleus Estates and Smallholders (NES) scheme, a company acquires 70 percent of the land under development. However, as land scarcity drives up the value of unconverted plots, farmers are keen to hold onto a greater share.
For many smallholder farmers, modern, chemical-based fertilizers are unaffordable. Traditional slash and burn practices have led to an increase in the soil's mineral content. As fires become more frequent, however, soils begin to degrade and farmers are left with an area of land with limited fertility.
Farmers' shifting cultivation practices also cause damage to local river systems through increased sediment discharge and the release of chemical fertilizers, harming fish and other aquatic life. Some environmental groups have claimed that palm oil companies committed to ending deforestation and sustainable production, are, in fact, encouraging slash and burn by smallholder farmers so as to enlarge plantation size.
Deforestation is often the only option available for the livelihoods of smallholder farmers living in Indonesia's forested areas. Compounding this, the Indonesian government has made attempts to roll back no-deforestation pledges to allow smallholder farmers to continue using unsustainable agricultural practices.
On top of this, climate change impacts are now emerging as a serious threat to progress in Indonesia's agricultural development. With a strong dependence on climate-sensitive natural resources to support their livelihoods, smallholder farmers in Indonesia are highly vulnerable to climate change. To cope with these challenges, approaches to this issue in Indonesia are becoming even more complex, combining the more established practices of environmental protection and poverty reduction with emerging concepts related to global climate change: mitigation and adaptation.
State-owned forestry company Perhutani has practiced the prosperity approach concept for forest communities since the 1970s. This has been done by training nearby farmers to cultivate honey and use inter-cropping in teakwood forests in Java. As the farmers benefit directly from the teakwood forests, Perhutani joins the efforts to protect teakwood plantations.
However, Ansori et al. ( 2011 ) found that the level of community participation in program planning and evaluation was low. The pattern of partnership was asymmetric because the decision making was dominated by Perhutani personnel. In the cooperative agreements, there were many unequal positions. The program is considered a derivative of a developmental ideology contrary to the principles of community empowerment. The partnership is focused more on corporate interests and is used to reduce conflict.
These things seem to have been anticipated later, in 2002, by biologist Willie Smits with better profit-sharing planning with the farmers. Smits and his colleagues started to apply another approach to rebuilding rainforests in Kalimantan. The program has been empowering smallholder farmers to find alternatives to harvesting forests. It was started with a team of 100 local farmers to restore 5,000 hectares of devastated forest. To grow, protect and preserve the forest land itself, the program offers local farmers free land to plant crops in the forest.
In return for both the land and farming income, the farmers must protect the rainforest. The program has been advancing farmer cooperatives, organic farming techniques and a fair trade system. By improving around 3,000 farmers' quality of life and building trust throughout the community, the program has provided powerful incentives for both long-term ecological and economic restoration.
The program has planted over 1,000 trees of varying species to build up a new forest. Along the edges of the land parcels, the farmers plant rows of sugar palms, which are fire- and floodresistant and produce sugar water every day that can be tapped and used as a biofuel. The government has pledged to make this palm sugar concept a national project and to be replicated in eight provinces in Indonesia.
By providing alternatives and proper incentives for the local farmers, the program has achieved both political legitimacy and economic growth for resilient farmers, and established a model for restoring forests to achieve mitigation targets.
Investing in climate action by smallholders is showing incredible impact in terms of food security, biodiversity improvement and carbon mitigation. However, doubt still remains about sharing the burdens and benefits of the program equitably and fairly with landless farmers, since the rebuilding program focuses more on forest biodiversity, not on a farmer-centered approach to development. What is needed to protect farmers' rights? It is a question of climate justice.
***
Ibnu Budiman is a researcher at PT Sustainability and Resilience (Su-re.co) environmental consulting company. Hannah Barrowman is a PhD Scholar at the Australian National University. The views expressed are their own.
---------------
We are looking for information, opinions, and in-depth analysis from experts or scholars in a variety of fields. We choose articles based on facts or opinions about general news, as well as quality analysis and commentary about Indonesia or international events. Send your piece to [email protected] For more information, click here.
Disclaimer: The opinions expressed in this article are those of the author and do not reflect the official stance of The Jakarta Post.
Join the discussions