EDITORIAL: Injustice for Ahok
EDITORIAL

The Jakarta Post
Jakarta |

Wed, May 10, 2017

| 08:00 am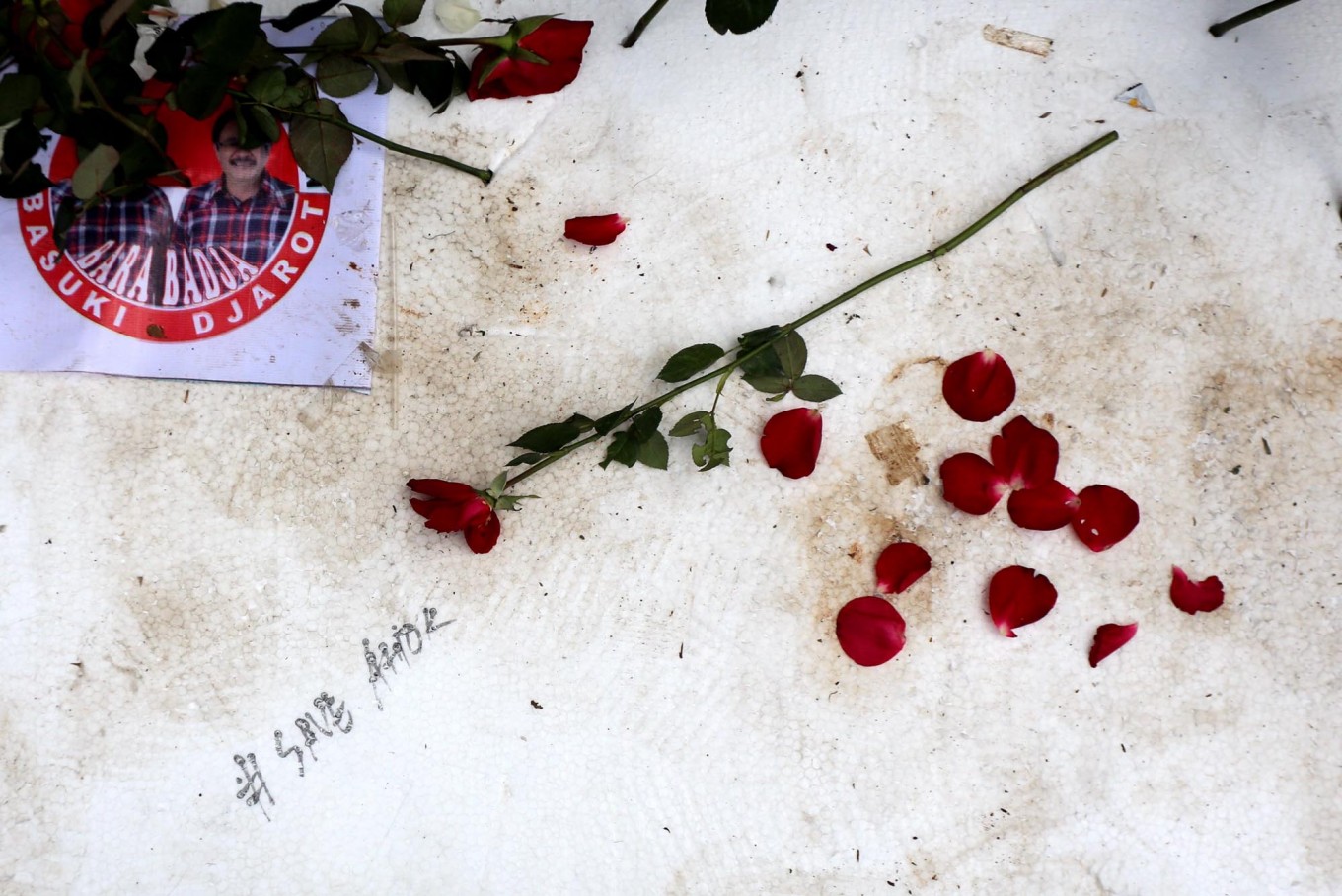 The Ahok verdict will set a bad precedent leading to judges who will disregard state prosecutors' findings at will. (JP/Seto Wardhana.)
Justice was certainly served Tuesday for the tens of thousands of people who, for the past six months or more, have taken to the streets in rallies demanding the prosecution of outgoing Jakarta Governor Basuki "Ahok" Tjahaja Purnama, as he was convicted of blaspheming against Islam in the North Jakarta District Court, which sentenced him to two years' imprisonment.
In their large-scale rallies named 114, 212, 212 part 2, 313 and so on, after the dates of the events, the protesters' message was loud and clear: Ahok should go to jail for his "blasphemous" remarks on a Quranic verse, and therefore Jakartans should not vote for him. Rally leaders repeatedly labeled Ahok an infidel and linked him to Chinese conglomerates that would surely control the country's economy if he was reelected.
One by one their goals were achieved. Ahok and his running mate Djarot Saiful Hidayat lost the gubernatorial election to Anies Baswedan and Sandiaga Uno, who won by a landslide on April 19. Barely three weeks later the panel of judges unanimously declared Ahok guilty of deliberately insulting Islam, although state prosecutors had dropped the blasphemy charge and had merely demanded a suspended jail term for Ahok for insulting ulema.
The law gives judges freedom to build their verdicts based on the evidence, testimonies and their own convictions. But the fact that they preferred to take into consideration the testimony of witnesses, including clerics who had openly expressed hatred against Ahok and even sought his death, over statements of witnesses who did not see any intention to insult Islam on the defendant's part, shows signs of a miscarriage of justice in this trial.
That the judges ignored the prosecutors' surprising decision to drop their primary charge also begs a question. In reaching such a conclusion — that they discovered no blasphemy against Islam — surely the state prosecutors were not without convincing grounds? The Ahok verdict will set a bad precedent leading to judges who will disregard state prosecutors' findings at will.
The judges opted to turn a deaf ear to his defense arguments. This decision unfortunately came on the heels of mounting demands for his imprisonment, or escalating protests and anger would follow Ahok's acquittal.
We have seen such mob pressure, with assistance from the media, in several other cases, in which the public have declared a defendant guilty before the judges have even banged their gavels. Whether the judges take such public pressure into account only they themselves know, but as human beings they must surely feel some burden.
The idea of a court as a place to seek justice has failed Ahok. But we have also seen how many have fallen victim to miscarriages of justice in this country, with some finally finding justice only after many years.
Ahok is right to appeal the verdict. But for those who thirst for power his imprisonment means a lot: peace and stability has now been restored because one troublemaker is now in jail and may rot there.
Join the discussions