EDITORIAL: Saving soccer and its players
EDITORIAL

The Jakarta Post
Jakarta |

Wed, October 18, 2017

| 07:55 am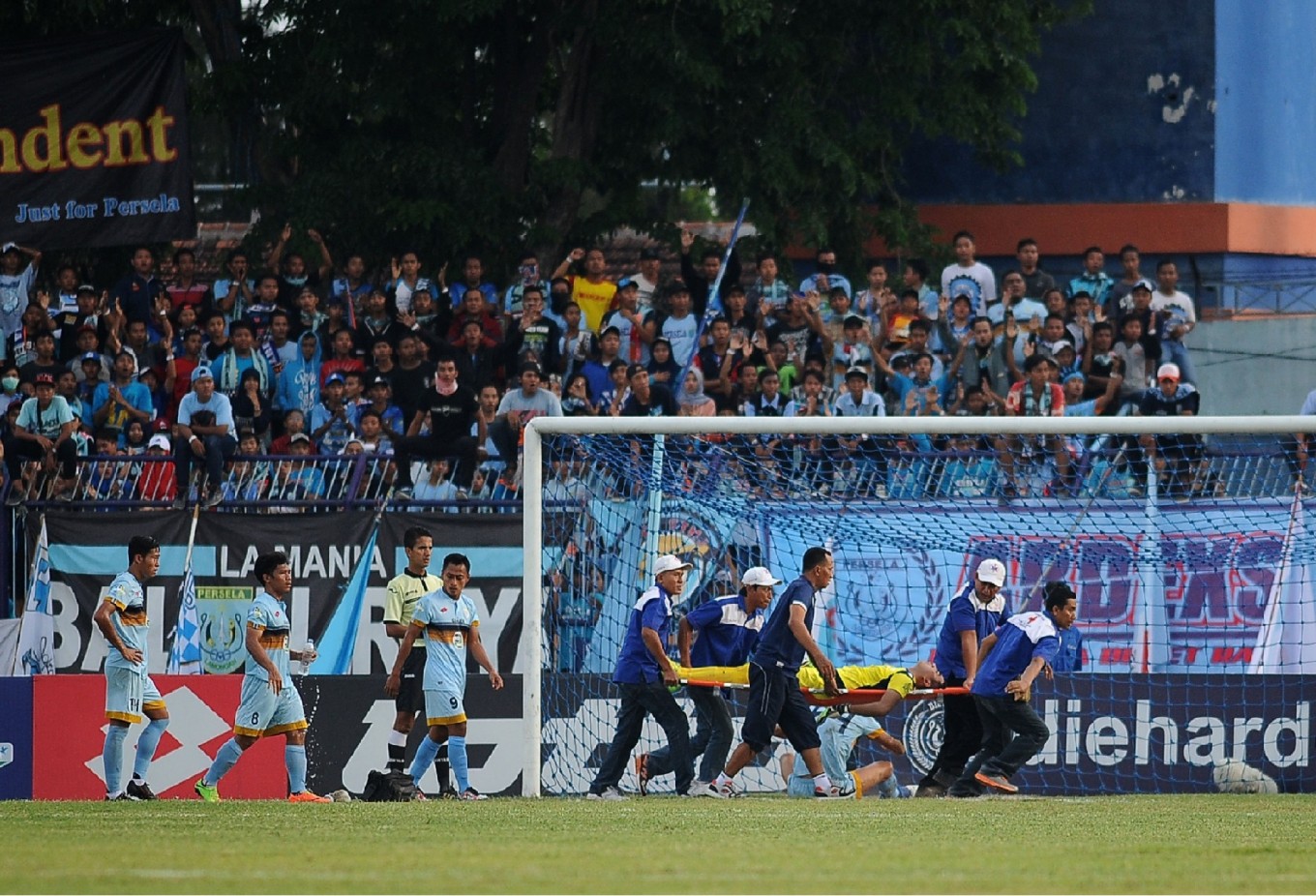 Tragic end: Persela Lamongan goalkeeper Choirul Huda is rushed to the hospital on Sunday following a collision with teammate Ramon Rodrigues during a Gojek Traveloka Liga 1 soccer match against Semen Padang at Surajaya Stadium in Lamongan, East Java. Choirul was later pronounced dead due to head and neck trauma. Persela won the match 2-0. (Antara/Rahbani Syahputra)
Sympathy has been pouring out to the family of goalkeeper Choirul Huda and to Indonesian soccer in general following the death of the top division club Persela's seasoned player after an accident on the field on Sunday.
The mourners include Manchester United ace Paul Pogba and international goalkeepers Petr Čech of Arsenal and Marc-André ter Stegen of Barcelona, who called Choirul's death "a sad, unlucky story of football" in his tweet. It is indeed a tragic story for all soccer players, as such an accident could happen to them at any time.
Known for its rough style of play, requiring physical strength, speed and endurance, soccer has claimed scores of players' lives or at least put a premature end to many careers due to injuries. It is safe to say that such injuries, especially as a result of bodily contact, are a risk that all players must accept when deciding to pursue a career in the world's most popular sport.
Still, the world soccer body FIFA has issued very strict rules that aim to keep players from endangering their opponents, thus minimizing the potential of fatal or serious injury. A tackle from behind, for example, gives a player an immediate marching order, while pushing, tripping, charging or holding onto the jerseys of opponents results in a yellow card.
To put it simply, soccer, like other dangerous sports, is highly regulated just to keep players safe so that viewers around the world can enjoy the matches.
We couldn't agree more that the collision that cost Choirul his life is an exception and was an accident that no one wanted to happen. Choirul collided with a Persela teammate, with doctors later saying that possible "chest, head and neck trauma" due to the blow to his chest and lower jaw had caused his death.
Choirul is not the only fallen player in the Indonesian league. In fact, he is the fourth professional soccer player since 2000 to have died in play. Eri Irianto of Persebaya died in April 2000 after he fell unconscious after a collision. Jumadi Abdi of PKT Samarinda in March 2009 and Akli Fairuz of Persiraja Banda Aceh in May 2014 both died after receiving a kick to the stomach from an opposing player.
We cannot expect the Soccer Association of Indonesia or FIFA to introduce more stringent regulations following the latest accident, as it may result in an overly safe, boring style of play. The best we can hope is for soccer authorities to encourage players to learn first aid so that they can provide assistance in the event of an accident before the medics arrive.
We don't know whether immediate assistance could have spared Choirul's life, but Francis Kone of Togo in his career saved three players by delivering first aid to injured teammates or opponents while on the field. Hengki Ardiles, the captain of Semen Padang, said most players had no idea how they could've helped Choirul and were afraid their efforts would've only exacerbated the goalkeeper's injury.
As Kone has done, other players can follow suit to save soccer and its players.
Join the discussions