EDITORIAL: Golkar at a crossroad
EDITORIAL

The Jakarta Post
Jakarta |

Thu, December 21, 2017

| 08:24 am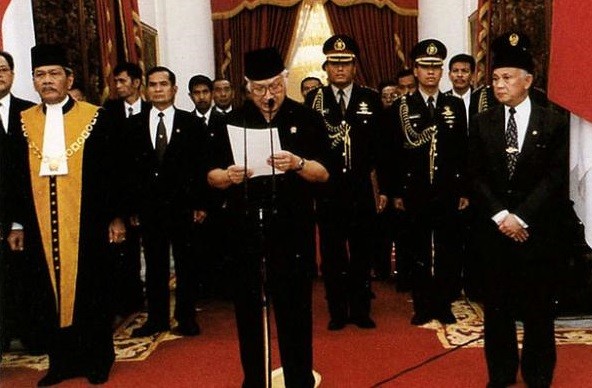 President Soeharto announced that he was resigning as President of Indonesia at the Merdeka Palace, Jakarta on May 21, 1998. (Kompas.com/-)
The Golkar Party has never been known as the beacon of moral leadership, but the party would have squandered every last shred of its credibility if in its extraordinary congress earlier this week, it decided to elect Siti Hedijati "Titiek" Soeharto as its new leader.
From the get-go, the prospect of Titiek being crowned the party's chair seemed like a long shot and her nomination appeared to be a public relations stunt, but in a party known for backroom deals and shady machinations, the prospect of having a member of the Soeharto family back in control of the party could have been a real possibility.
As a party founded by president Soeharto to serve as his political machine, Golkar has never been able to fully escape the shadow of the strongman's authoritarian past. Successive politicians who took the helm in the reform era, such as Akbar Tanjung, Aburizal Bakrie and Agung Laksono, were Soeharto's backers. Akbar served as a minister under Soeharto, while Aburizal's success in business owed to Soeharto's patronage. Golkar's journey would have come full circle had it elected Titiek as its first ever female leader.
In the end, Golkar unanimously chose Airlangga Hartarto as the new party chairman, who would take over from the embattled former chairman Setya Novanto. For critics, the election of Airlangga, whose father served under Soeharto, is symbolic in that it continues to fail to shake off the ties it has with its past. But optimists would point out that Airlangga is a relatively credible figure who has no controversial track record and this could be a signal that change is possible for Golkar.
The fact that Airlangga does not come from one of the four major factions within the party is another indication that a transformation could be underway within the party. Add in the fact that he has been seen to represent young politicians in Golkar, Airlangga is the best of all possible options for leading the party in trying to win back trust from voters.
While many political parties in the country have turned into a family business, (a case in point is the Indonesian Democratic Party of Struggle and the Democratic Party), Golkar proved to be the most modern political party the country has, in that it allows regular elections for party leadership to take place.
Given the massive network it has since the days of New Order, Golkar is the most effective vehicle for any politician to accomplish their goals, such as Jusuf Kalla who became vice president after he took over Golkar leadership, while Aburizal's business suffered after he lost the party's chairmanship.
Also, because of its massive network, Golkar can be a force for good and after making a gesture of goodwill by electing Airlangga, the logical step forward for the party would be to support President Joko "Jokowi" Widodo's reelection in 2019.
Other than being a reform-minded politician, Jokowi is also a hugely popular politician — who was only halfheartedly supported by his party — and Golkar could ride the wave of Jokowi's populism toward respectability.
Topics :
Join the discussions