EDITORIAL: What 'pilkada' can offer
EDITORIAL

The Jakarta Post
Jakarta |

Mon, March 5, 2018

| 08:13 am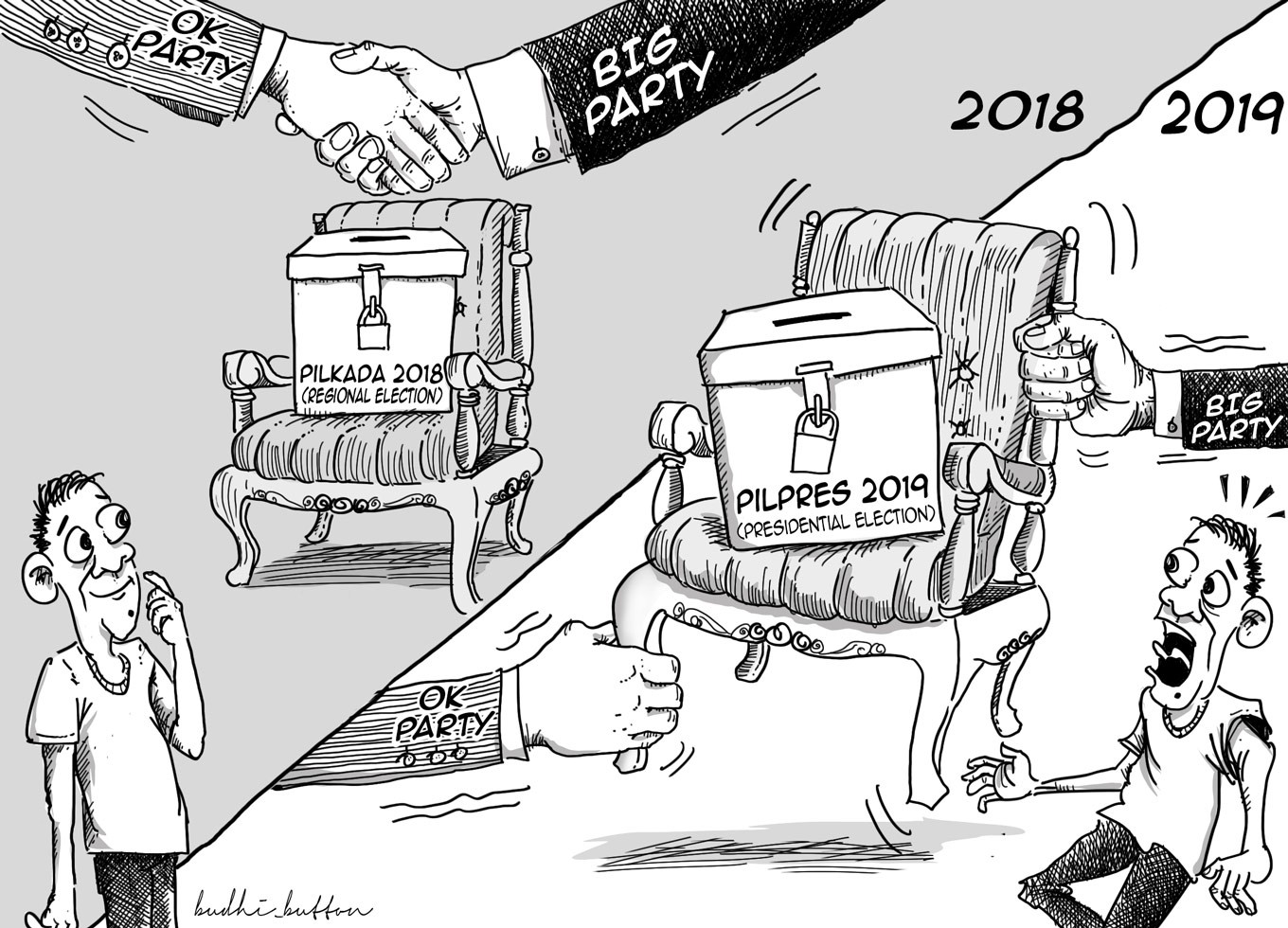 Election for regional heads will be held across 17 provinces, 39 cities and 115 regencies. (JP/Budhi Button)
That next year's simultaneous legislative and presidential elections have attracted much more attention from all segments of society than the forthcoming simultaneous regional elections is obvious. Such a short interval between the organization of the June 27 regional elections and that of the April 17, 2019 legislative and presidential elections, is probably why the regional elections have failed to steal the show.

The fact that the June 27 polls will involve elections in several big provinces that are home to some 70 percent of the total of voters nationwide does not alter the fact that the political scene has been dominated by the Indonesian Democratic Party of Struggle's (PDI-P) renomination of Joko "Jokowi" Widodo to run for a second term in the 2019 presidential election. Earlier the Golkar Party, NasDem Party, Hanura Party and United Development Party (PPP) declared their support for Jokowi's reelection. As the ticket for presidency is already in Jokowi's hands, heated discussions have immediately shifted to who will be his running mate.

Election for regional heads will be held across 17 provinces, 39 cities and 115 regencies. As the Special Report in today's paper reveals, however, its weight cannot overcome the magnitude of the national political event, particularly the 2019 presidential election, due to the latter's utmost significance as the democratic mechanism to elect the country's highest government executive post.

Nevertheless, to completely underestimate or even ignore the importance of the regional elections is also a mistake. There are various motivations for candidates aiming for elected office, including building a career in the government bureaucracy, starting from the lowest at village level up to a Cabinet post and even the presidency.

There have been numerous government executives who have excelled in building their careers in the government bureaucracy. Perhaps, we might still remember the achievement made by Ryaas Rasyid, state minister for regional autonomy under the presidency of Abdurrahman "Gus Dur" Wahid. Starting his career as a village head in Makassar, South Sulawesi, Ryaas nurtured his career as a civil servant in various positions before he was appointed minister by Gus Dur.

Another perfect example is President Jokowi himself. Although starting his career as a furniture businessman, he jumped into politics and was elected the mayor of Surakarta, Central Java, in 2005. While serving his second term as mayor, Jokowi ran for the Jakarta governorship only to claim the number-one position in the country's capital city in 2012 before he was nominated by the PDI-P to contest and eventually win the 2014 presidential election.

Regional elections may be less prestigious than presidential elections, but local political events should be watched out as they could give birth to a future Ryaas or Jokowi on June 27.

Regional elections should serve as stepping stones for and produce a pool of the country's future leaders. As the old wisdom goes, whoever can be trusted in small matters will be faithful in large ones.
Join the discussions