EDITORIAL: Restoring peace in Syria
EDITORIAL

The Jakarta Post
Jakarta |

Tue, April 17, 2018

| 07:48 am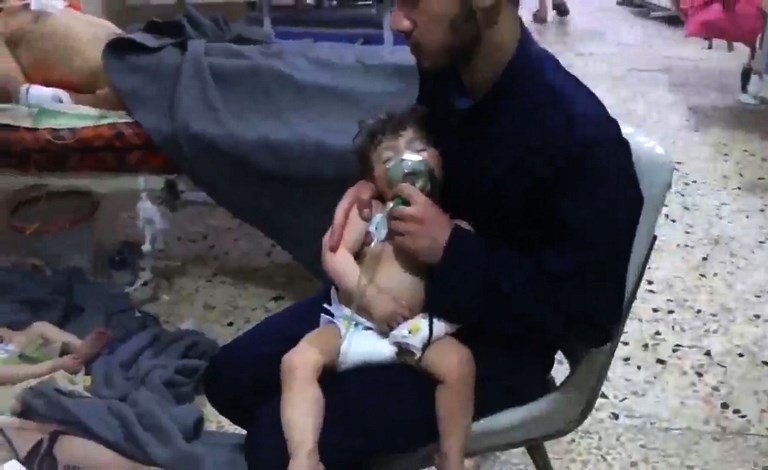 An image grab taken from a video released by the Syrian civil defence in Douma shows an unidentified volunteer holding an oxygen mask over a child's face at a hospital following a reported chemical attack on the rebel-held town on April 8, (AFP/HO/Syria Civil Defense)
United States President Donald Trump, along with his British and French cohorts, has fulfilled his promise to strike Syria over the latest chemical attack against residents in Douma on April 7, sending over 100 cruise missiles to three sites believed to be part of Syria's chemical weapons program.

Syrian President Bashar al Assad's regime has often been accused of using chemical weapons against his own population, despite being party to the Chemical Weapons Convention since 2013. Less than one year later, Syria destroyed its hoard of declared chemical weapons, as verified by the Organization for the Prohibition of Chemical Weapons (OPCW). Many, however, believe a large cache of undeclared chemical weapons remains.

The West's air strikes, which have aroused international concern, took place on Saturday just as OPCW inspectors arrived in Syria to conduct investigations in Douma. They are expected to investigate the site thoroughly, hopefully determine the culprit(s) and prevent further chemical attacks. Children are the most vulnerable to such attacks, which could have been carried out by the Syrian regime, the rebels or some other party.

Both the chemical attack and the controversial Western airstrikes are stark reminders that the world needs a permanent solution, and quickly, to Syria's civil war, an extension of the largely failed Arab Spring against Middle-Eastern authoritarian regimes.

We join others in urging the Syrian government not to use any chemical weapons and instead to guarantee its people their basic needs and rights. The civil war, however, is more complex as every faction involved has its own foreign guarantor, making Syria a war of proxies.

As Assad's regime is supported by Russia and especially Shiite Iran, most Sunni Arab countries have armed various rebel factions to contain Iran's growing influence in the Middle East.

The West got involved in Syria's civil war as the then powerful Islamic State (IS) movement posed a great danger to the West, expanding rapidly across Syria and neighboring Iraq.

Now that IS has largely been neutralized, all concerned parties should be able to focus on restoring peace in Syria and bringing the country back to normalcy, as its people of all political and religious backgrounds have suffered more than enough.

Assad needs to prove himself to be the leader of all the nation and not only of the Baath Party; therefore, he needs to listen to the people's grievances and address them accordingly.

As most major powers have a vested interest in Syria, an outsider might be able to bring a new perspective to the peace efforts so refugees can go home safely without fear of reprisal.

Despite the complexities, Indonesia could again offer its assistance as an honest broker with no strings attached, given its experience in helping to resolve communal conflicts in Aceh and Poso at home, and overseas in countries such as Myanmar and Cambodia.
Topics :
Join the discussions