Commentary: Preventing deaths from methanol poisoning
Elly Burhaini Faizal

The Jakarta Post
Jakarta |

Thu, April 19, 2018

| 09:07 am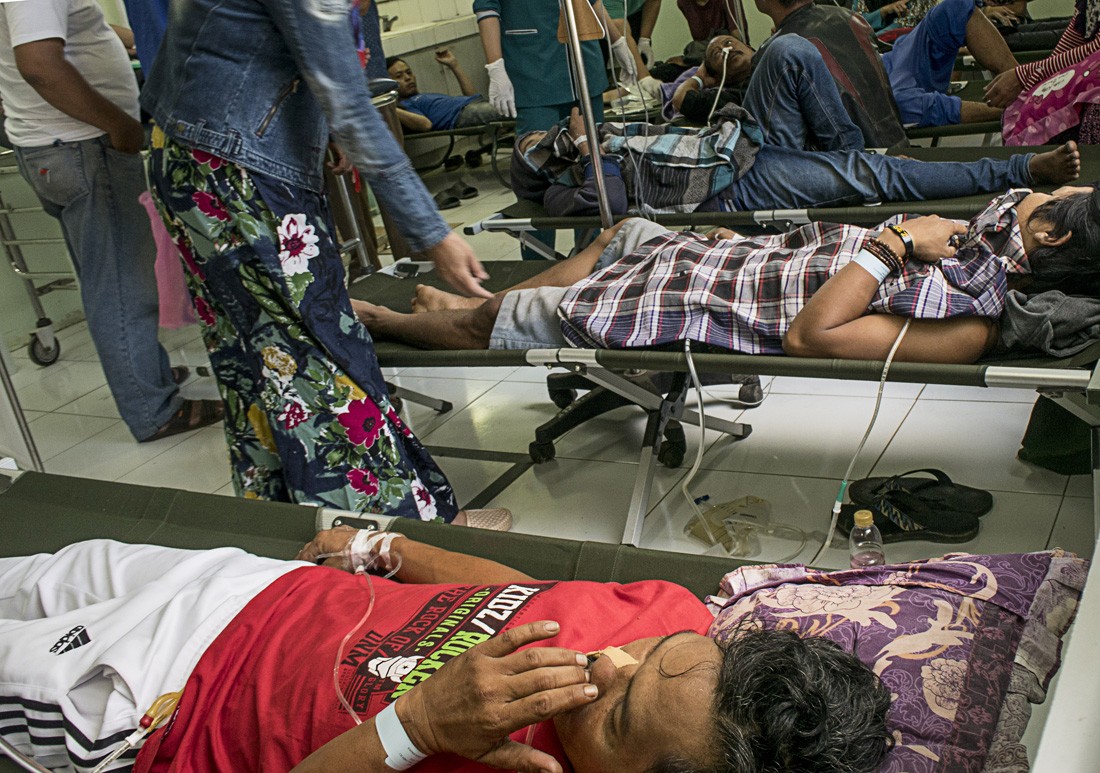 Under treatment: Bootleg liquor (oplosan) victims get medical treatment in the emergency installation at Cicalengka Regional General Hospital in Bandung regency, West Java, on April 10. (Antara/Novrian Arbi)
Over 100 people have died this year after consuming oplosan (bootleg liquor), mostly in West Java, Greater Jakarta and Papua. For the umpteenth time, the government has failed to prevent the many unnecessary fatalities.

In recent weeks alone, the number of people killed after drinking unlicensed liquor soared to 89, with 58 of the victims from West Java, and 31 from Greater Jakarta, according to the National Police. Reports also said several died in Papua.

Similar incidents have often occurred across Indonesia, with many of the victims coming from poor families. In the latest cases, the police have attributed the deaths to methanol poisoning, the main component of the bootleg products that have also been blamed for the deaths of several foreign tourists in recent years.

Citing laboratory test results, West Java Police chief Insp. Gen. Agung Budi Maryoto confirmed on April 11 that the liquor consumed by the victims contained methanol, an industrial form of alcohol widely used as fuel or as a solvent. This statement ended police speculation that they died after drinking illegally brewed alcohol mixed with other substances like ginseng.

With many poisonings largely involving methanol, authorities should have been better prepared for liquor-related emergencies. Instead, more and more deaths have been reported from a spike in drink poisonings.

Methanol poisoning happens all over the world, even in heavily regulated Islamic countries. To make alcohol cheaper, methanol is added to ethanol, a legal alcohol. Unlike water, methanol can be readily mixed with ethanol. This is why methanol has become a choice ingredient for illegal liquor manufacturers as they can produce liquor at higher volumes. Some believe mixing methanol with ethanol gives a greater kick, but experts say methanol in itself does not get people drunk, let alone give the additional
desired effect.

Nevertheless, the death toll from such drinks continues to rise in Indonesia. No one seems to know what is going on. Some blame restrictions on the sale of beverages containing between 1 and 5 percent alcohol as the major cause of the reportedly increasing production and consumption of bootleg liquor. The recent crisis is believed to be the tip of the iceberg, with no official records on methanol poisoning.

The difficulty in obtaining licensed liquor has been blamed on the national ban on selling alcoholic beverages at convenience stores and kiosks, as well as the high excise on liquor, thus creating demand for bootleg liquor — which can be as cheap as Rp 20,000 (US$1.50) for a bottle.

A large number of people have died from methanol-poisoning even after they were rushed to emergency care, indicating the urgent need to train health workers to prevent such deaths and treat symptoms as well
as possible.

Norway's Oslo University Hospital (OUH), collaborating with Doctors Without Borders (MSF), a global humanitarian NGO, have worked to improve public knowledge on methanol poisoning. Even health professionals have been found to lack understanding on methanol, including the fact that it is toxic only when it metabolizes into formic acid in the liver — typically leading to death.

The experts say that as long as ethanol is still in the patient's blood, he or she will not suffer the toxic effects of methanol. It is only after the ethanol is fully expelled from the body — usually around 12 to 24 hours after a person drinks bootleg liquor — that the metabolic processes become toxic and make them sick.

This is why the most important life-saving measure stipulated in the methanol poisoning treatment protocol designed by the OUH and the MSF is providing more ethanol to patients.

In this context, ethanol is no longer a recreational substance but a medicine, as OUH medical expert Knut Erik Hovda told The Jakarta Post on Sunday.

Raising awareness about such treatment methods faces challenges, as alcohol is considered haram (forbidden in Islam), although the use of morphine is legal as a painkiller. Hovda said the provision of ethanol as medical treatment for methanol poisoning has been approved in some Islamic countries.

Incessant police operations to curb methanol poisoning outbreaks, such as when they found a house suspected to be an oplosan factory in Cicalengka, Bandung regency, West Java, need encouragement.

In most bootleg liquor distribution cases, a large-scale manufacturing center is involved where additional substances such as methanol are added to alcoholic drinks.

The police across different provinces have raided such suspected oplosan production and distribution centers, confiscating thousands of bottles of illegal liquor. It is of utmost importance that law enforcers bring to account those responsible for the distribution of the harmful product. The police promise there will be no more bootleg liquor cases by the time of the upcoming fasting month, Ramadhan — which brings little consolation.

However, it is also crucial to acknowledge that methanol poisoning needs specific treatment, which in turn requires health professionals to have knowledge about the diverse symptoms. Improving training for better diagnosis of methanol poisoning and administering proper treatment should save more lives.

At present only health facilities in Bali are known to have a protocol for treating methanol poisoning. Such a nationwide protocol or guidelines are urgent to save lives as early as possible.
Topics :
Join the discussions