EDITORIAL: Myanmar's Buddhist factor
EDITORIAL

The Jakarta Post
Jakarta |

Fri, April 27, 2018

| 08:24 am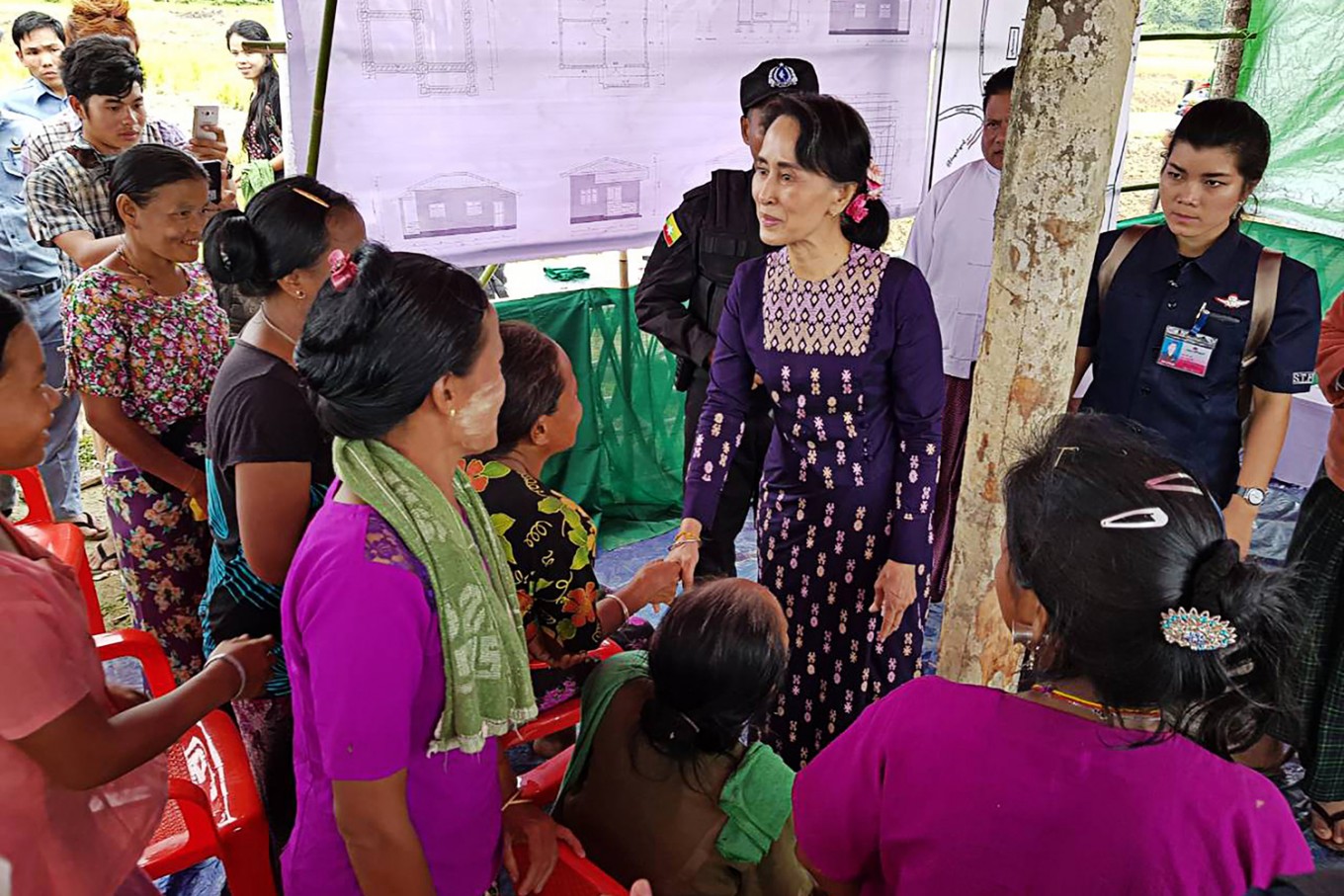 Myanmar State Counselor Aung San Suu Kyi (center) meets with Myo ethnic people in northern Maungdaw, Myanmar's Rakhine State on Nov.2. Myanmar's leader Aung San Suu Kyi arrived on her first visit to conflict-battered northern Rakhine State on Nov.2, an official said, an unannounced trip to an area that has seen most of its Rohingya Muslim population forced out by an army campaign. (STR/AFP/File)
The absence of Myanmar's de facto leader Aung San Suu Kyi from this weekend's 32nd ASEAN summit in Singapore is alarming because it signals that Myanmar may return to its previous isolationist policy. The Rohingya problem is very likely the reason behind her non-attendance at the bi-annual meeting.

The newly sworn-in President Win Myint will represent Suu Kyi, who has not explained her absence. However, during the recent ASEAN-Australia summit in Sydney, other leaders pressed her on the Rohingya issue.

Nevertheless she has declined to join the regional meeting amid mounting global pressure and condemnation of the systematic and massive assault on the Rohingya, which the United Nations human rights chief regards as "acts of genocide". The well-orchestrated scenario by the military to ethnically cleanse Rakhine of the minority ethnic group has also angered the world.

Suu Kyi should recall what she said in her delayed Nobel Peace Prize acceptance speech, 11 years after she received the award in 1991. "I thought of that great mass of the uprooted of the earth who have been torn away from their homes, parted from families and friends [and] forced to live out their lives among strangers who are not always welcoming." The Rohingya now are facing the same misery.

As the current ASEAN chair, Singapore could invite the heads of state to discuss a new approach on Myanmar during their retreat. Along with the host, Singapore's Prime Minister Hsien Loong Lee, we urge President Joko "Jokowi" Widodo to share his views and experience from his diplomatic engagement on the Rohingya.

Consciously or unconsciously, ASEAN members tend to judge the humanitarian tragedy only from their own perspectives or interests. Now they need to be more willing to listen to Suu Kyi's difficulties in dealing with the powerful military. Harsh words, boycotts, threats and humiliation alone will only harden the hatred in Myanmar against the Rohingya minority, regarded by many Myanmar people as illegal Bengalis.

ASEAN needs to consider more intensive participation by Buddhist-majority member states — Thailand, Vietnam, Laos and Cambodia — in dealing with Myanmar, especially their Buddhist leaders. Naturally they will empathize more with the majority Myanmar population, who are also Buddhists. The Myanmar people are largely faithful in practicing their faith; and Buddhism teaches peace, love, tolerance and respect for human dignity.

Concerted persuasive efforts to convince the Myanmar people should be based on deep trust by both sides. Overcoming the humanitarian crisis should involve the whole nation.

Military generals from the four countries and also from Indonesia need to hold regular exchanges of views with Myanmar's military leaders to share their experiences in facing domestic unrest.

Many international organizations and countries have expressed an interest in providing all necessary assistance to enable the Rohingya to return home. ASEAN is in the right position to coordinate these inter-country efforts.
Join the discussions