Commentary: Korean Peninsula deserves Nobel Peace Prize
Kornelius Purba

The Jakarta Post
Jakarta |

Mon, April 30, 2018

| 09:13 am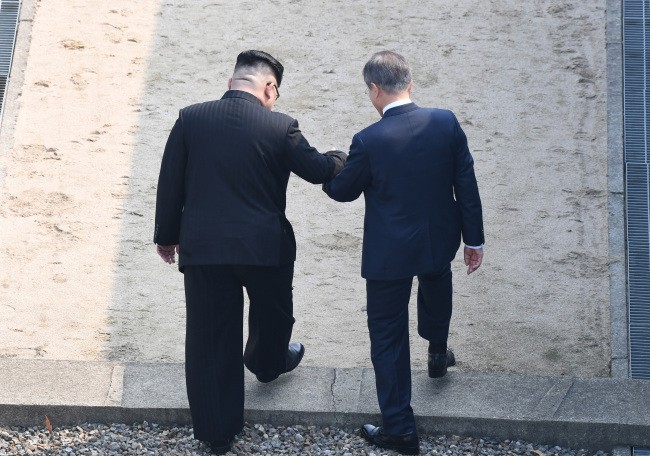 South Korea-North Korea summit (The Korea Herald/Cheong Wa Dae )
I am betting with a Korean friend that the Norwegian Nobel Committee will grant the Nobel Peace Prize to Korea in October as a reward for the dramatic changes in the Korean Peninsula. The award will be very timely and productive because it will create huge momentum that both South and North Korea need to reach a true peace agreement, as the two neighbors are technically still at war and have been since 1953. My friend seems unconvinced.

The two nations and their leaders are now in high mood to follow up the Panmunjom Summit with a concrete peace-making process. But within several months the mood could change drastically and they would be back to square one. In the past, the Nobel Committee has often sprung surprises with their choice, in a bid to encourage more action to promote peace. Last year, the International Campaign to Abolish Nuclear Weapons (ICAN) won the prize. So this time around nuclear will not be the main issue, but the denuclearization of the North is an absolute prerequisite for peace in the Korean Peninsula.

A long-time friend who specializes in Korean Peninsula affairs called me after the summit meeting between South Korean President Moon Jae-in and North Korean Supreme Leader Kim Jong-un on Friday. "For you, what is the most interesting part of the Panmunjom Declaration for Peace, Prosperity, and Unification of the Korean Peninsula?" I said "Nothing".

Kim's father, Kim Jong-il had issued very similar declarations with two South Korean presidents in Pyongyang: Kim Dae-jung in 2000 and Roh Moo-hyun in 2007. At the second summit, Moon was the architect of the meeting. Jong-il ignored the two agreements not long after he endorsed them. Will Kim follow his father and later cheat the South Korean president?

No one knows. But one thing is for sure, his father's two meetings were merely motivated by an eagerness to get short-term benefits: money and food for the starving nation.

Kim now has much less room to maneuver for his political grip on his country. The United Nations sanctions are so tight that the North now has very limited room for exports and imports. His people are starving and he cannot continue using terror and killings to silence his critics. Millions of North Koreans are living in extreme poverty and the country's economy has practically collapsed. China is its only ally and donor, but China is growing tired of helping. That was why President Xi Jinping approved Kim's planned meeting with the South.

The world was stunned by the TV "reality" show. Kim is internationally perceived as a ruthless leader, whose only goal is to make his impoverished country a full nuclear state, at any cost, because he believes owning nuclear weapons is the only ticket for his political survival.

On Friday, I saw genuine sincerity from both Moon and Kim. There was a strong chemistry and trust between them as they talked. Watching the CNN coverage, you could see the human side of the North Korean leader. Their conversation was very intimate and Kim showed strong confidence in his older counterpart. The 65-year-old president clearly has won the trust of the 34-year-old leader.

Immediately after he was sworn in last May, Moon initiated a diplomatic offensive to the North. He used the Pyeongchang Winter Olympics perfectly to lure the North. He granted a VVIP reception for Kim's sister, Kim Yo-jong. Kim was very pleased with Moon's warmth and since then has openly showed his readiness for direct negotiation. Kim Yo-jong was also present at Friday's summit.

Truly sustainable peace between the South and the North will be instrumental for world peace. Of course, it is true we should not be naïve and let ourselves be cheated by the North. However, this time, I do believe there is a real chance for peace, because the North Korean leader has indicated his awareness that the economy is the key factor for his government, and nuclear alone will not mean much in the end.

Kim needs a huge reward from the world for his surprising response to Moon's persuasive approach. Let us create a global campaign to convince the Norwegian organization that this is a perfect opportunity to usher in peace and denuclearize the peninsula.

Who will receive the prestigious Nobel award? United States President Donald Trump has claimed that he played the most crucial role in the peace-making process. His readiness to hold a bilateral summit with the North Korean Supreme Leader in May was the biggest incentive for Kim to dramatically change his position. It is very true that Trump was a crucial factor, but he only played a part. His role alone was not enough.

South Korean President Moon Jae-in has spent money and energy and thoughts on how to convince Kim that he is very serious and honest about making a peace deal with him. But it will mean nothing if the North Korean leader does not play his part too. However to be honest, if Kim becomes the co-laurate, it will provoke global anger because he is internationally perceived as a ruthless leader.

So give this year's Nobel Peace Prize to the people of the South and the North. Indonesia can initiate a global campaign for the Korean Peninsula. A failure to reward peace efforts in the peninsula will become a reason for Kim to repeat the behavior of his father Kim Jong-il.
Topics :
Join the discussions