Riot that should not be
EDITORIAL

The Jakarta Post
Jakarta |

Fri, May 11, 2018

| 09:03 am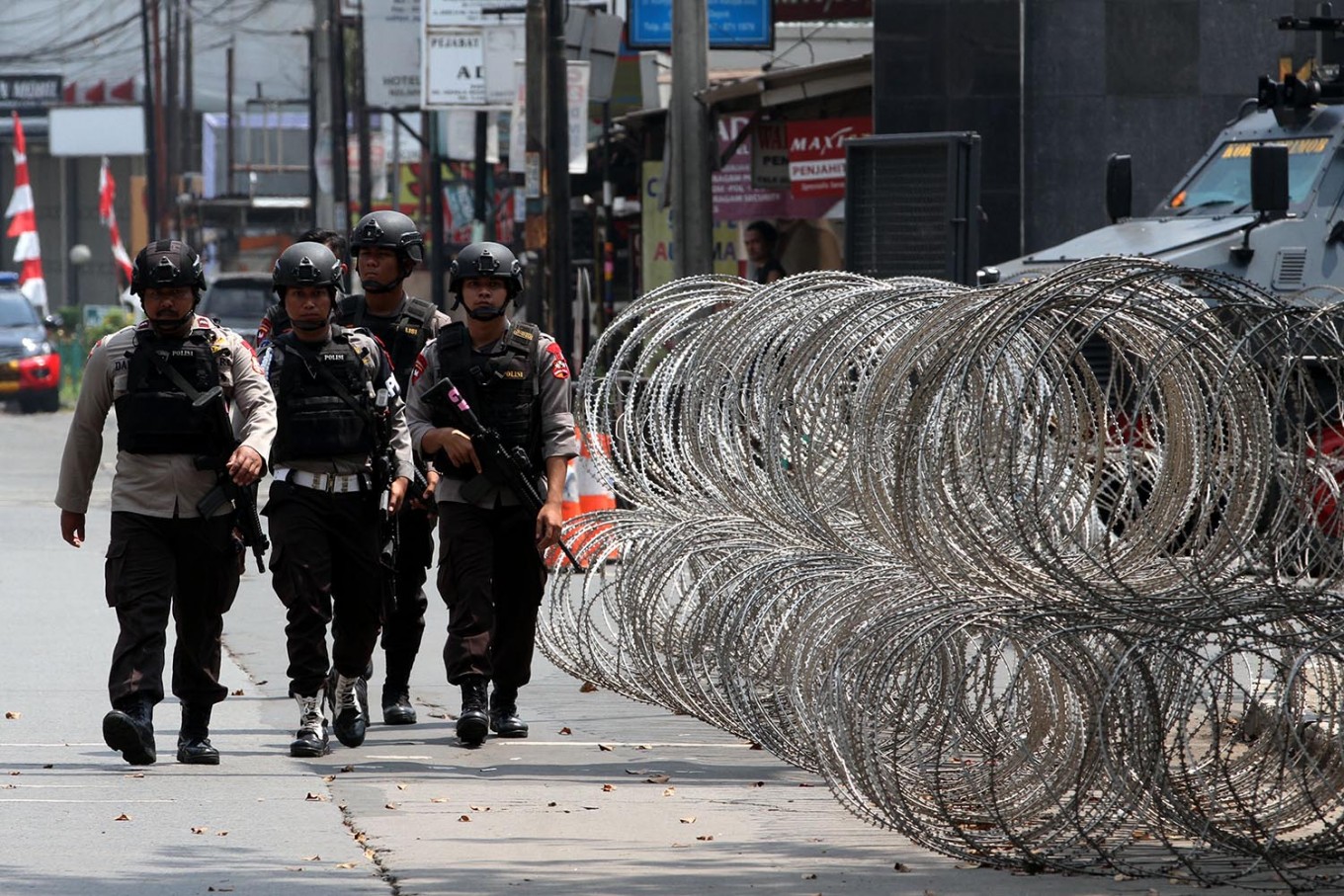 Razor wire is seen at the entrance to the Mobile Brigade (Brimob) headquarters in Depok, West Java, following a riot on Tuesday night. (Tribunnews/Irwan Rismawan)
First, we would like to offer our condolences to family members of the five police officers who died in Wednesday's riot at the detention center of the National Police's Mobile Brigade headquarters (Mako Brimob). There is still no official account of their deaths, but based on what we have heard so far, these police officers could in fact be victims of a system that failed them. The fact that the standoff, which took place in a facility operated by the police's elite force, lasted almost 40 hours shows that these five officers were doomed from the start.
The riot was actually a disaster waiting to happen. The Mako Brimob detention center was not designed to function as a high-security prison capable of housing terror detainees. In other countries, terror detainees are considered too dangerous to be held in regular detention sites, and are mostly locked up in high-security facilities such as Guantanamo Bay detention camp or Detention Site Green in Thailand.
The detention center was built as a temporary holding facility for police officers facing criminal charges, and served as a branch of the overcrowded Salemba detention center. Despite being a holding facility for terror detainees, many have pointed out that security had been lax at Mako Brimob, with visitors for both regular and terror detainees being granted the same access to the premises.
Numerous reports that these terror inmates broke into the investigators' room and took away their guns could indicate that there are simply too many holes in the facility's security. We are already familiar with stories of things being smuggled into and out of prison, to the point that we are no longer surprised when it is revealed that a drug kingpin ran their operation from inside the penitentiary. The Mako Brimob detention center is part of the country's corrupt penitentiary system, and it likely suffers from the same problem.
And then there is the overcrowding problem. There has been no official figure on how many inmates or detainees are being held at Mako Brimob, but police have acknowledged that the number of prisoners is too many to handle. The facility houses everything from police officers facing criminal charges, civilians detained for corruption and blasphemy, to radicals held on terror charges. According to police data, there are currently 165 people detained at the facility on convictions or charges of terrorism. Following Wednesday's riot, 155 of these terror inmates were transferred to the maximum-security Nusakambangan prison island off Central Java, a decision that should have been made much earlier.
Terror detainees who pose a high security risk should be held in separate cells, but the problem of overcrowding has allowed them to come into contact with other detainees, resulting in two riots in less than seven months. Wednesday's standoff began over access to food, while in November last year, terror convicts started a riot over access to cell phones. If these detainees could start a riot over such trivial matters, then the country's prison system is in serious trouble.
Join the discussions