Welcoming Dr. M
Editorial Board

The Jakarta Post
Jakarta |

Fri, June 29, 2018

| 08:05 am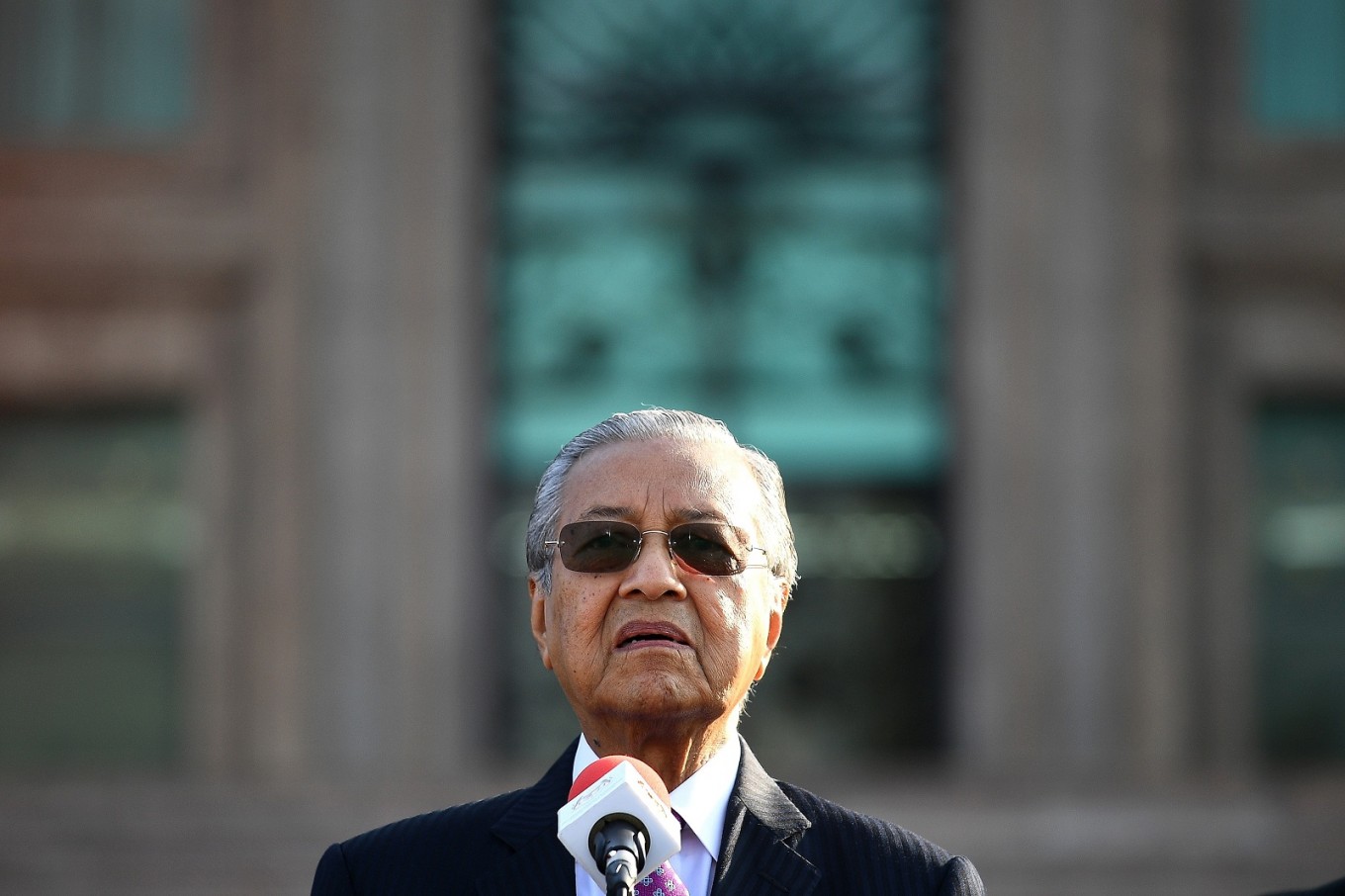 Malaysia's newly-elected Prime Minister Mahathir Mohamad addresses civil servants from the Prime Minister's office during his first assembly in Putrajaya on May 21, 2018. (AFP/Manan Vatsyayana)
The world's oldest elected statesman is in town, likely inspiring our senior politicians eyeing the next presidential election. We welcome and salute Prime Minister Mahathir Mohamad, a founding father of Malaysia and among the region's legendary leaders such as Singapore's Lee Kuan Yew and former president Soeharto. All three were among the founders of ASEAN over 50 years ago in 1967. As the only living leader among his contemporaries "Dr. M", as he is known, has experienced continuities and changes in Malaysia and in the region; it was the pent up frustrations of Malaysians that contributed overwhelmingly to his comeback.
From his visit and meeting with President Joko "Jokowi" Widodo, details will be forthcoming. But it is safe to say both Malaysians and Indonesians hope for the best for future neighborly cooperation despite occasional squabbles.
Mahathir is a leader from a generation that did not question authoritarian governments. Now such leaders face a younger generation expecting everything their elders didn't — transparency, freedom and rights — instead of being treated as subjects of feudal regimes who willingly believe what they are told to.
Unsurprisingly, today's Southeast Asians often dismiss ASEAN when their leaders' rhetoric is perceived as hollow. Some of the many unmet commitments have been those contained in the 11-year-old ASEAN Declaration on the Protection and Promotion of the Rights of Migrant Workers, upgraded to an "ASEAN Consensus" on the issue just last November.
Among the principles of the 2007 Cebu Declaration were, "The receiving states and the sending states shall, for humanitarian reasons, closely cooperate to resolve the cases of migrant workers who, through no fault of their own, have subsequently become undocumented."
While the bilateral agreement on our migrant workers in Malaysia has expired, certainly it is no excuse to ignore the spirit of the above ASEAN Consensus. Another crackdown by the Malaysian government on illegal workers is scheduled in the near future. Many Indonesians and migrant workers of other countries could again be victims "through no fault of their own" thanks to human traffickers, corrupt bureaucrats and law enforcers in the sending and receiving countries, and employers in Malaysia seeking cheap, docile labor. Half of almost 2 million migrant workers in Malaysia are estimated to be undocumented.
Many of us shrug off ASEAN while its officials expect the layperson to appreciate the difference between leaders' declarations and what it takes to actually realize their commitments. Further, virtually blocking all possible progress in every sphere of the "ASEAN Community" is the "non-interference" principle championed and instilled by ASEAN founders, including Dr. M himself.
Proving progress regarding citizens' wellbeing despite this obstacle is thus the challenge for our leaders. Malaysia's dramatic vote and Indonesia's simultaneous regional elections across 171 regions on Wednesday provide valuable lessons for democracy, currently in trouble in many countries, including ASEAN.
Leaders Mahathir and Jokowi are at least expected to ensure the basic safety and wellbeing of migrant workers, which both countries depend on.
Topics :
Join the discussions