Run Zohri, run
Editorial Board

The Jakarta Post
Jakarta |

Fri, July 13, 2018

| 08:20 am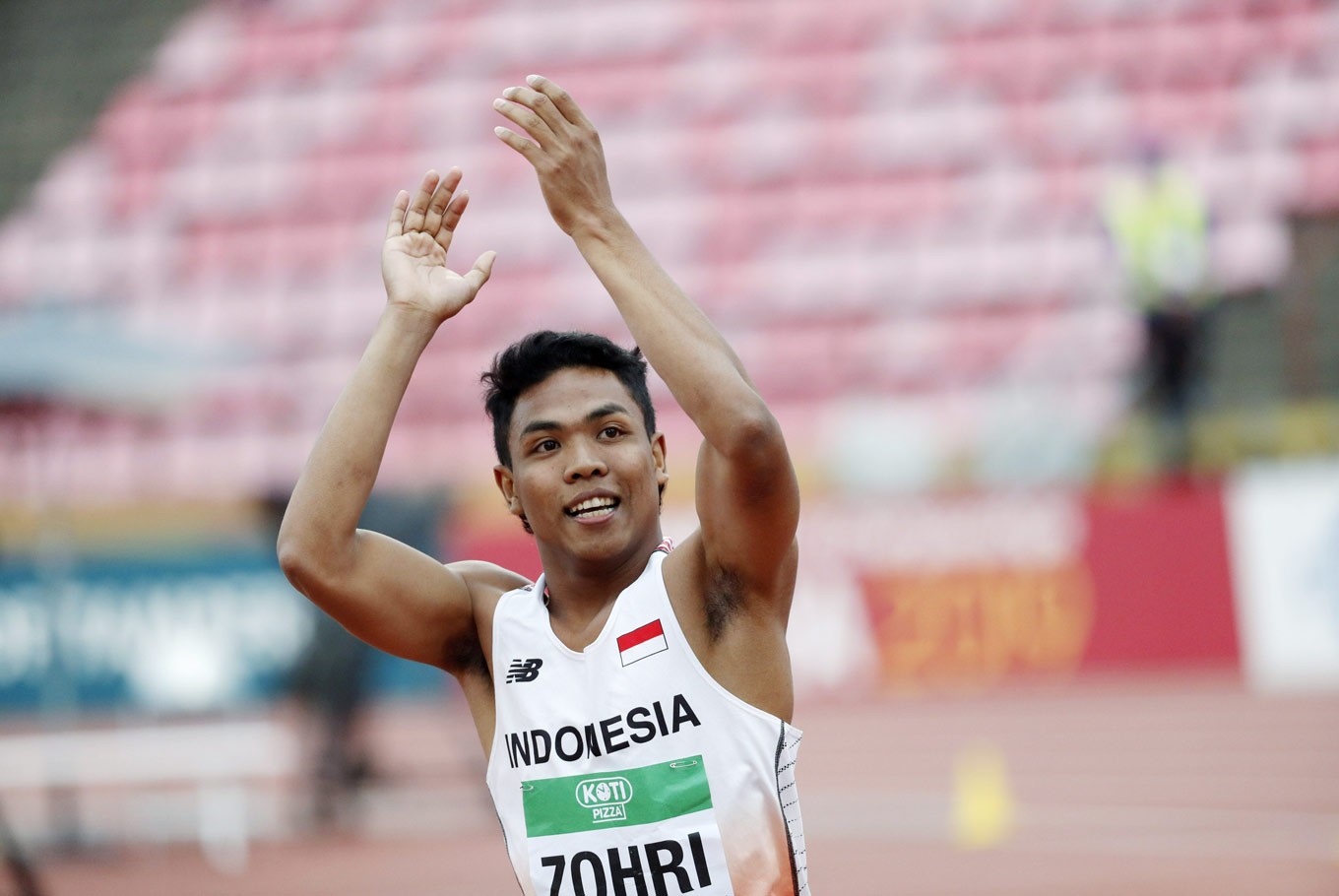 Lalu Muhammad Zohri of Indonesia celebrates his victory. (REUTERS/Lehtikuva/Kalle Parkkinen)
The name Lalu Muhammad Zohri hardly rang a bell for most Indonesians, until video footage of his historic, triumphant run went viral. The teenager surprised the athletic world, and the nation, by becoming the fastest man on Earth in the under-20 100 meter category on Wednesday.

Zohri clocked 10.18 seconds to beat rivals from athletic powerhouses like the United States and Jamaica to win gold at the International Association of Athletics Federations (IAAF) World U20 Championships in Tampere, Finland, which ends on Sunday. Previously, Indonesia's best performance in the race was an eighth-place finish in the heats.

No one, including himself, seemed to expect such a feat. He looked unconvinced for a moment and only after the official results were announced did he celebrate his victory — without Indonesian officials or supporters present.

The 18-year-old arrived in Tampere as an outsider, despite being the reigning Asian U20 champion. He ran in lane eight at the end of the track, while all attention was on the central lanes, which were filled by the US duo of Anthony Schwartz and Eric Harrison, who finished second and third, respectively.

"I will party tonight!" said Zohri as quoted on the IAAF website. "I'm very happy with my personal best and national junior record. Now, I will prepare for the Asian Games next month. I'm so proud — this was an amazing experience and this is great for my career." He was only one hundredth of a second shy of Southeast Asian Games champion Suryo Agung Wibowo's time.

Indeed Zohri's achievement came as a relief, not only for Indonesian athletics, but for all of the country's sports lovers. Compounded by the impressive showing of the national U19 soccer team at the ASEAN Football Federation tournament, the young talents are charting a promising future for Indonesia, which is struggling to regain its past supremacy in sports.

Indonesia, the world's fourth-most populous country, has rarely won laurels in international track and field competitions. It has only collected four gold medals at the Asian Games since it first took part in the regional event in 1951. The medals were won by Mohammad Sarengat in the men's 100 m and 110 m hurdles in 1962, Supriati Sutono who won the women's 5,000 m in 1998 and Maria Natalia Londa in the women's long jump in 2014.

Indonesia can now demand more from Zohri during the Games at home, which will kick off in about five weeks time, and in future events the country will take part in.

Podium finishes in the upcoming Games will be tough not only for him, but also for other Indonesian athletes. Keeping in mind the tight competition, the Indonesia Athletics Federation (PASI) has set a modest target of winning gold in the long jump.

Hopefully Zohri's success will inspire other Indonesian athletes to work harder and do more to reach that height. National sports policymakers also need to step up efforts to discover more talent and help them to perform faster, higher and stronger.

Young guns like Zohri will need support from the whole nation. Congratulations Zohri. Run faster for your next gold.
Join the discussions