Pedestrians not pariahs
Editorial Board

The Jakarta Post
Jakarta |

Sat, July 21, 2018

| 04:53 pm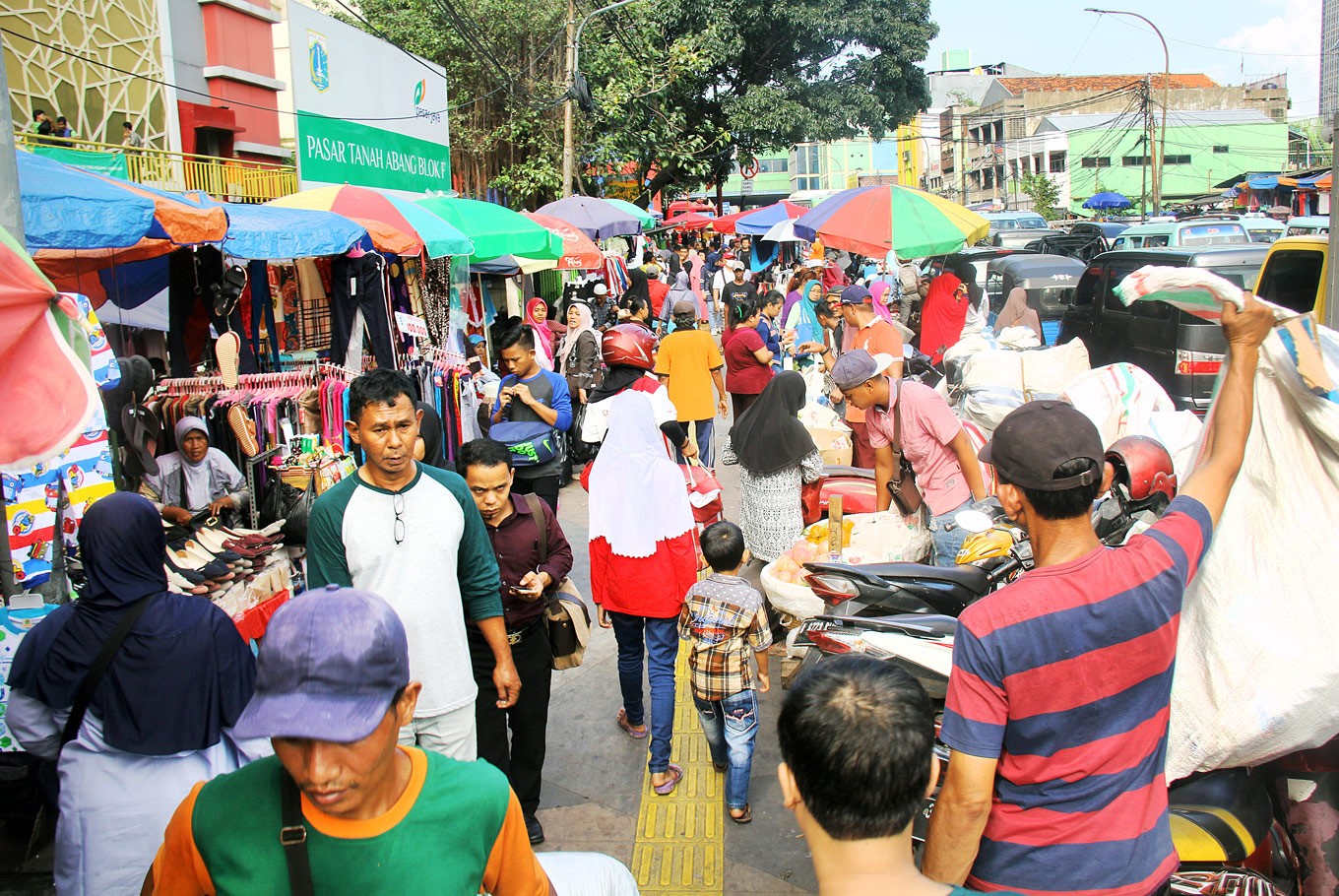 People walk along a sidewalk on Jl. Jatibaru Raya in Tanah Abang, Central Jakarta, on Monday. The sidewalk of the street, which was controversially closed to public traffic, has remained busy with street vendors and visitors amid the dispute between the Jakarta administration and parties opposed to the policy. (JP/Steven)
To avoid ill health, as the doctor says, walk at least 30 minutes daily, preferably in the morning, to ensure strong joints and an ample supply of vitamin D from our blessed tropical sunshine. But lazybones repeat the perfect excuse: walk where?
Not everyone around Jakarta has easy access to quiet, cool and leafy streets that are free of smoke, vendors, potholes, uneven surfaces, parked cars … and speeding motorcycles! This is why we mostly see walking as a ghastly chore, even on a relatively cool afternoon.
The city administration is revamping 6.9 kilometers of sidewalks along the thoroughfares of Jl. MH Thamrin and Jl. Sudirman. Such repairs in central business and shopping areas and around the main sports venue in Senayan are vital, especially ahead of next month's Asian Games. While sidewalks along the main thoroughfares have been the focus of attention for decades, others across the city have not been so lucky. Many streets, far from tourists' eyes, don't even have one, including some along Transjakarta routes.
Our report this week attested again to residents being discouraged from walking, and urban analysts conclude that only 1 percent of the city's sidewalks are pedestrianfriendly. So much for the capital that hosts the ASEAN headquarters and its Smart City ambitions. We need streets to walk on, not just Instagram with its appealing posts of neat and wide Jakarta sidewalks with benches along them.
We could easily blame the New Order regime for every ill, including decades of prioritizing motorists and leaving pedestrians to struggle just to walk safely along a straight path.
However, our new, young administration under Governor Anies Baswedan should be able to muster creative minds to overcome the legacy of sidewalks that are too narrow for even one pedestrian. Visible improvements such as sidewalks near Tanah Abang Station are much appreciated, but some pedestrians complain about street vendors.
Such fighting between pedestrians and street vendors would not happen if the government and the administration followed their own rules on sidewalks.
A 2014 regulation on sidewalk design issued by the Public Works and Housing Ministry actually allows shared space on sidewalks. Sidewalks, ultimately for pedestrians, can be used by cyclists, small "formal" entrepreneurs and for exhibition and social interaction. Such shared function, of course, requires more space.
Will the city ever be brave enough to reduce space for cars and add space for walking, cycling, economic growth and more social interaction, such as among sidewalk chess players? So far, Jakarta has taken the direction toward transition to public transportation, which entails more walking for passengers.
Reducing traffic jams by restricting car use, like the odd-even license number policy, coupled with improved public transportation like the busway, the MRT and the light rapid transit should be followed by more facilities for walking. It's not a choice. Walking is not only better for the health of our bodies but also the health of our city.
Topics :
Join the discussions