Digital transactions galore at Telkom Craft Indonesia
Inforial

The Jakarta Post
Jakarta, Indonesia |

Wed, March 15, 2017

| 12:00 am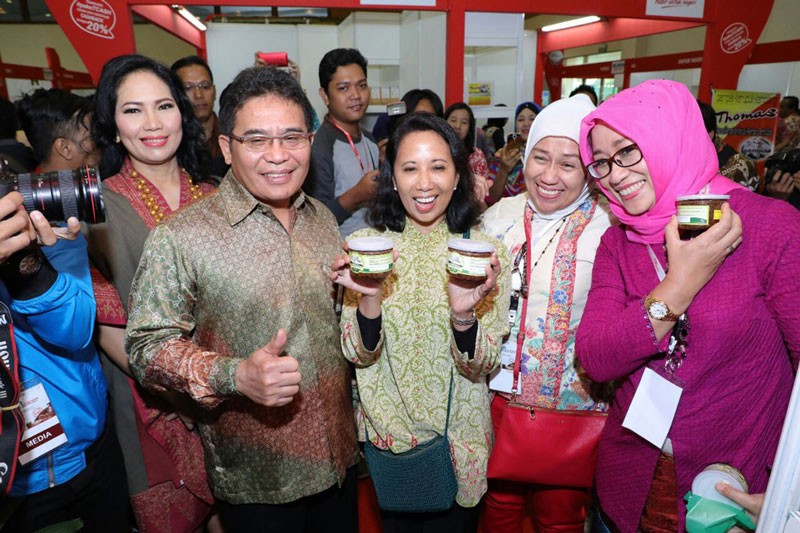 State-Owned Enterprises Minister Rini M. Soemarno (third right), Telkom I Group CEO Alex J. Sinaga (second left) and Telkom Craft Indonesia chief curator (far left) visit booths of micro, small and medium enterprises. (-/-)
State-Owned Enterprises Minister Rini Soemarno recently called on state-owned companies to help micro, small and medium enterprises (MSMEs) widen their market reach.
"MSMEs still need assistance and guidance when it comes to developing their product standards and quality, as well as in helping them to make use of technology and have better management," Rini said during the opening of the Telkom Craft Indonesia exhibition at the Jakarta Convention Center on March 10.
Telkom Craft Indonesia, an expo held as part of the ministry "Rumah Kreatif BUMN" project, ran from March 10 to 12 and invited visitors to conduct digital transactions.
RI's first digital expo
Unlike similar expos in the past, Telkom Craft Indonesia was the first expo in the country that not only focused on digital MSMEs but also used a digital payment system that made use of TCASH from Telkomsel and through blanja.com whenever any transactions took place at the event.
Visitors and participating vendors were enthusiastic about the transaction method.
Participating vendors said they felt relieved by the use of digital transactions, as it meant they did not have to worry about not having the right amount of change. "When sales are at their peak, it can be inconvenient to have to have spare change always available," one vendor said.
Meanwhile, a visitor, Budi, noted that his purchases at the event marked his first time conducting digital transactions. "I prefer it this way, as having purchases delivered to my home means I would not have to worry about carrying items all the way back to my home," Budi said.
MSMEs as movers in RI's digital economic ecosystem
Telkom Craft Indonesia was very useful for MSMEs across the country. "Telkom deserves appreciation for initiating this event. They have given an opportunity for MSME owners to gain access to a wider market through the expo and the digitalization of businesses," Rini said.
The event featured 150 participating MSMEs chosen from 125,000 that partner with Telkom and other state-owned enterprises throughout the country. The participating MSMEs were divided into three categories: craft, fashion and food.
Telkom's executive director, Alex J. Sinaga, said Telkom had an important role in supporting the digitalization of MSMEs. According to Alex, MSMEs have enormous potential to influence the nation's digital economic ecosystem in the digital age. "Telkom is playing a role as an enabler or facilitator that can build Indonesia's digital community. One way we are supporting this is to aid MSMEs by giving them help in making use of information and communications technology in their daily operations," Alex said.
Alex hoped that MSMEs could compete in and penetrate the global market. The goal was in line with the expo's main theme of "local heroes to global champions". He viewed many MSME products as already being of high quality and value. The next step, for him, was to continue competing at a global level.

-(-/-)
You might also like :