Innovative Schools Program introduces fun and interactive methods

Jakarta, Indonesia |

Tue, September 12, 2017

| 12:05 am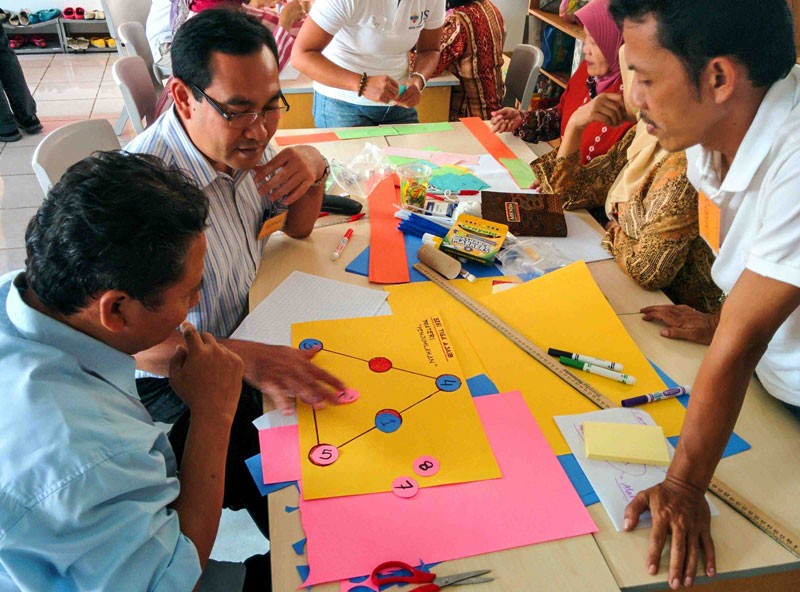 - (-/-)
Enhancing the quality of education is one of the challenges facing educators in Indonesia, with school teachers and principals who play a crucial role in this regard expected to continually improve their competence and be open to new ideas.
The Innovative Schools Program (ISP), initiated by the Emanuel Foundation and in partnership with joint cooperation schools (SPK), aims to strengthen and improve the quality of education in Indonesia, especially at primary levels.
Launched in 2008, ISP targeted school teachers and principals of public schools in Jakarta. Under this program, students are actively participating in a subject instead of just a passively receiving what is taught by their teachers.
"The ISP introduces fun ways and interactive methods for elementary school teachers and principals to deliver the national curriculum; it does not change the existing curriculum, but provides new ideas on teaching it to students."
Teachers are trained in inquiry-based learning methodologies and the program supports teachers in local schools by implementing interactive and innovative lessons.
The ISP partnership is a joint effort among the Jakarta Intercultural School (JIS), Mentari School Jakarta and Emmanuel Foundation.
Workshop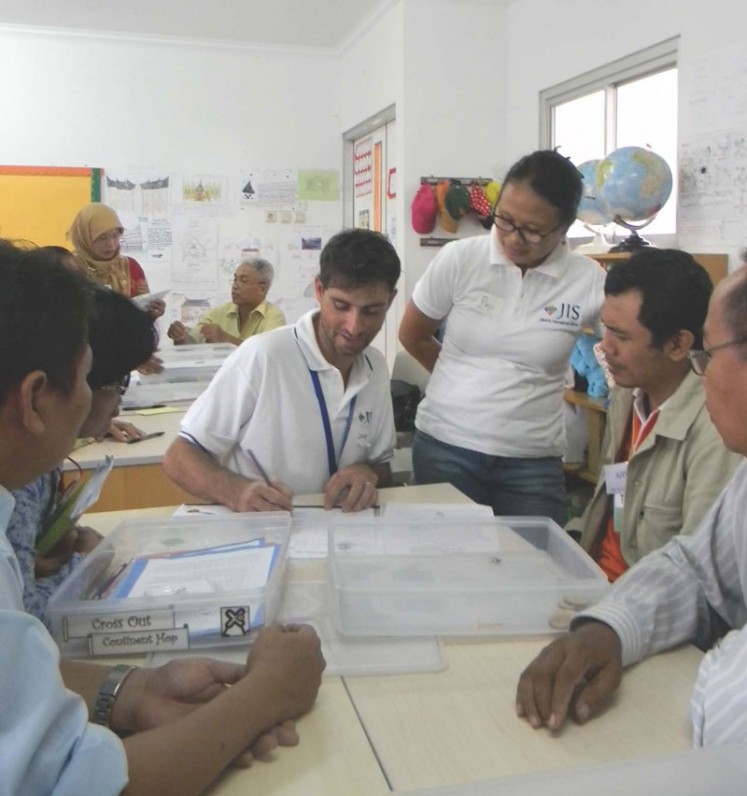 - (-/-)
In 2013, JIS took part in the program. Entering its fifth year at JIS, the ISP program is reaching another milestone.
"This year is really special because we have signed an agreement with the Jakarta Provincial Education Agency. We used to only serve just South Jakarta, we're now serving all parts of Jakarta," explained Greg Zolkowski, intervention specialist and ISP coordinator of JIS.
"What we do is we offer training and workshops to [state elementary school] teachers around instructional methodologies that make teaching and learning more interactive. That's our focus."
JIS and Mentari School Jakarta will present the training and workshop materials. As of 2017, 381 teachers and principals from 68 public elementary schools in Jakarta have participated in the program.
Workshop participants receive training on class management, curriculum management, developing higher level thinking skills, innovative teaching strategies for Bahasa Indonesia, innovative teaching strategies for math and class assessment.
"We don't teach or tell teacher what to teach, because they already have the national curriculum; we give them new ideas on how to teach," Greg said.
The ISP mentors from both JIS and Mentari School are involved in knowledge sharing with teachers from local elementary schools.
"This is a fantastic experience for our teachers. Many of them are expats from other countries around the world. So, they share their knowledge and techniques about teaching. They learn technique from the United States, Australia, Canada, England, just to name a few," explained Greg.
JIS has been facilitating the training modules, materials, equipment, venue, teachers, mentors as well as graduation ceremony.
Nanik Setyowati, principal of state elementary school Lebak Bulus 04 (Morning), who is also an ISP alumnus, said that "as a teacher, we learned how to teach math as a fun subject, not a difficult subject.
"For example, we teach it through games. So, with the availability of ISP workshops, we're happy because we can gain more knowledge. I hope the teachers will implement and applied what they learn here at their schools."
Palsapah Aeni, JIS Indonesian language teacher and ISP mentor, expressed the hope that through this program, local elementary school teachers in Jakarta can increase their professionalism and encourage their students to learn more.
Deputy head of the Jakarta Provincial Education Agency, Bowo Irianto, said that the ISP "is very helpful to the Provincial Education Agency in improving the competence of teachers and educators."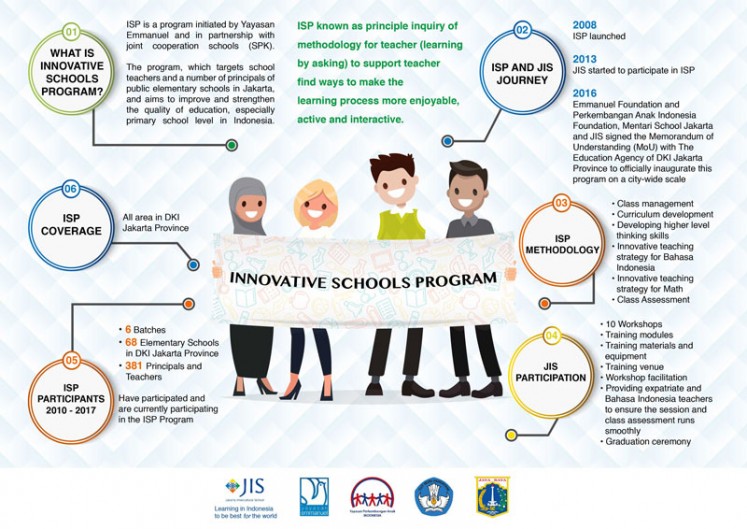 - (-/-)
"The ISP Program is very helpful to the Provincial Education Agency, especially in improving the competence of teachers and educators through interactive training activities that are creative, fun and motivating for students to learn effectively and constructively. The ISP also inspires various units in the Provincial Education Agency in conducting training for teachers and educators using the approach implemented in the program," Bowo said.
In the program, the Jakarta Provincial Education Agency's role is to select the participating teachers, principals and schools, while the Emmanuel Foundation establishes relations with the government and schools to ensure that the program runs well and optimally.
A brighter future requires teachers and principals working together in improving and strengthening the quality of education.
In order to encourage students to be more creative, curious and focused, the educators need to continue learning. That is what the ISP is for.
Topic :
ISP, innovative, education, JIS, international school in Jakarta, inquiry-based learning, education workshop
You might also like :