Mandiri Investment Forum 2018 looks at investment potentials in the political years
Bank Mandiri

The Jakarta Post
Jakarta, Indonesia |

Tue, February 13, 2018

| 12:05 am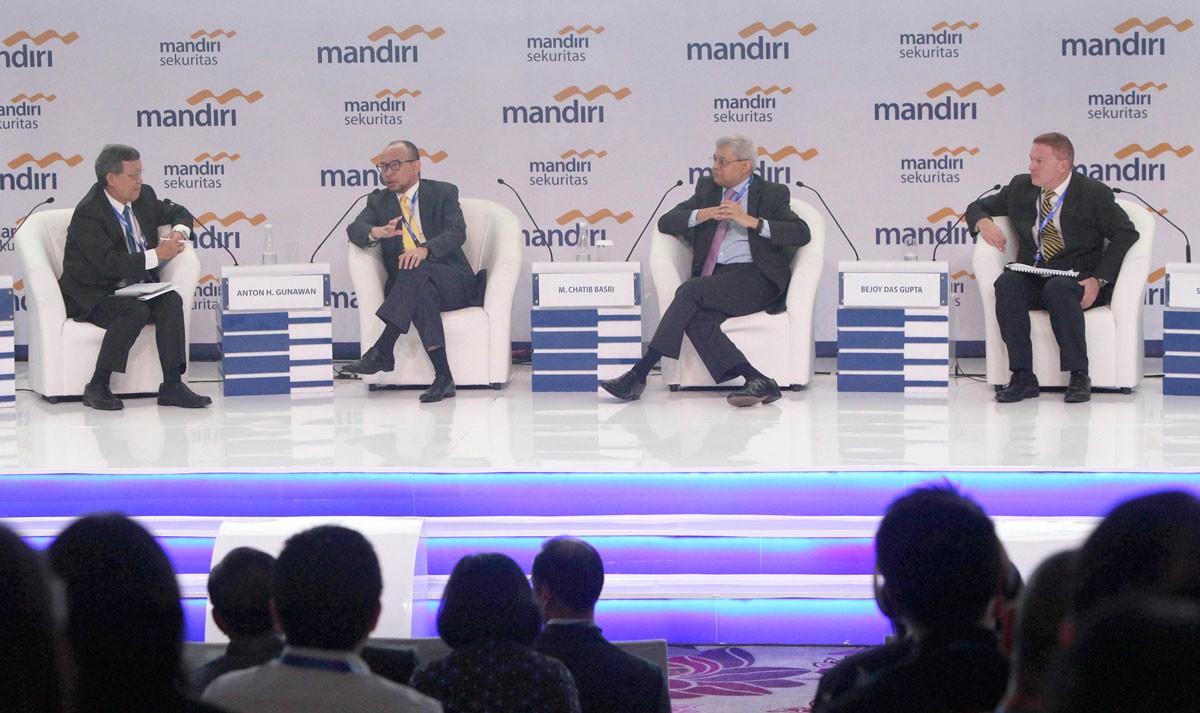 Mandiri Institute Advisory Board chairman M. Chatib Basri (second left), Bank Mandiri chief economist Anton Gunawan (left), Mandiri Institute Advisory Board member Bejoy Das Gupta (second right) and Jefferies global strategist Sean Darby participate in a panel discussion during the Mandiri Investment Forum (MIF) on Feb. 7 in Jakarta. (JP/Arief Suhardiman)
Indonesia's largest bank Bank Mandiri and Mandiri Sekuritas recently hosted the Mandiri Investment Forum (MIF) 2018 to provide information about investment opportunities, including in the manufacturing sector, in the midst of the political agenda that begins this year. The event, which titled "Reform and Growth in the Political Years", saw the attendance of more than 600 investors, including 50 foreign istitutional portfolio investors and around 200 of Bank Mandiri's prime customers.
According to Bank Mandiri president director Kartika Wirjoatmodjo, this latest annual MIF event is designed to provide investors with the latest information from regulators, including Finance Minister Sri Mulyani Indrawati and Bank Indonesia Governor Agus D.W. Martowardojo, on the risks and potential that the economy has to offer this year.
"This event is very strategic in that investors can get answers over the various questions they have when placing their assets in Indonesia, especially in the lead-up to the democracy festival at the regional level this year and at the national level next year," Kartika said in his opening speech at MIF 2018 on Feb. 7 in Jakarta.
In its latest study, Mandiri Group's team of economists predicted that the economy will grow 5.3 percent in 2018. For this reason, Indonesia needs to push its manufacturing sector to sustainably accelerate economic growth to reach the 8 percent target set by the National Mid-Term Development Plan. A rapidly growing manufacturing sector will create more equitable and stable growth, as well as absorb a higher degree of labor.
Based on a study by the Asian Development Bank, there are two strategies to push domestic manufacturing forward. First, is to attempt to diversify products to capture niche markets. Second, is to focus on existing sectors that are easy to develop, such as electronics, chemicals, automotives and food.
In this regard, there are three things required to build a reliable manufacturing industry, namely quality human resources, higher organizational capacities and better industrial policy.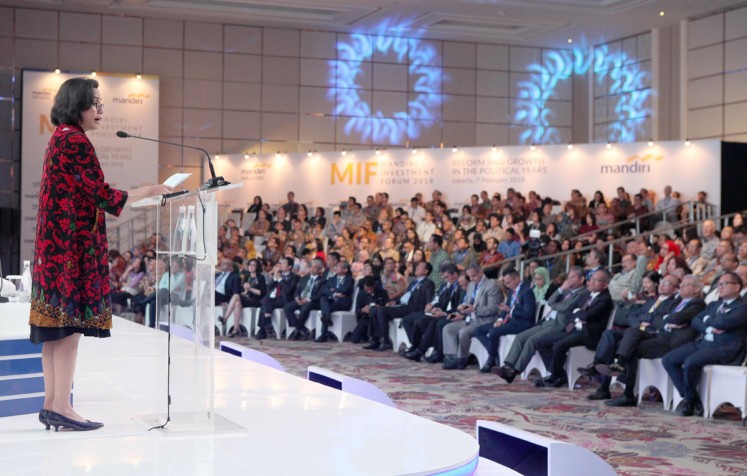 Finance Minister Sri Mulyani Indrawati speaks about the government's commitment to providing support for investors during the Mandiri Investment Forum (MIF) in Jakarta on Feb. 7 (JP/Arief Suhardiman)
"The improvement in commodity prices and the manufacturing sector, as well as the increase in consumer trust will also push for the continued momentum of economic growth, targeted at 5.4 percent this year," Finance Minister Sri Mulyani Indrawati said when delivering her keynote address.
The government is doing its part to boost the investment climate by implementing a number of policies, including loosening restrictions on imports and exports, shortening dwelling times, and revising and improving tax incentive schemes (tax allowances and tax holidays).
In line with the Finance Minister, Bank Indonesia Governor Agus D.W. Martowardojo in his speech also revealed that Indonesia is one of the most preffered countries for investment. According to a United Nations Conference on Trade and Development (UNCTD) survey in June 2017, Indonesia ranked fourth among nations considered to be prospective places for investment, after the United States, China and India. This is because Indonesia stands on top of strong foundations. Inflation is under control at 3.5 percent, plus minus 1 percent, with economic growth in 2018 seen at a range of 5.1 to 5.5 percent, supported by credit growth expected to reach 10-12 percent.
Meanwhile, Mandiri Sekuritas president director Silvano Rumantir said "We hope this MIF event can provide plenty of strategic information to investors, whether local or foreign, on investment opportunities in Indonesia. Mandiri Sekuritas is optimistic that the investment climate, including capital market growth, for this year will be more positive, in line with economic growth."
As part of its list of events for MIF, Bank Mandiri and Mandiri Sekuritas also invited investors on Feb. 6 to visit potential locations for capital investment, such as the central headquarters of consumer goods companies, hospitals, and traditional and modern markets that make use of the digital economy. Investors were also given opportunities to conduct one-on-one and group meetings with stakeholders and business owners to uncover potential business opportunities.
MIF 2018 saw the support of Jefferies, a global investment company based in the United States. Since 2017, Jefferies has collaborated with Mandiri Sekuritas to distribute research reports and brokerage services to customers outside Asian territories. This demonstrates the credibility and quality of the Mandiri Group Research Team that has been acknowledged by both domestic and international investors.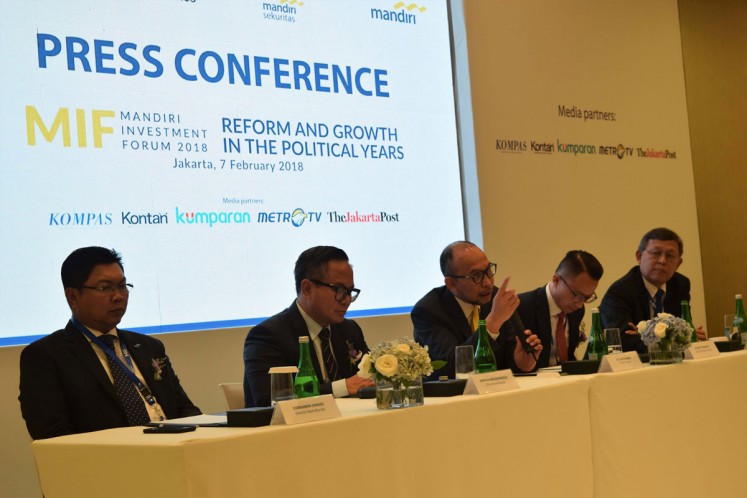 Meet the press: Taking questions at a press conference are (From left to right) Bank Mandiri's treasury director Darmawan Junaidir, Bank Mandiri president director Kartika Wirjoatmodjo, Mandiri Institute Advisory Board chairman M. Chatib Basri, Mandiri Sekuritas president director Silvano Rumantir and Bank Mandiri chief economist Anton Gunawan, at the Mandiri Investment Forum on Feb. 7 in Jakarta. (Courtesy of Bank Mandiri/.)
Aside from matching investors with businesses, Bank Mandiri's support in accelerating economic growth includes funding infrastructure growth in Indonesia. As of last year, Bank Mandiri has channeled some Rp 141 trillion in credit to infrastructure out of its total commitment of Rp 240.1 trillion, which has been allocated to the development of harbors, airports, power plants and toll roads.
In addition, Bank Mandiri, through Mandiri Sekuritas, has also offered corporations with alternative payment solutions for infrastructure projects. This includes the issuance of rupiah bonds for global investors (komodo bonds) by PT Jasa Marga valued at US$295 million last year. Throughout this process, the bonds facilitated by Mandiri Sekuritas and registered at the London Stock Exchange have been four times oversubscribed.
You might also like :