More political leaders speak out against LGBT
Bambang Nurbianto

The Jakarta Post
Jakarta |

Mon, March 21, 2016

| 09:36 pm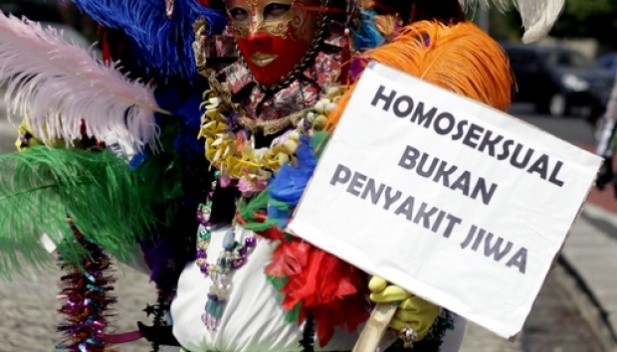 Not sick: Members of the Indonesian LGBT community display a banner denying that homosexuality is a mental illness. (tempo.co /-)
More politicians have spoken out against the spread of the lesbian, gay, bisexual and transgender (LGBT) movement, but have warned people not to commit any violence and discrimination.
People's Consultative Assembly (MPR) Chairman Zulkifli Hasan urged the public to narrow the space for the LGBT movement to spread, adding that he considered LGBT to have no place in Indonesia as the act of homosexuality had been warned against in every religion.
"As a movement, the existence of LGBT must be opposed. We must limit its room to move. However, as individual people, they must be protected like any other citizen," said Zulkifli, chairman of the National Mandate Party (PAN), as quoted by Antara news agency.
The concept of LGBT has no place in Indonesia because there is not one race, ethnicity or religion in our homeland that permits same-sex relations, he added.
Rocky Gerung, a philosophy lecturer at the University of Indonesia, explained that certain ethnic groups in Indonesia recognize more than two genders. Gender recognition in South Sulawesi, he noted, acknowledged five genders: men, women, feminine men, masculine women and the neutral gender, considered a godly quality.
Based on his belief that same-sex orientation is an illness, Religious Affairs Minister Lukman Hakim Saifuddin has argued that LGBT people required treatment and counseling, be this either religious or psychological, because with treatment and counseling, he said, homosexual people may, hopefully, alter their orientation.
The Ministry of Religious Affairs has now demanded that Islamic organizations and all religious affairs offices in provinces, regencies and cities, conduct intensive religious counseling for LGBT people.
"We cannot be hostile nor hate as they are also citizens of the state. This doesn't mean that we condone or allow for the LGBT movement to shift the religious values and the identity of the nation," said Lukman, who is a senior United Development Party (PPP) politician.
Meanwhile, People's Consultative Assembly Deputy Speaker H. Hidayat Nur Wahid warned against underestimating the LGBT movement as it risks widening the spread of what he called a "social disease".
"The LGBT movement cannot be trivialized. The crime is very closely entwined within society, not only in big cities but also small villages," said Hidayat, who is senior politician of the Prosperous Justice Party (PKS).
For this reason, the government must take a firm stance on the issue despite the lack of a law that clearly prohibits or punishes homosexuals, he said. (liz/bbn)
Topics :
You might also like :
Comments