Bali Police thwart turtle smuggling attempt
Ni Komang Erviani

The Jakarta Post
Denpasar, Bali |

Thu, April 7, 2016

| 11:59 pm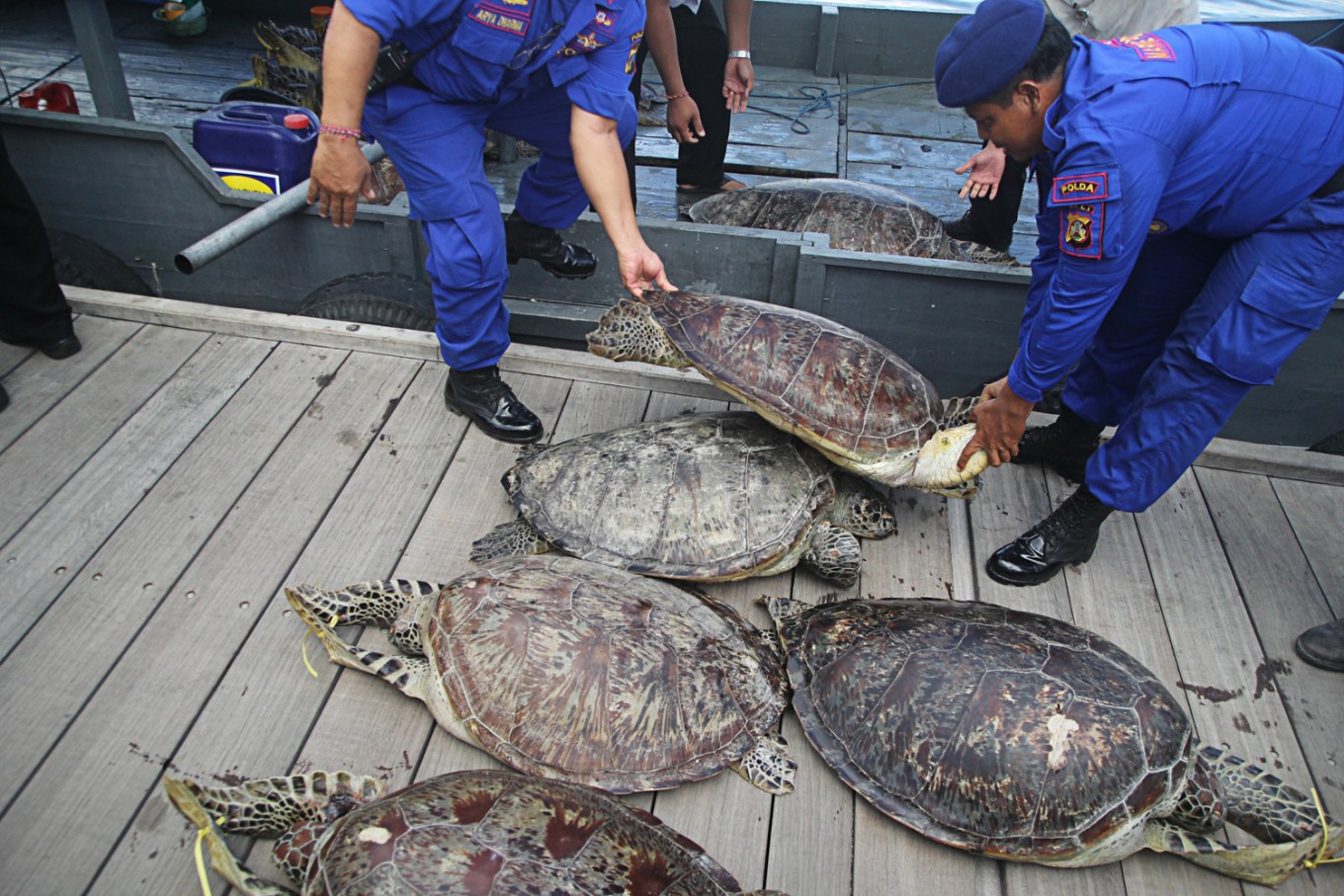 Sate – Bali Water Police move the green turtles confiscated during an operation in waters around East Bali on Wednesday. (thejakartapost.com/Zul Trio Anggono)
Bali Water Police thwarted an attempt to smuggle 45 green turtles to the island on Wednesday. Five people have been arrested.
The police discovered 45 green turtles on a boat traveling in waters near Karangasem in East Bali. The turtles were large, averaging 45 cm and aged between 40 to 70 years old.
The turtles were taken to a turtle breeding center at Serangan Island on Thursday afternoon for treatment before they were released back into the wild. Six of the turtles had already died.
Protected species – Dozens of green turtles were confiscated during an operation in waters around East Bali on Wednesday. The protected species were transported from Madura to Bali. (thejakartapost.com/Zul Trio Anggono)
Bali Water Police chief Sr. Comr. Purwoko Yudianto said that the police managed to foil the turtle smuggling attempt based on information provided by the general public. When the police went on patrol, he said, they spotted the vessel KM Putra Tunggal and later discovered the store of large turtles inside.
"The vessel captain and five crew members have been arrested," Purwoko said.
He further said that the police had discovered that the boat had transported the turtles from Madura to Karangasem. "The boat apparently departed from Madura on March 20. They had wanted to go to Karangasem to sell the turtles," Purwoko said, adding the turtles would likely have been sold for consumption. (ebf)
Topics :
You might also like :
Comments